Country information
Trip Planning
Where and When To Go
Region and Country Information
Introduction
This section will always be a work in progress. We have lots of info on a number of countries, and much more to come. Subjects we would like to cover for all countries include:
Culture - see the countries listed below for details.
Weather / climate
Attractions
Road Conditions
Visa Requirements
Transport (to and from the country - e.g. ferries, air cargo)
Getting Parts Sent Out To You
Links to contact info - e.g. consulates, embassies
Fuel - Petrol, benzin, gas or gazoline? Here's a spreadsheet with all the names.
World Standards on electricity, alphabets, time, car codes and more.
General country information - see links below to countries we have info for - more always gratefully accepted if you want to write something up for your country! Also VERY important - Contact the HU Communities in the areas you're heading for to get the latest local information.

Geography
Government
Economy
Communications
Time Zone Map (214kb image)
We have some information on Attractions, written by individual motorcycle travellers. More please! Also be sure to see Destinations, where you can see some of the top attractions for motorcycle travellers, and add them to your personal GPX file to save and add to your GPS or phone!
For Country Information, we have borrowed info from the CIA World Factbook (in the public domain), on a number of countries which are currently of interest to travellers. This is not to be construed as an endorsement of the CIA, nor of their opinions on these countries. As always, you are advised to use your own good judgment when reading the summaries. We have also added lots of great information from travellers.
See the section on Turkey for an example of the information we would like to see about other countries. Any travellers who wish to contribute information on any of these topics for specific locations, please contact us.
Region / Country specific information (alphabetically by country name)
Region/ Country Info
Useful new goodies,
An Africa spreadsheet - everything from Ken Keller's Africa trip: "Myself and my friend (Dominator and NTV650 respectively) travelled from Lagos, Nigeria to Dublin, Ireland in 2000, without any major problems. We travelled through Benin, Togo, Ghana, Cote d'Ivoire, Mali, Senegal, Mauritania, Western Sahara, Morocco, Spain and France.
The spreadsheet (has) all the information regarding route, equipment, costs, etc. It won't 'fit' everyone's trip, but it might give people an idea of how to go about storing all their information in one place."
Download it in Zip format - 100kb. Unzips to an xls.
A great new article on "How to do India" by Sam Manicom here.
Attractions
Described as an unknown paradise, this is the only place in India where Garuda the vehicle of Lord Vishnu is worshipped in idol form. Why go, how to get there, important festivals and more info...

Patagonia - Southern Argentina, Chile and Tierra del Fuego - by Dieter Zerndt

Everything you need to know to have a great Patagonia trip! Dieter answers all the questions he had when planning his trip, February 2001.
---
Member login
Are you an Overland Adventure Traveller?
Does the smell of spices wafting through the air make you think of Zanzibar, a cacophony of honking horns is Cairo, or a swirl of brilliantly patterned clothing Guatemala? Then this is the site for you!
Hosted by Grant and Susan Johnson, RTW 1987-1998
Next HU Events
HU Event and other updates on the HUBB Forum "Traveller's Advisories" thread.
ALL Dates subject to change.
2023:
2024:
Virginia: April 25-28
Germany Summer: May
Switzerland: August
Romania: August
Ecuador: September
France: September
Austria: September 12-15
Queensland: Oct 4-7
Germany Autumn: Nov.
Add yourself to the Updates List for each event!
Questions about an event? Ask here
ALL 15 chapters of the HU Achievable Dream Guide are available to download on Vimeo!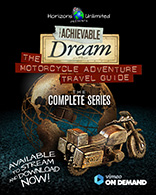 Binge watch over 18 hours of inspiring, informative and entertaining stories and tips from 150 travellers!
"a cross between entertaining stories, tech tips, and reference guide"
"A timeless introduction to Motorcycle Adventure Travel!"
Originally launched as a 7 DVD set, The Achievable Dream series can now be downloaded anywhere. OVER 18 hours of solid info take up zero space in your panniers. How convenient!
Books

All the best travel books and videos listed and often reviewed on HU's famous Books page. Check it out and get great travel books from all over the world.
NOTE: As an Amazon Affiliate we earn from qualifying purchases - thanks for your help supporting HU when you start from an HU Amazon link!