Morocco, Travellers information
Morocco 2002, the fact-file
This is from a tour Pieter Maes (Fireboomer) did in May 2002
Any questions about the info below, just drop me an e-mail: fire...@pandora.be
We have had a heat wave (+35°C in Marrakech), have seen snow in the Anti Atlas and flooding in between the Anti Atlas and the Sahara. So be prepared for anything around this time of the year.
Bike: Honda Transalp 2001 (new model)
Modifications:
2 Honda Panniers
front GIVI crashbars
Hein Gericke tank bag + side tank bags
2 12V sockets
Garmin 3+ GPS on Touratech bracket
5l water jerrycan and 5l fuel jerrycan
Michelin Desert tyres placed for Morocco
Quick link in the fuel line to make access to the air filter more easy.
Belgium - Morocco - Belgium.
I took the overnight auto-train from Brussels to Narbonne. About 320 EURO's for a two way ticket including:
Transport of the bike on the train
A comfy bed
Breakfast
Cancellation insurance
From Narbonne I drove down to Almeria where I took the ferry to Nador. I used ferry Maroc.
About 140 EURO's for a two way ticket, no cabin.
For info.
Customs:
Nador.
Quite simple and straightforward. Look around on the boat. You'll find people waiting for a customs officer to get the bike's papers sorted out and somewhere else you'll find people waiting to get there passport stamped by a police officer. It is strongly advised to get this done on the boat.
Once you're allowed to ride off the boat follow the indications by harbour authority's. At some point, in front of some low buildings, all the cars, vans, trucks,… are stopped. Here you need to hand over the green form together with your passport. Then you just wait until a customs officers comes over to check the bike.
They didn't ask any questions, just looked at my license number. Just keep smiling and be patient.
Be warned that there seems to be more control when you're leaving the country.
Customs is Almeria.
Leaving Spain is easy and straight forward. Just show the bikes papers when you check in with your ticket.
IMPORTANT: if you are in trouble with your papers, for ex.: forgot something home or got stolen; Get a declaration from the police stating that the papers were stolen. Then importing the bike is no problem. During the day you can do this in the little police office in the harbour. But once it is past 1700 you have to go down to the main police station:
Avenida Mediterranea, opposite of the big mall 'Carrefour'.
Cops were extremely friendly and helped me in less than 20 minutes.
Coming back into Spain is a different story. There is quite a bit of control. Dogs are around and everybody needed to open up their luggage.

Route in Morocco
If I get the necessary software and cables I can download a lot more of info from my GPS. The times indicated are purely as indications. I might be wrong here and there. But together with a good map this might give you a good idea. I also took lots of time to look around, explore, riding easy,… wasn't in a hurry. Surely didn't always take the shortest route.
Nador Harbour - Nador (30 minutes)
Watch out, there are several check points along this road. Speedguns in action!
Fuel: lots of places, none of them accept credit cards.
Cash: in Nador city, several banks and ATM's.
Hotels: not much… sad place. I stayed in the hotel close to the sea. Parked the bike in the guarded parking on the main square. 10 Dirhams per 12 hours.
Nador - Kariet Arkmane (1 hour)
Leaving Nador: watch out, several check points. Speedguns in action!
Sealed road.
Following the coast, sealed main road. But the little roads going into the country are very tempting and fun to ride on. Just follow your compass bearing to keep the right direction.
For the Belgians: the semi Belgian restaurant in Selouane (mentioned in the LP) ain't there any more, too bad.
Kariet Arkmane - Cap de l' Eau (1 hour)
Sealed road.
Great amazing bird life at Cap de l' Eau.
Cap de l' Eau - Saidia - Ahfir (2 hours via backroads)
Sealed road.
There is a new bridge over the Moulouya river close by the Mediterranean Sea. Not on indicated my IGN and Michelin map.
Didn't stop in Saidia, but tried to get a look on the border with Algeria. Seems to be the Berlin Wall of North Africa. Actually got a look at it in Ahfir.
Ahfir - Ain Sfa (1 hour)
Dirt road / sealed
P27 is sealed, off course. Little road going to Ain Sfa wasn't, but works were in progress to seal it. From Ain Sfa there is a road going north, nothing indicated. But I takes you to a little village one valley further. Great place to camp.
Ain Sfa - Sidi Bouhouria (1,5 hours via backroads exploring around)
Dirt road / sealed
You can take the main road or the back roads. Use compass or GPS to stay on track.
Sidi Bouhouria - Zegzel Valley (3,5 hours and then your way up the Zegzel valley)
Fuel up and have fun!!!
Off Road.
Just past the fork in the sealed road after Sidi Bouhouria you can take a right on a dirt road. It winds down into the Zegzel valley past little villages and beautiful landscapes. Once down in the valley take a right heading East North-East. There is basically only one dirt road going up the valley. It is quite hard going, but it is a gorgeous area.
People are very friendly, sure that you can camp out here.
Zegzel Valley - Berkane (2,5 hours)
Dirt road.
You don't have to back track. There is at least one dirt road forking off to the North going over the ridge towards Berkane. Just ask the locals, that's what I did.
Hotels: there is only one in Berkane and it is too expensive. I got a homestay at the Belkhir Abdellah family. They were extremely friendly and very nice. Had a great cross cultural evening. The bike was parked in the house.
60 Rue Mouley Yackoub
Hay El Mohammedy
60300 Berkane.

Berkane - Taforalt (1,5 hours)
Fuel up in Berkane.
Sealed road.
The little road winding up the Berkane Mountains is beautiful. Don't follow the signs saying 'Zegzel Gorge'. It ain't much, dead end at a river. You have to pay to see it…
Taforalt - Rislane (45 minutes)
Dirt road, but preparations were made to seal the road.
Rislane - Barrage Mechra Hommadi (4 hours)
Dirt road.
A bit past Rislane take a right. There is a 'main' dirt road heading into the hills. There are miles and miles of great dirt roads here. Days of explorations to do. Don't go alone since you can be hours from anything. I haven't seen a village, person or car in about 3 hours. Great area.
The moment you get Mechra Hommadi in sight is great.
Mechra Hommadi - Barrage Mohammed V (3 hours)
Dirt road - sealed
I tried to find the dirt roads indicated on the Michelin map. I managed to get to the mountain ridge in between the two places, but couldn't pass it. Came back on a sealed road heading to Hassi Berkane.
Barrage Mohammed V - Nador (1,5 hours)
Sealed
Easy road, close to boring.
Nador - Driouch (1,5 hours)
Sealed, P39
Fuel: no problem, several stations alongside the road. None accept credit cards. Tistoutine has some nice terraces where you can drink a tea and watch the traffic going by.
Fuel: leaving Nador, plenty of fuel stations.
Driouch - Ain Zorah (1 hour)
Mostly just sealed, watch out: on top of tarmac often some inches of gravel!!!
Nice road taking you up the Eastern Rif mountains while you get the first glimpses of the Atlas on the horizon.
Ain Zorah - Dar Caid Medboh (1,5 hours)
Sealed (with loose gravel on top!) till Mazguitem.
Past Mazguitem take a right to Dar Caid Medboh. Clearly a 'less' travelled road. Nice quite area.
One oued with the bridge down. Was our first river crossing.
Dar Caid Medboh - Taza (1 hour)
Sealed.
Nothing special. Stopped for fuel in Taza. Unleaded was a problem.
Taza - Merhaoua (2 hours)
Sealed, but again…. Loose gravel on top.
Amazing road to climb into the Atlas. Follow the sings to Bab el Arba. Then take a right towards Merhoua. From here it only goes up and up. Passing one valley after the other, great views, little villages….
Merhaoua - Ribat El Kheir (4 hours)
Sealed - dirt road.
We planned to take a right after Merhaoua towards Ribat el Kheir but couldn't find that road (indicated on the IGN and Michelin map). So we kept on going towards Tamtrouchte.
This roads takes you via a very deserted high mountain pass. The highest part is dirt road. Make sure you have plenty of time if you go exploring alongside this road. If you get stuck in the high part, be prepared for some winter camping in this time of the year.
Fuel: in Ribat El Kheir
Hotels: none. We got a home stay at the local teacher's home. Great guy. This is a town with a special history by the way. In the 70's there has been a general who planned a coup. He or members of his group came from this town. I wouldn't ask around about it, but maybe they will tell you the story as did the teacher to us.

Ribat El Kheir - Azrou (1,5 hours)
Sealed
Straight forward, all roads are sealed. Ifrane seems to be a place that doesn't belong there.
Azrou - 'Ain Leuh loop' - Middelt (6 hours)
Out of Azrou we made a loop into the Cedar woods. Got the see the monkeys. Beautiful area. Ain Leug itself is an amazing little village stuck against a hill side. Worth a stop and a stroll around.
We didn't go back to Azrou to get to the p21. It is worth the detour. Then we took the P21 to race down to Middelt.
Fuel: in Arzou, but unleaded not always there…
Middelt - Goulmima (8 hours in worst weather conditions possible)
First plan was to go via pistes to the Cirque de Jaffar and the Todra gorge. We had to abandon this plan because of very bad weather. Snow, rain, flooding…. We had to work our way out of Middelt via the sealed P21 towards Er Rachidia.
If you have bad weather in this area be prepared for anything. Snow in May is quite possible, lots of rain, flooding… It was hell, but we made it. Has to be an amazing area if the weather is ok.
Think that crossing over the Plateau du Rekkam has to be great! Next time.
Hotel in Goulmima: Only one place to go:
Maison d' Hotes La Palmerie!
6 bis, Hay Ouatmane
Secteur 2
Goulmima, Errachidia
055 78 40 04
Heaven in an oasis! Great place run by a French women. Bikes are parked safely. Every budget possible. Wanna go cheap ask to sleep in the tents. The food is worth the money.
NO ATM's in Goulmima!!!
Several internet cafés.
2 Fuel stations, but guess what, unleaded.
Goulmima - Zagora (11 hours with quite a bit of stops, about 7 on piste)
Sealed - dirt road
We took the piste to Alnif. Nice track, but the closer you get to Alnif the more aggressive the little kids are. Reason: a lot of commercial tourism in 4X4 jeeps.
From Alnif sealed road to the Valley of the Draa.
Instead of the sealed road we took the dirt track on the East side of the river Draa. A lot more fun. No hassling by locals, they are all on the main road hunting for tourists!
TIP about the kids asking for 'stylo', candy, Dirham,… DO NOT GIVE SOMETHING TO THEM. It will only encourage them to stick to this lucrative way to make a living and not go to school instead!!! If you really want to give something then hand it over to the village teacher. They know best who needs the most help.
Fuel in Zagora no problem.
Hotel: we stayed in Hotel des Amis. Ok, but not special. Bikes are parked inside the hotel.
Zagora - Taroudant (13 hours of which about 8 on piste)
Dirt road - sealed
From Zagora we went East towards Bleida. We took the track that goes just South of the Zagora airport. Got a bit lost because we went too much East South East. It is not easy to find the right track. There are some difficult oued crossings. But it is without question out there…. The fact that we came along a quite (secret military) airport in the middle of no where indicated that this is a real deserted area.
From Bleida on the road was partly sealed. But again covered with dangerously loose gravel.
Taznakht is really nice village. Great place to hang out, eat… quite not too much of tourism. Only one hotel, but looks great. Quite a bit of mountain bikers around.
From Tazenakht we took the main road to Taroudant.
Stayed in two hotels in Taroudant:
Hotel Souss. OK, but not too special. It is alongside the road in between Place Al-Alaouyine and Place an Nasr.
Much better is Hotel Taroudant on the corner of in between Place Al-Alaouyine. Great place to stay!!! Bikes parked inside. Right on the main square. Quite inside garden. Good food and…. Wine and beer! Not expensive. Worth the money.
Several fuel stations, banks and ATM's
Taroudant - Tata (8 hours, 5 on piste)
Dirt road - Sealed
From Taroudant to Igherm the road is sealed.
From Igherm I followed the track to Tata as is described in Chris Scott's book. Beautiful. way to go from the Anti Altas into the lower rocky desert fields. Finding the fork after Igherm ain't easy. As far as I remember it is after a turn right the second dirt road left. The first one looks actually better, but is goes eastwards.
There are some nasty descents, but the views are impressive. The road has been sealed until Souk Tleta Tagmout. Driving up here will give you some very impressive looks on mountains. (things I hadn't seen before)
Tata ain't much. Looks like a Mexican army camp. I stayed in the hotel outside of the centre alongside the road to P30 (going to Akka). Was the only place where I could get a safe place for the bike. Bit more expensive, but there is a (freezing cold) swimming pool.
Fuel… Hmmm can't remember actually. Think there was one fuel station.
Tata - Tiznit (5 hours)
Sealed road.
Was on my own and this is not the kind of area you want to go exploring on yourself. The P30 was good enough for me here. Very hot, very deserted,…
Don't have much to say about Tiznit. Have been 24 hours miserable with food poisoning
Tiznit - Tafraoute (2 hours, but take lots of time to look around)
Sealed road.
But very beautiful.! Just a short ride.
Tafraoute a lot nicer then Tiznit, quite, beautiful. area,..
Good hotel to stay: Hotel Tafraoute. Honest guy, free HOT showers, good food!!!
Ask for the half-pension deal. When I was there it was 100 Dirham including room, shower, breakfast and dinner (soup, main course and desert)!!! Unbeatable!
Great day trip South of Tafraoute:
Tafraoute - Agard Oudad - Tleta Tasserirt - back to Tafraoute via the mine indicated on the IGN map. About 10 hours of piste.
Takes you through beautiful gorges, villages,… one of the most beautiful. places to discover in Morocco Almost no tourists what so ever.
So fuel up in Tafraoute and head out!
Fuel: at the hotel, but no unleaded.
Tafraoute - Taroudant (9 hours)
Sealed road
Amazing road going over Ait Baha. About 30 km's alongside a great gorge with one deserted village after the other.
Make sure you fueled up in Tafraoute, there ain't much on the way.
Taroudant - Marrakech (8 hours)
Sealed road.
Via Tizi N Test.
Fuel up in Taroudant.
Consider riding up to Imlil from Asni. BUT: DO NOT STOP IN ASNI unless you want to know what it is like to be really hassled. This is the worst place in Morocco. I knew this as we stopped alongside the road for 5 seconds. Just to give my friend an idea of what you can get into. Within those 5 seconds about 10 men were offering us deals!! We barely had time to set our feet on the ground.
But if you make it to Imlil. Try to get in touch with this guy:
Hamid Tanzinne. Lives in a nearby village. Honest guy with good references. Has a little refuge, said to me he could park the bikes safely (but I was there backpacking)
Hamid Tanssine
Douar M'zik
BP 86
42150 Poste de Asni
Par Marrakech
Morocco
Fax: 00 212 4485608
For me there is only one hotel in Marrakech: Hotel Essaouira, in the Medina close to the Djemaa El Fna square. We parked two bikes inside the hotel. Best place to meet other backpackers / travellers. Great roof terrace. Addicting.
Hotel Essaouira
Riad Zitoune Kedim 3
Derb Sidi Bouloukate
Marrakech Medina
Tel 00 212 44443805
Fax 00 212 44426323
Say hi to Brahim the painter living on the roof terrace from me.

Marrakech - Cascades d' Ouzoud - Marrakech (9 hours)
Sealed road
The Cascades are great. If you have time stay here to camp for a couple of days. Tourist still have to discover this little paradise.
Fuel in Marrakech, no problem.
Marrakech - Ouarzazate (8 hours)
Sealed - dirt road.
Via Tizi N Tichka and the Ait Benhaddou loop.
Tizi N Ticka is (I find) nicer then Tizi N test. The Ait Benhaddou loop (taking the left on Tizi N Tichka towards Teloutet) is great. Going up and down a gorge with an oases down in it….
Don't give the guy at the fork a lift. He will invite you into his house and so on…
Fuel in Marrakech and alongside the way to the Tizi.
Hotel in Ouarzazate: DO NOT STAY in HOTEL ES SALAM. Stuff got stolen out of my room while my room was locked and I was taking a shower.
Sure there are other nice hotels. The town itself is a nice place to hang out for the night.
Ouarzazate - Gorge du dades - Todra gorge - Goulmima (9 hours)
Sealed road, but in very bad shape some parts.
First 10km's to Gorge du Dades is pothole country. Rest is beautiful. tarmac as is it is a race circuit.
Todra is only the very last bit into the gorge piste. But as far as I am concerned the Dades is much better. Todra way to touristy, had to pay to see the 300m stretch of rock walls… Stuff mentioned earlier beats this easily. (Tafraoute day trip, Cascades d' Ouzoud, Igherm-Tata piste)
Fuel: along the road. Just remember no ATM's in Goulmima.
Goulmima - Merzouga (9 hours)
Sealed road to Erfoud, piste from there to Merzouga.
To get from Goumima to Erfoud take the little road from Tinejdad. Or even the track a couple of km's before. Haven't tried it, but think it should be ok.
Erfoud - Merzouga… If you are not alone and if you vehicle can cope with the piste (km's of washboards!) a must do!
Fuel: Alongside the road. Erfoud = fuel up!
Hotel in Merzouga:
Kasbah le Touareg
Hassan Aït Ali
BP 11 Merzouga 52202
Maroc
Tel / fax: 055 57 72 15
Real nice place to stay, good rooms, showers,…. But you will get hassled about a camel ride into the dunes by the young guy. Quite irritating actually. But If you stick to your idea you'll be fine.
Ask for the half pension deal. As I remember correctly we got a deal similar to the one in Tafraoute.
Merzouga - Figuig (12 hours)
Sealed road - track to get out of the desert
Long run, but doable. Road P32 alongside Algerian border is beautiful. Lots of checkpoints, just keep smiling. No tourists what so ever.
Fuel up when you can, you can count the fuel stations on one hand this day.
Hotel in Figuig: Figuig Hotel. It has moved out of the centre towards the Algerian border. Amazing terrace: you can see the villages in Algeria…
Very cheap with clean rooms, bathrooms, terrace, is about the only restaurant in town also. Will get more expensive if the border opens up again.
Figuig - Oujda (8 hours)
Sealed road
Bit boring I guess. But lots of tracks that just as to go exploring…. Hmmm. Next time.
Again, fuel up when you can.
Hotels in Oujda, lots of them. But not easy to get a safe place for the bike. Didn't really find a place I liked, but did like the town itself.
Fuel: no problem.
Oujda - Nador (4 hours)
Sealed road.
Nothing special. Was going home.
---
Member login
Are you an Overland Adventure Traveller?
Does the smell of spices wafting through the air make you think of Zanzibar, a cacophony of honking horns is Cairo, or a swirl of brilliantly patterned clothing Guatemala? Then this is the site for you!
Hosted by Grant and Susan Johnson, RTW 1987-1998
Next HU Events
The weather has finally turned, so Gear Up for your motorcycle travel adventure! Take 30% off the Achievable Dream - Gear Up! 2-DVD set until May 31 only.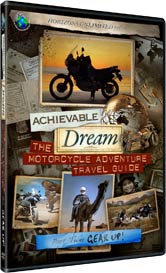 Which bike, how to prepare it, what else to take, how to pack it all in! 6 hours!
"It's another great job, informative and entertaining."
"It's really professional and full of useful information, a must for any traveler."
Check it out at the HU Store! Remember to use Coupon Code 'GEARUP' on your order when you checkout.
Books

All the best travel books and videos listed and often reviewed on HU's famous Books page. Check it out and get great travel books from all over the world.