Get Inspired!
Light the fire!
Just found us? Wondering what this motorcycle adventure travel gig is all about? You've come to the right place!
For over 10 years, we've been helping people just like you to achieve their dreams of travel to faraway places, not on a packaged tour but overland, with their own vehicle. We hope to create an addiction to travel that will never end. It all starts here...
Newsletter - Tales of adventure, joy and sheer terror from around the world! Stories from travellers on the road right now! Edited monthly (or as often as we get to it). Now in its 13th year of publication, with over 7,500 subscribers. Free to your e-mail box!


Travellers Stories / Blogs - Exciting, humorous and sometimes terrifying stories from intrepid motorcycle adventurers. Over 250 travellers, from first-timers to legends... Thousands of great stories and pics. Written on the road, from internet cafes in Afghanistan to Zimbabwe and all parts in between.


Grant & Susan Johnson - Grant & Susan Johnson, your hosts, are also seasoned (some would say crazy) motorcycle travellers. We did our own RTW trip north to south, two up on a 1986 BMW R80 G/S from 1987. We've been to over 50 countries since then, traveling and working all over the world, and we're not finished yet! And quite frankly, if we can do it, so can you! Read our stories from the road...
Resources and Links
Horizons Unlimited is more than just a forum, more than just a website, and even more than just a global community of motorcycle travellers. We also produce informative and entertaining DVDs to help get you on the road!
The new Road Heroes DVD series

helps answer the question - Why Go? Inspirational stories by veteran travellers Dr. Gregory Frazier (5 times RTW on a variety of bikes), Peter and Kay Forwood (Challenges of travelling to 193 countries 2-up on a Harley Electraglide), Tiffany Coates (Mongolia Mayhem) and Rene Cormier (University of Gravel Roads).
Calendar pics - From the HU Annual photo contest! The contest is an annual event for travellers to showcase their best photographs from their travels around the world. The winners feature in the annual HU calendar!


Travel Books - From Ted Simon to Greg Frazier, Lois Pryce to Sam Manicom, Paddy Tyson to Simon Roberts, and many others, we have all the inspirational motorcycle travel books you could want!
---
Member login
Are you an Overland Adventure Traveller?
Does the smell of spices wafting through the air make you think of Zanzibar, a cacophony of honking horns is Cairo, or a swirl of brilliantly patterned clothing Guatemala? Then this is the site for you!
Hosted by Grant and Susan Johnson, RTW 1987-1998
Next HU Events
HU Event and other updates on the HUBB Forum "Traveller's Advisories" thread.
ALL Dates subject to change.
2023:
2024:
California: April 18-21
Virginia: April 25-28
Germany Summer: May
Switzerland: August
Romania: August
Ecuador: September
France: September
Austria: September 12-15
South Africa
Queensland: Oct 4-7
Germany Autumn: Nov.
Add yourself to the Updates List for each event!
Questions about an event? Ask here
ALL 15 chapters of the HU Achievable Dream Guide are available to download on Vimeo!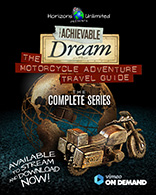 Binge watch over 18 hours of inspiring, informative and entertaining stories and tips from 150 travellers!
"a cross between entertaining stories, tech tips, and reference guide"
"A timeless introduction to Motorcycle Adventure Travel!"
Originally launched as a 7 DVD set, The Achievable Dream series can now be downloaded anywhere. OVER 18 hours of solid info take up zero space in your panniers. How convenient!
Books

All the best travel books and videos listed and often reviewed on HU's famous Books page. Check it out and get great travel books from all over the world.
NOTE: As an Amazon Affiliate we earn from qualifying purchases - thanks for your help supporting HU when you start from an HU Amazon link!