About HU
About HU
New to HU? Start Here!
New to motorcycle travelling? New to the HU site? Confused? Too many options? It's really very simple - just 4 easy steps!
What turns you on to motorcycle travel? Meet some of your fellow travellers! See the trailer!
Your Hosts
Grant & Susan are veteran motorcycle travellers - RTW north to south, two up on a 1986 BMW R80 G/S from 1987. We've been to over 50 countries since then, traveling and working all over the world, and we're not finished yet! Read our stories from the road...
Watch the interview with us by Motorhome Channel UK at the HUBB UK 2013 event:
The bike is unique and has its own story.
Our 'Rules of the Road' things we have learned about travelling, usually the hard way!
Trip Photo album 500+ images
Advertisers & Supporters
Advertisers - Horizons Unlimited is well-established as the first source of reliable, unbiased information on all aspects of motorcycle travel.

We reach a dedicated, worldwide group of real travellers, and are the only website focusing exclusively on long distance motorcycle travellers.

If you sell motorcycles or motorcycle accessories, riding gear, camping equipment and clothing, transport motorcycles, organize motorcycle tours, or have motorcycles to rent, you should be advertising with us!
Become an HU Supporter Help keep your favorite website going and get additional HUBB privileges!
---
Announcements!
Member login
Are you an Overland Adventure Traveller?
Does the smell of spices wafting through the air make you think of Zanzibar, a cacophony of honking horns is Cairo, or a swirl of brilliantly patterned clothing Guatemala? Then this is the site for you!
Hosted by Grant and Susan Johnson, RTW 1987-1998
Next HU Events
NEW!

Chile: Mar 8-11
Germany Summer: May 31-Jun 3
Russia: June 21-24
Indonesia: July 12-15
Switzerland: Aug 16-19
Montenegro: Aug 30-Sep 2
HUMM Appalachians: Sep 14-16

NEW!

Italy: Sep 14-16
North Carolina: Sep 20-23
France: Sep 21-23
California: Sep 27-30
Germany Autumn: Nov 1-4
Buy the Achievable Dream Collectors Set at 10% off and get a 2018 Calendar Free!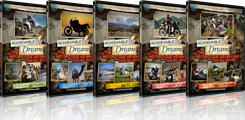 What a great gift for a friend (or yourself)! Binge watch over 18 hours of inspir