Border Crossings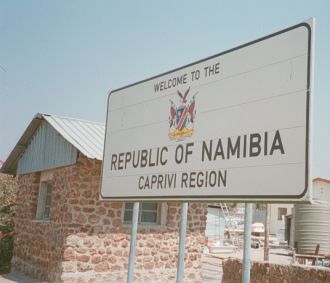 Have you crossed a tricky border lately?
Let us and everyone else know all about it here! Easy, 5 minute form. Thanks!
This new system is just released on our new site, and may change in the in the next month or two. Any information you enter in the new system will NOT be lost, so go ahead and add it in!
I'm often asked about border crossings and how to deal with the aggravation, hassle, lies and ripoffs.
There's a ton of info on the technical aspects of that on this and other related pages, so I'm just going to give you a basic, simple "philosophy" to get through it with your head intact.
You have two choices at any border crossing (or for that matter many points in life, and on your travels)
1: Go in convinced you're going to get ripped off, screwed around, experience ridiculous delays and you're going to get thoroughly pissed off, and it's going to be a really shitty day, and guess what - it will be.


2: Go in thinking "This is going to be INTERESTING! What weird and wonderful ways of doing things am I going to see today?" Go in with a smile and shake their hand and generally have a fun and pleasant manner, and you'll be amazed at how well it goes. And if it doesn't, a positive manner will certainly make it a lot more fun and you'll have some great stories to tell!
I think that # 2 is the way to go. How about you?
Grant
Border Crossing Tips
These look like they're "specific" but they are more "general concepts" on crossing borders. Read them all and learn! Then check out the more specific border crossing information in the links above,
Ferry from Melaka, Malaysia to Dumai, Indonesia (by Linda, October 17, 2006)
My advice is not to go via the ferry from Melaka to Dumai. For a start you can only do it if your bike is less than 30 inches as it has to fit the door to the passenger department. Also the ferry company may not accept you after the hassles I had, as the Indonesian police blamed them for letting me in.

On arrival at cutoms they refused to stamp the carnet, phoned the police and I was escorted to the police station and my bike impounded. They said I had to have permission from Jakarta before I could ride it. After lengthy discussions, and the weekend, I had to take a bus to the main police station at Pakenburu, 200kms by bus (5 hours+). There, I spoke to Mr Aswin Siregar who took copies of all my papers and finally gave me written permission. The carnet then had to be stamped in back at Dumai and a copy sent via the police there back to Aswin. Ph, no 0761 29031 Jln. Senapelan no 10, Pakenburu My advice is to try and go via Penang to Bulawan as it may not be such a problem there. The province of Riah (Dumai) is the one with the smuggling probs where they are more vigilant. Also it is better to ride up north on the Malaysian side as the roads and traffic are bad in Indonesia.
If you want to try and get permission from Jakarta before hand try asking at the Embassy in KL and INSIST that you need it. They said they didn't know anything when I asked but the police said they have told the embassy about this. I'm sorry I can't find the address that Aswin gave me at presnt, but ask for traffic police headquarters in Jakarta.

West Africa / Sahara border crossings basics (by Danek, posted on February 15, 2006)
In virtually all West African countries there are three border offices, not necessarily at the same place: customs; police; and gendarmerie.
Customs - Responsible for your goods, but rarely they care of your luggage rather than the vehicle. "Carnet de Passage" is the best solution, not only for vehicles older than 5 years. It "shuts the mouth", no bribe is required or insisted. Look then for the proper stamps and written entry. If necessary, point by finger what and where should be written or stampped.
Police - Checks your visa and identity (but nobody should present itself face to face, it is enough and even better when one person brings all passports to the "office"). If there is no any odd requirements of you (lack of visa, lack of entry stamp, etc.) it is easy and straight forward.
Gendarmerie - Looks for statistics and the "Fiche de reignsenement", the document your should prepare yourself before entering Africa. Stating: name, date of birth, pass number, its expiry date, profession (best use professions easy to understand: electricien, chauffeur, musicien etc., absolutly not journalist! Of course all written in French!), vehicle reg. number, make of the car. There are a few exceptions you should fill according to local officer suggestion, date of entry, visa details etc. They are satisfied to get such "document" for their files or just the best base to retype it in official notebook (take more time).
Enter the three offices yourself, do not follow anybody who ask you for anything. Best solution is not to understand French, cheaters usually give up with persons they can not follow. Just start procedure yourself and go to the proper offices and process your documents. Refuse and ignore all civils who want: to stop you, to help you, to explain anything, to gather all documents and process them, to interact with you in any other way, just ignore everyone and be confident not asking about anything. If you are wrong in your procedure the border officer shall tell you the right way.
Rosso is famous for their hustlers. However, just do not stampede, be self-confident and cross the last 1 km before the border not stopping even for a while. The border barrier is your target. Just jump the queue of locals, other vehicles if such exists. Insist for gate opening, park your car inside and start the procedure. Otherwise you may choose Diama, smaller and better defined (~10 EUR for each of the procedures) border leading you straighforward to St. Louis on all improved road with new asphalt ! If you want to know the shortcut to Diama from N2 road heading to Rosso, but avoiding this place please
West Africa / Sahara border crossings basics (by "Enzo")
Our carnet was only used in Kenya. Temporary import permits (TIPs) were issued by the customs of all the countries we passed through but we came unstuck at Kenya. South Africa, Namibia, Botswana, Lesotho and Swaziland are members of the Southern African Common Customs Area (Zimbabwe is not a member). Once in the area, vehicles registered in any of these countries can move freely between without paperwork formalities. Haven't heard that the same thing applies to all OAU countries.
August 2000 - by Erwin Thoma
Erwin travelled from March to August 2000 with a BMW R1100GS through Central America (from Mexico to Guatemala, Honduras, Nicaragua, Costa Rica, Panama and than to Columbia) without a Carnet de Passage. The bike was registered in Germany and he is a German citizen.
General tips for border crossings
Avoid weekends and public holidays, sometimes it takes longer (more clients, less officers), extra fees will be charged and it is harder to get photocopies at the borders.
Arrive at the early morning or shortly after lunch break. So you avoid waiting during the lunch break. Or show up shortly before they close the border (Check your guidebook concerning the working time of the borderpost).
Dress nicely to avoid to be asked for sufficient funds. Mostly people will treat you better, if you look nice.
Be polite, even if you think the officer is an asshole or you know that he is one. You do not know the laws, bureaucracy all over the world is not based on logical thinking and finally the officer has all the power, you have none just the wish to enter the country.
Always visit first the migration office before the customs office.
Try to park the bike so, that at least you can see it after doing some steps.
I needed nobody to help me. At most of the borders are guides. May be it is helpful and a little bit faster if you ask them for help. Clarify the costs before you ask them for help.
Be patient. It took me mostly about 45 minutes to 1 hour to cross the border, but sometimes computers are out of order, the officer is visiting his girlfriend or...
If you are told that something you ask for is not possible try to find out why and if there is a good reason, try to talk to the supervisor. It could be helpful when you meet the chief of the borderpost or customs office. Sometimes they can allow an exception.
Never offer money without being asked for. If you are asked for money, ask for a receipt and the reason why you have to pay. Keep all receipts as long as you stay in the country. If you have to bribe someone, remember the date, the time, the amount of money and if possible the name of the officer and write a mail to the embassy of the country and the tourist office.
Try to have some money of the country you are heading for with you. US $ in small bills are also important. Change with other travelers. At least try to know the exchange rate before you arrive at the border and try to knew how the bills look like. There are moneychangers (bargain) or banks at every border crossing.
I have always been asked for my driving license, the title of the motorcycle and my passport. I had an international driving license with me. At most of the borders you will need photocopies of the aforementioned documents. Even if you are not asked for it is wise to have copies of all important documents.
I mostly leave the originals in the hotel safe or in a belt which I wear on my trousers. At all borders are photocopy shops available, but I recommend to do the copies in advance. Photocopy shops are easy to find in all countries.
I never queue up with a motorcycle. I always pass the waiting line of cars, busses and trucks.
All borders are easy to cross.
Susan Johnson adds:
Generally, it's not a good idea to take pictures at border crossings, it tends to be regarded as 'spying' in many countries.
But I couldn't resist the following shot of the customs area, taken at the border of Egypt (with Libya):
---
Member login
Are you an Overland Adventure Traveller?
Does the smell of spices wafting through the air make you think of Zanzibar, a cacophony of honking horns is Cairo, or a swirl of brilliantly patterned clothing Guatemala? Then this is the site for you!
Hosted by Grant and Susan Johnson, RTW 1987-1998
Next HU Events
HU Event and other updates on the HUBB Forum "Traveller's Advisories" thread.
ALL Dates subject to change.
2024:
Virginia: April 25-28
Germany Summer: May 9-12
Switzerland: August 15-18
Romania: August
Ecuador: August 23-25
France: September
Austria: September 12-15
Queensland is back! Oct 4-7
Germany Autumn: Oct 31-Nov.3
Add yourself to the Updates List for each event!
Questions about an event? Ask here
ALL 15 chapters of the HU Achievable Dream Guide are available to download on Vimeo!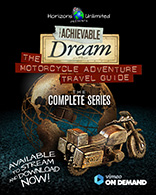 Binge watch over 18 hours of inspiring, informative and entertaining stories and tips from 150 travellers!
"a cross between entertaining stories, tech tips, and reference guide"
"A timeless introduction to Motorcycle Adventure Travel!"
Originally launched as a 7 DVD set, The Achievable Dream series can now be downloaded anywhere. OVER 18 hours of solid info take up zero space in your panniers. How convenient!
Books

All the best travel books and videos listed and often reviewed on HU's famous Books page. Check it out and get great travel books from all over the world.
NOTE: As an Amazon Affiliate we earn from qualifying purchases - thanks for your help supporting HU when you start from an HU Amazon link!