Border Crossings - Ecuador to Peru
Peru to Ecuador - by Rene Cormier
Border Entry Date: July 27, 2004
Border Entry: La Balsa
Carnet: yes
Country entering: Peru
Country leaving: Ecuador
Time Required:
30 minutes total (NOTE: Rene used a carnet, which speeds up the process significantly.)
Carnet:
Ed. Comment: Technically a carnet is required, BUT it is possible to enter without a carnet. At La Balsa, it may not be, no guarantees. The carnet requirement is under review at the time of writing. See here for more information , and search the HUBB for the latest.
Documents used:
Passport, carnet
Fee info:
No money needed on either side
Exit Procedure:
Arrive at long wooden buildings along river. Aduanas is first, got carnet stamped. By then the immigration guy is at the bikes asking (like everbody does) How much do they cost in USA? Immigration is next door. Drive across the bridge to Peru.
Entry Procedure:
Wooden building in Peru, Immigration first, next door is Aduana, stamp, stamp, stamp, go.
Visa/Entry Permit duration:
90 days when asked for.
Insurance Requirement:
Not mandatory.
Report:
This is the most south-easterly border between Peru and Ecuador. The border is most easily found by looking directly below Loja on a map of Ecuador. Loja is the last major city in Ecuador and a good place to spend the night before heading to Zumba. Heading south on a good paved scenic highway heading toward Vilcabamba. Gas up in Malacatos, 20 minutes north of Vilcabamba, as there is none in Vilcabamba. The paved road continues for 12 miles past Vilcabamba, turning to a well graded dirt. The bus times from Loja to Zumba (the closest town of any size near the border) is 8 hours. We made it in 7. It is 92 miles from fuel in Malacatos to Zumba. The road climbs quickly to a cold and cloudy 2700m then drops to 1400m for the last half of the trip. If it is raining, or has rained recently, this road is a quagmire. We encountered more than 10 landslides, but they had all been detoured (either around or through). There were a few water crossing, the longest about 30 feet with water about hub-deep. We were first and second gear the entire time (loaded F650s with Metzler Tourances). After decending out of the mountains, then road improves abit for the second half of the trip to Zumba. There is gas in Zumba (USD$1.57/gallon, 10 cents more than the rest of the country). There are several hotels and restuarants, rooms about $3-5p.p.
From Zumba to the border is 1.5 hours, on a single lane dirt road. No issues it its dry out. One military checkpoint. The last half mile is the trickiest. Steep decent to the river where the border crossing is. When wet, its slippery, with 4 hairpin turns.
The border crossing itself was pleasant on both sides, and completed in a record 15 minuntes for each country. A new concrete bridge put up in April of 2003 provides the only 100' of concrete surface for the next 24 hours. On the Peru side are comedors where it is possible to pay in USD (the official currency of Ecuador) or Peruvian soles. In Peru, the closest town of size is San Ignacio. It took us 3 hours in first gear mud to slide our way up to this town, dumping the bikes several times in the process. They are doing road construction (apparantly from really bad dirt to bad clay) and with rain, its a slippery affair. Again, there would be considerably less issues when dry. We had a downpour while completing docs in the aduana, so we had freshly watered clay/dirt roads. Stayed in San Ignacio, arriving at 3pm. It is 3 hrs to the city of Jaen, where the permanent paved highway starts. There are patches of pavement from San Ig to Jaen, through beautiful rice fields and valleys.
Reliability:
Great
---
Member login
Are you an Overland Adventure Traveller?
Does the smell of spices wafting through the air make you think of Zanzibar, a cacophony of honking horns is Cairo, or a swirl of brilliantly patterned clothing Guatemala? Then this is the site for you!
Hosted by Grant and Susan Johnson, RTW 1987-1998
Next HU Events
HU Event and other updates on the HUBB Forum "Traveller's Advisories" thread.
ALL Dates subject to change.
2024:
Virginia: April 25-28
Germany Summer: May 9-12
Switzerland: August 15-18
Romania: August
Ecuador: August 23-25
France: September
Austria: September 12-15
Queensland is back! Oct 4-7
Germany Autumn: Oct 31-Nov.3
Add yourself to the Updates List for each event!
Questions about an event? Ask here
ALL 15 chapters of the HU Achievable Dream Guide are available to download on Vimeo!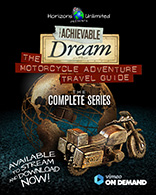 Binge watch over 18 hours of inspiring, informative and entertaining stories and tips from 150 travellers!
"a cross between entertaining stories, tech tips, and reference guide"
"A timeless introduction to Motorcycle Adventure Travel!"
Originally launched as a 7 DVD set, The Achievable Dream series can now be downloaded anywhere. OVER 18 hours of solid info take up zero space in your panniers. How convenient!
Books

All the best travel books and videos listed and often reviewed on HU's famous Books page. Check it out and get great travel books from all over the world.
NOTE: As an Amazon Affiliate we earn from qualifying purchases - thanks for your help supporting HU when you start from an HU Amazon link!