Planning Schedule
International Overland Trip Preparation Guide List

Prepared by Chris Drew

Category

Item

Critical Importance

Time Priority

Prior to Departure

Output

1

Timeline

Timeline to departure

flexible

High

12 months

Timeline

2

Safety and Health

First Aid Training courses complete

important

High

12 -6 months

Action

3

Prior to Departure

Shake down trips

flexible

High

12 -6 months

Recommendation comments

4

Where

Route planning generally

flexible

Medium

12 -6 months

Point form notes

5

Group

Group numbers

flexible

Medium

12 -6 months

Discussion paper

6

Sources of Information

Trip Web sites

flexible

Medium

12 -6 months

Suggestions

7

Where

Where to start

flexible

Medium

12 -6 months

Point form notes

8

Where

Where to go

flexible

Medium

12 -6 months

Point form notes

9

Where

Where to stop

flexible

Medium

12 -6 months

Point form notes

10

Where

Highlights to consider along the route

flexible

Medium

12 -6 months

Brief comments

11

Where

Trip time available for each participant

important

Medium

12 -6 months

Recommendation comments

12

Group

Joining the group

flexible

Medium

12 -6 months

Notes for discussion

13

Group

Leaving the group

flexible

Medium

12 -6 months

Notes for discussion

14

Group

Group dynamics

flexible

Medium

12 -6 months

Notes for discussion

15

Vehicle Preparation

Vehicle weak points

important

Medium

8 -6 months

Point form check list

16

Vehicle Preparation

Tyres

important

Medium

8 -6 months

Point form check list

17

Vehicle Preparation

Fuel Systems

important

Medium

8 -6 months

Point form check list

18

Vehicle Preparation

Electrical Systems

important

Medium

8 -6 months

Point form check list

19

Vehicle Preparation

Basic vehicle knowledge

important

Medium

8 -6 months

Point form check list

20

Vehicle Preparation

Basic vehicle equipment

important

Medium

8 -6 months

Point form check list

21

Vehicle Preparation

Recovery gear

important

Medium

8 -6 months

Point form check list

22

Vehicle Preparation

Camping Requirements

important

Medium

8 -6 months

Comments for discussion

23

Other Equipment

Maps progress

flexible

Medium

6 months

Progress report

24

Safety and Health

Staying healthy points to remember

important

Medium

6 months

Discussion paper

25

Safety and Health

Staying safe on the road

critical

Medium

6 months

Discussion paper

26

Getting There and Back

Vehicle Size Limits for Shipping Container

critical

Medium

6 months

Report

27

Paperwork

Passport

critical

Medium

6 months

Point form check list

28

Paperwork

Registration

critical

Medium

6 months

Point form check list

29

Paperwork

Drivers license

critical

Medium

6 months

Point form check list

30

Paperwork

Carnet (requirement)

critical

Medium

6 months

Discussion paper

31

Paperwork

Visas

critical

Medium

6 months

Point form check list

32

Safety and Health

Vaccinations required

critical

Medium

6 months

Point form check list

33

Where

Weather constraints

critical

Medium

6 months

Outline

34

Communication

Foreign Language Preparation

flexible

Medium

6 months

Course of books

35

Other Equipment

Maps progress

flexible

Medium

6 months

Progress report

36

When

When to return

flexible

Medium

6 months

Recommendation comments

37

Camping Equipment

Packing lists

important

Low

6 - 4 months

Point form check list

38

Camping Equipment

Camping equipment

flexible

Low

6 - 4 months

Point form check list

39

Camping Equipment

Sleeping equipment

flexible

Low

6 - 4 months

Point form check list

40

Camping Equipment

Tents

flexible

Low

6 - 4 months

Point form check list

41

Camping Equipment

Cooking

flexible

Low

6 - 4 months

Point form check list

42

Camping Equipment

Food

flexible

Low

6 - 4 months

Point form check list

43

Camping Equipment

Refrigeration

flexible

Low

6 - 4 months

Point form check list

44

Camping Equipment

Clothing

important

Low

6 - 4 months

Point form check list

45

Other Equipment

UHF radio

flexible

Low

6 - 4 months

Discussion paper

46

Other Equipment

GPS unit and use

important

Low

6 - 4 months

Point form check list

47

Safety and Health

Medical kit

critical

Low

6 - 4 months

Point form check list

48

Getting There and Back

Shipping Contacts

critical

Low

6 - 4 months

Report

49

Sources of Information

Internet sites

flexible

Low

6 - 4 months

Point form check list

50

Sources of Information

Government web sites

flexible

Low

6 - 4 months

Point form check list

51

Sources of Information

Country alerts and terrorism

critical

Low

4 - 2 months

Point form check list

52

Sources of Information

Personal sources

important

Low

4 - 2 months

Point form check list

53

Sources of Information

Travel books

flexible

Low

4 - 2 months

Point form check list

54

Where

Detail s for the Route

flexible

Low

4 - 2 months

Point form notes

55

Paperwork

Insurance vehicle

important

Low

4 - 2 months

Action

56

Paperwork

Insurance medical

critical

Low

4 - 2 months

Action

57

Paperwork

Insurance evacuation

critical

Low

4 - 2 months

Action

58

Getting There and Back

Shipping Companies contact and book space

important

Low

4 - 2 months

Action

59

Money Matters

Accessing funds overseas

critical

Low

4 - 2 months

Recommendation comments

60

Money Matters

Volunteering, raising funds for others

flexible

Low

4 - 2 months

Notes for discussion

61

Living on the Road

Accommodation

flexible

Low

4 - 2 months

Point form check list

62

Living on the Road

Horizons Unlimited Communities see references below

flexible

Low

4 - 2 months

Point form check list

63

Living on the Road

"Rules of the Road" see Horizons Unlimited

important

Low

4 - 2 months

Point form check list

64

Where

Revisit places to go

flexible

Low

4 - 2 months

Point form notes

65

Where

Regions to visit in detail

flexible

Low

4 - 2 months

Brief comments

66

Where

Routes to drive in detail

flexible

Low

4 - 2 months

Brief comments

67

Money Matters

Budget review

important

Low

4 - 2 months

Recommendation comments

68

Sources of Information

Travel diaries

flexible

Low

4 - 2 months

Point form check list

69

Where

GPS References

flexible

Low

4 - 2 months

Point form notes

70

Where

Secure all Visas required

important

Low

4 - 2 months

Action

71

Vehicle Preparation

Vehicle parts to carry

important

Low

4 - 2 months

Point form check list

72

Vehicle Preparation

Extra equipment

important

Low

4 - 2 months

Point form check list

73

Vehicle Preparation

Vehicle maintenance, training

important

Low

4 - 2 months

Point form check list

74

Getting There and Back

Confirm container space forward/return

critical

Low

3 - 2 months

Point form check list

75

Other Equipment

Maps progress

important

Low

3 - 2 months

Progress report

76

Getting There and Back

Shipping Preparation for Vehicle

important

Low

2 months

Complete preparation and deliver for shipping

77

Sources of Information

Foreign languages and communication

flexible

Low

2 months

Phrase books

78

Getting There and Back

Booking air tickets

critical

Low

2 months

Point form check list
This chart in an Excel/CSV file to download.
References:
Site for overland travel,
World weather information,
http://www.bbc.co.uk/weather/world/city_guides/index.shtml?show=m_guides
Travel diaries of Overlanders,
http://africa.dreamers1.com
http://seeyouwhenwegetthere.com/
http://www.jollyfollies.com/WhatsNew.htm
---
Member login
Are you an Overland Adventure Traveller?
Does the smell of spices wafting through the air make you think of Zanzibar, a cacophony of honking horns is Cairo, or a swirl of brilliantly patterned clothing Guatemala? Then this is the site for you!
Hosted by Grant and Susan Johnson, RTW 1987-1998
Next HU Events
HU Event and other updates on the HUBB Forum "Traveller's Advisories" thread.
ALL Dates subject to change.
2023:
2024:
California: April 18-21
Virginia: April 25-28
Germany Summer: May
Switzerland: August
Romania: August
Ecuador: September
France: September
Austria: September 12-15
South Africa
Queensland: Oct 4-7
Germany Autumn: Nov.
Add yourself to the Updates List for each event!
Questions about an event? Ask here
ALL 15 chapters of the HU Achievable Dream Guide are available to download on Vimeo!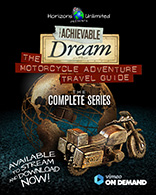 Binge watch over 18 hours of inspiring, informative and entertaining stories and tips from 150 travellers!
"a cross between entertaining stories, tech tips, and reference guide"
"A timeless introduction to Motorcycle Adventure Travel!"
Originally launched as a 7 DVD set, The Achievable Dream series can now be downloaded anywhere. OVER 18 hours of solid info take up zero space in your panniers. How convenient!
Books

All the best travel books and videos listed and often reviewed on HU's famous Books page. Check it out and get great travel books from all over the world.
NOTE: As an Amazon Affiliate we earn from qualifying purchases - thanks for your help supporting HU when you start from an HU Amazon link!