On the Road!
Stay healthy and happy!
So you've done it - got inspired, planned your trip, packed your stuff and you're on the road! This section is about staying healthy, happy and secure on your motorcycle adventure. First, though, you have to get there! It's great if you can just ride your bike out of your front yard and go overland all the way. But that's not always possible. Sometimes you have to ship the bike over an ocean or a war zone!
Shipping the Bike
Crossing Borders
Resources and Links
Horizons Unlimited presents!

On the Road! is 5.5 hours of informative content! You'll get the advice you need to help you cross borders, break down language barriers, overcome culture shock, ship the bike across oceans or war zones, and deal with the 'stuff' that happens such as breakdowns and emergencies. "Just makes me want to pack up and go!" See the trailer here!
Tire Changing!

On a long-distance motorcycle trip, you will find that nail, usually in the most inconvenient time and place. When you're venturing off the beaten path, you can't just call your friendly automobile association! Fear no more - Grant will demystify the black art of Tire Changing and Repair in this DVD full of expert tips and information to help you STAY on the road! "Very informative and practical." See the trailer here!
Links Page
---
Member login
Are you an Overland Adventure Traveller?
Does the smell of spices wafting through the air make you think of Zanzibar, a cacophony of honking horns is Cairo, or a swirl of brilliantly patterned clothing Guatemala? Then this is the site for you!
Hosted by Grant and Susan Johnson, RTW 1987-1998
Next HU Events
Virginia: Apr 26-29
Germany Summer: May 24-27
Russia: June 22-24
Switzerland: Aug 16-19
HUMM Appalachians: Sep 14-16
North Carolina: Sep 20-23
California: Sep 27-30
Didn't get to an HU meeting this year? Or are you looking for a great holiday gift for your favorite adventure traveller?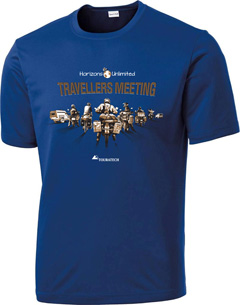 We have a few in stock, in a variety of colors and sizes, including Ladies sizes and shapes!
Back slogan: 'The only impossible journey... is the one you never begin!'
Get them while they last at the HU Store - when they're gone, they're gone forever!