Achievable Dream: Part 4 - Ladies on the Loose!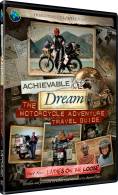 For the first time ever, a motorcycle travel DVD made for women, by women!
Our globetrotting ladies share their tips to help you plan your own motorcycle adventure - choose and maintain a bike, decide what to take and tackle rough terrain. They also answer the women-only questions, and entertain you with amazing tales from the road!
This inspirational and entertaining DVD is presented by Lois Pryce, veteran solo traveller through South America and Africa and author of 'Lois on the Loose', and 'Red Tape and White Knuckles'. Lois delivers action, entertainment and hot tips, as well as coverage of 'women only' topics. Austin Vince, of Terra Circa and Mondo Enduro fame, is her director and cameraman for this production.
The DVD features eloquent and engaging well-travelled women motorcyclists such as Elspeth Beard (first British woman to ride around the world), Erin Ratay (Guinness World Record holder for longest team motorcycle ride), Patsy Quick (Dakar racer) and Mel Falconer (Trail Bike Magazine), who offer tales, advice and inspiration from the road.
This DVD is meant as an addition to the first three DVD's and also covers topics of particular interest to women travellers.
---
Member login
Store categories
Am I NTSC or PAL?
When buying a DVD please ensure you get the correct format for your region. We use both formats to be sure you get the highest quality possible.
NTSC Format - North and much of South America, Japan, South Korea, Taiwan
PAL Format - Europe, Asia, most of the rest of the world
If in doubt about which format for your country, see listing here.
Note: NTSC format will play in a PAL TV, but PAL format will NOT play in an NTSC TV. Either will play on your computer.
Next HU Events
NEW!

Chile: Mar 8-11

NEW!

Sweden Mini: Jun 29-Jul 1

NEW!

Ecuador: Jul 13-15

NEW!

Italy: Sep 14-16
France: Sep 21-23
Indonesia: Oct 11-14
Germany Autumn: Nov 1-4
South Africa: Nov 8-11
Don't miss out on the HU 2018 Motorcycle Adventure Travel Calendar! Fantastic holiday gift for your favorite adventurer!
HUGE, 11.5 x 16.5 inches! Photos are the winning images from over 650 entries in the 12th Annual HU Photo Contest!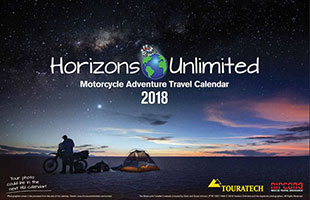 "So many awesome shots..." "Fantastic pictures. I'm very sorry that there is only 12 months in a year!"
HOLIDAY SPECIAL: Buy 4 Calendars and get free shipping anywhere in the world! Use Coupon Code 4CAL at Checkout.
We share the profit with the winning photographers. YOU could be in the HU Calendar too - enter here!