Achievable Dream: Part 2 - Gear Up!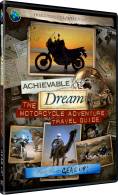 Which bike, how to prepare it, what else to take, how to pack it in!
Although virtually any bike can travel around the world, 'which bike' is always a lively topic for discussion among motorcycle travellers.
For the favourite travel bikes, we interviewed knowledgeable owners - why did they choose it, what's good and bad about it, how did they make it better, and what are their top tips for this bike.
Considerations include carrying capacity, travelling solo or pillion, comfort, paved vs. dirt road, reliability and availability of spare parts.
Through interviews with experts, we also cover how to prepare the bike for overland travel, what spares to take and choosing tires.
Finally, we cover what to take and how to pack it, including riding gear, clothing, panniers, tents, sleeping bags, cooking kit, medical/first aid kit, maps, GPS and much more.
---
Member login
Store categories
Am I NTSC or PAL?
When buying a DVD please ensure you get the correct format for your region. We use both formats to be sure you get the highest quality possible.
NTSC Format - North and much of South America, Japan, South Korea, Taiwan
PAL Format - Europe, Asia, most of the rest of the world
If in doubt about which format for your country, see listing here.
Note: NTSC format will play in a PAL TV, but PAL format will NOT play in an NTSC TV. Either will play on your computer.
Next HU Events
NEW!

Chile: Mar 8-11
Ontario: May 24-27
HUMM Appalachians: Sep 14-16

NEW!

Italy: Sep 14-16
Franc