Achievable Dream: Part 2 - Gear Up!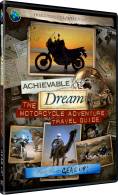 Which bike, how to prepare it, what else to take, how to pack it in!
Although virtually any bike can travel around the world, 'which bike' is always a lively topic for discussion among motorcycle travellers.
For the favourite travel bikes, we interviewed knowledgeable owners - why did they choose it, what's good and bad about it, how did they make it better, and what are their top tips for this bike.
Considerations include carrying capacity, travelling solo or pillion, comfort, paved vs. dirt road, reliability and availability of spare parts.
Through interviews with experts, we also cover how to prepare the bike for overland travel, what spares to take and choosing tires.
Finally, we cover what to take and how to pack it, including riding gear, clothing, panniers, tents, sleeping bags, cooking kit, medical/first aid kit, maps, GPS and much more.
---
Member login
Store categories
DVD Format
All Achievable Dream and Road Heroes DVDs are available in NTSC Format, which will play on your computer and in any TV in any region of the world.
Note: We do NOT region-lock or in any way restrict your ability to play or backup the DVDs.
Next HU Events
HU Event and other updates on the HUBB Forum "Traveller's Advisories" thread.
ALL Dates subject to change.
2023:
2024:
Virginia: April 25-28
Germany Summer: May
Switzerland: August
Romania: August
Ecuador: September
France: September
Austria: September 12-15
Queensland: Oct 4-7
Germany Autumn: Nov.
Add yourself to the Updates List for each event!
Questions about an event? Ask here
ALL 15 chapters of the HU Achievable Dream Guide are available to download on Vimeo!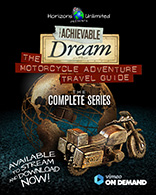 Binge watch over 18 hours of inspiring, informative and entertaining stories and tips from 150 travellers!
"a cross between entertaining stories, tech tips, and reference guide"
"A timeless introduction to Motorcycle Adventure Travel!"
Originally launched as a 7 DVD set, The Achievable Dream series can now be downloaded anywhere. OVER 18 hours of solid info take up zero space in your panniers. How convenient!
Books

All the best travel books and videos listed and often reviewed on HU's famous Books page. Check it out and get great travel books from all over the world.
NOTE: As an Amazon Affiliate we earn from qualifying purchases - thanks for your help supporting HU when you start from an HU Amazon link!