Welcome to Horizons Unlimited
Are you a Motorcycle Traveller? Does the smell of spices wafting through the air make you think of Zanzibar, a cacophony of honking horns is Cairo, or a swirl of brilliantly patterned clothing Guatemala? Then this is the site for you!
Latest HUBB posts
For all HUBB posts, click here to go straight to the HUBB!
| | | |
| --- | --- | --- |
| Nigeria-Camerun border situation | I know recently Nigeria Camerun border seems to be close, cause there's... | read here... |
| Yamaha XT600E 3TB - cold starting problems | Hello ! This is my first post on the forums and I will like to say... | read here... |
| Darien Gap | Looking to cross mid 2018 looking for any recent info on getting across... | read here... |
| XT 600 2KF gearbox help | Hello everyone, this is my first post here but have read up about a hell... | read here... |
| Trans America Trail - UK based - Questions | Hello everyone, need some advice. Myself and a friend of mine are... | read here... |
---
Announcements!
Member login
Next HU Events
NEW!

Chile: Mar 8-11
Germany Summer: May 31-Jun 3
Russia: June 21-24
Indonesia: July 12-15
Switzerland: Aug 16-19
Montenegro: Aug 30-Sep 2
HUMM Appalachians: Sep 14-16

NEW!

Italy: Sep 14-16
North Carolina: Sep 20-23
France: Sep 21-23
California: Sep 27-30
Germany Autumn: Nov 1-4
Buy the Achievable Dream Collectors Set at 10% off and get a 2018 Calendar Free!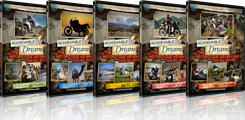 What a great gift for a friend (or yourself)! Binge watch over 18 hours of inspiring, informative and entertaining stories and tips from 150 travellers for only $89!
PLUS be inspired every month by the amazing pics in the HU 2018 Motorcycle Adventure Travel Calendar!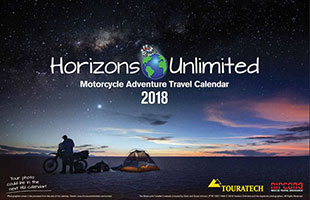 Check it out at the HU Store! Remember to order both the Collectors Set and the Calendar and use Coupon Code 'BoxSet+' on your order when you checkout and the Calendar is FREE! Coupon expires November 30!
Now shipping the HU 2018 Motorcycle Adventure Travel Calendar! Fantastic holiday gift for your favorite adventurer!
HUGE, 11.5 x 16.5 inches! Photos are the winning images from over 650 entries in the 12th Annual HU Photo Contest!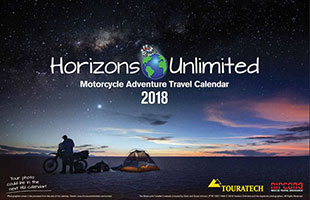 "So many awesome shots..." "Fantastic pictures. I'm very sorry that there is only 12 months in a year!"
HOLIDAY SPECIAL: Buy 4 Calendars and get free shipping anywhere in the world! Use Coupon Code 4CAL at Checkout.
We share the profit with the winning photographers. YOU could be in the HU Calendar too - enter here!