Suzuki DR650 Travel Preparation
Submitted by Susan A Johnson on 9 April, 2012 - 16:35
PREP FOR LONG HAUL
Collated by impasto
- This is a collation of members' posts collected into one place, in an ordered way, to make things easier to find.
- Specific to DR650, but most things generic for all bikes
NOTE: It's a work in progress - if you've got something to add, or I've made an error, please comment. I will update as and when.
INDEX:
Remove passenger pegs
Replace rear license plate light and assembly, install a LED license plate light
Remove Helmet lock (ground clean off frame)
Replace some bolts with Aluminium in unstressed locations -

may not be a good idea for serious offroading, due to differing metal strengths

Replace odometer

Digital Panoram / Sigma BC800 bicycle computer

Replace factory pipe with good aftermarket pipe
Remove 1/2-3/4" from side stand
Swap stock indicators for smaller, lighter ones
Replace stock seat with Corbin (comfort and weight saving)
Upgrade chain rollers [Lone Rider]
Upgrade your warranty available for second owners, up to 5 years [Lone Rider]
Add an inline fuel filter
cheap, available at all major auto pats stores.made for lawn mowers.doesn't require clamps. The 1/4" line can be pushed over 5/16" inlets/outlets. [Lone Rider]
Replace factory pipe [Molly Dog]
A few 1" holes in the top of the air box should also help it breathe better [Lone Rider]
Replace chain with DID 525 VM X-ring. Lasts double longer. [Mollydog] [LeCap]
Wrap header pipe
Engine runs cooler, better mileage. [Lone Rider]
Replace Tyres
MEFO tires went the entire way with some serious dirt and rock sections; I recommend them. They don't hook up quite as well as TKC80's. smoother ride on pavement and last much, much longer.[mrdnd]
Home made stand offs for bags[Molly Dog]
Replace or modify Indicators
bolt front ones under the handle bars, using the mirror mounting, behind the bark busters. less likely to get hit! [Frank Warner]
I made them flexible using rubber fuel hose. [Molly Dog]
Replace suspension
The Eibach F&R make an amazing difference [Fat Chance]
Replace screws with stainless steel cap screws
Esp on the carb, switch blocks, coil, and body. Stock fasteners have a reputation for being very soft. [bartman 10]
Add a homemade headlight guard bent up from a piece of Lexan [bartman 10]
Add Scottoilers
kept our chains very clean. mounted on the main frame near the carb, cutting into the vaccum line for the fuel tap. [bartman 10]
Strengthen main wiring loom - put some spiral wrap around where it chafes on head stock.[Bartman 10]
Replace sprockets with JT Sprockets[Molly Dog]
Sealed spoke nipples on front to slow air loss[Molly Dog]
New brake pads f&r (EBC sintered)[Molly Dog]
Brake systems flushed. all new fluid[Molly Dog]
Replace alternator belt
New one should be good for 20,000 miles[Frank Warner]
Louis Vuitton or Chanel? - The luggage debate
- I'm still working on this section, since there is so many options and opinions all over. Perhaps just leave it for the 'Equipment Forum', HOWEVER, Peli Cases seems to be the fashion accessory of choice on the DR forum [Molly Dog, Fat Chance, Lone Rider, mrdnd, Mountainman]
Wind shield
A tall Parabellum wind shield -- dangerous for dirt work. Using wingnuts and thumb screws, I can remove it within a couple of minutes and store it under a net on the rear. [Lone Rider]
New foam grips on the bars reduces vibration [Lone Rider]
12 volt switched plugs
One up in the headlight, another above the shock and a third on the right near the CDI box. [Molly Dog]
Wired (w/fuse) a cheap marine 12v outlet to the battery and mounted it under the BBQ [Lone Rider]
Replace footpegs
With WIDE IMS Pro series, Really reduces fatigue while standing for hours dirt riding.
Installed ProTapers, using custom made gromets to allow the use of my stock bar ends
Heated Grips
Heated Symtec grips. zipped tied to Idiot light module. bought a rubber sleeve for the toggle - made a a rubber "dam" out of inner tube to go over the switch itself. [Mollydog]
AeroStich wrap-on heated grip thingies. They take a couple of minutes to put on...and really work. No problems losing heat thru bars and grips. But they are another thing to store when not being used....[Lone Rider]
Louder horn [Molly Dog]
Hand Guards
$30 TUSK items are not only the best quality of ANY Alu handguards I've seen, but also have the most clever mount system that offers the best adjustability of any I've mounted. [Molly Dog]
Throttle lock [mrdns]
Sheepskin for the stock seat. Done several 500 km days on the DR without complaint [Bartman]
- I'm still working on this section
Technical nonsense
Popping on deceleration
Does it start really easy from cold with no choke?
A sign that it's rich on pilot jet. Don't just start changing stuff and drilling out jets till you know what you're doing and the effects of the changes you make. Adjust one part of the carb at a time, eg main jet, then pilot and then needle clip, or before long you'll end up with a bike that doesn't run at all. [smokinrider]
Do a plug chop and check the plug colour, adjust main jet as required, set the tickover up then fiddle with the pilot screw (Jesse @ keintech might be able to get you a t screw one of these so you don't have to keep taking the carb off to get to it) to get the highest rpm on tick over then readjust the tickover screw to get that set to the right rpm. Ride it and depending on how it feels, adjust up or down on the needle to get it smooth.
Tuning:
Main: 140 (stock, I believe)
Pilot: 45 (stock is 42.5)
Air Screw : about 1.5 turns out
Needle: Stock needle with two shim washers.
Air Box: Snorkel removed, no other mods. Stock air filter. FMF Q2 pipe. (this affects ALL above settings)
[molly dog]
---
Member login
Are you an Overland Adventure Traveller?
Does the smell of spices wafting through the air make you think of Zanzibar, a cacophony of honking horns is Cairo, or a swirl of brilliantly patterned clothing Guatemala? Then this is the site for you!
Hosted by Grant and Susan Johnson, RTW 1987-1998
Next HU Events
HU Event and other updates on the HUBB Forum "Traveller's Advisories" thread.
ALL Dates subject to change.
2023:
2024:
California: April 18-21
Virginia: April 25-28
Germany Summer: May
Switzerland: August
Romania: August
Ecuador: September
France: September
Austria: September 12-15
South Africa
Queensland: Oct 4-7
Germany Autumn: Nov.
Add yourself to the Updates List for each event!
Questions about an event? Ask here
ALL 15 chapters of the HU Achievable Dream Guide are available to download on Vimeo!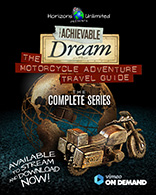 Binge watch over 18 hours of inspiring, informative and entertaining stories and tips from 150 travellers!
"a cross between entertaining stories, tech tips, and reference guide"
"A timeless introduction to Motorcycle Adventure Travel!"
Originally launched as a 7 DVD set, The Achievable Dream series can now be downloaded anywhere. OVER 18 hours of solid info take up zero space in your panniers. How convenient!
Books

All the best travel books and videos listed and often reviewed on HU's famous Books page. Check it out and get great travel books from all over the world.
NOTE: As an Amazon Affiliate we earn from qualifying purchases - thanks for your help supporting HU when you start from an HU Amazon link!