Budgeting for your trip
Budgeting
How much is enough money?
How long is a piece of string? What YOU think is enough, isn't enough for a decent meal for someone else. Or as Jean Ferris (USA) said at a seminar I gave, after telling the group that a pair of young Europeans toured the US on US$10 per day, "Ten dollars! That's a tip!"
To plan your budget, here's some rough guidelines:
"First-tier" countries such as northern Europe, US$60-80 a day and up per person.
"Second-tier" countries such as the rest of Europe, Canada and the USA, US$40-60 a day per person.
"Third-tier" countries, such as Latin America, US$30 a day is considered enough for the average budget traveller, not counting major items like shipping the bike - or yourself, and repairs and servicing.
"Fourth-tier" countries, parts of Africa and Asia, can be done for less, many for less than US$20 day, especially in Asia.
The surprise is that Africa can be expensive - if you want to do what most people go to Africa for - to see the animals - you have to go on a safari - and that can be VERY expensive!
Another surprise expense comes when you hit Ushuaia - and discover that that is where the Antarctica cruise ships are based. You can get an amazing deal on a cruise to Antarctica - and you REALLY should do it - for only around US$2500 for a seven to ten day cruise. That's less than half what it would normally be!
So always be prepared for surprises, and don't NOT do something exciting or once in a lifetime, just because it's expensive - you will always regret it later. Getting back there later to do it is even harder than it seems. There's too many other places to go!
Shipping the bike varies all over the map - but for a very rough guide, think around US$2000 for continent to continent shipping, sometimes more, sometimes less.
Here's some budgets - (more to come if you send us yours!)
A discussion on budgeting for a RTW on the HUBB
Another thread on "How does one afford this lifestyle?"
And a search on "budget" from the entire site.
An Africa spreadsheet - everything from Ken Keller's Africa trip: "Myself and my friend (Dominator and NTV650 respectively) travelled from Lagos, Nigeria to Dublin, Ireland in 2000, without any major problems. We travelled through Benin, Togo, Ghana, Cote d'Ivoire, Mali, Senegal, Mauritania, Western Sahara, Morocco, Spain and France.
The spreadsheet (has) all the information regarding route, equipment, costs, etc. It won't 'fit' everyone's trip, but it might give people an idea of how to go about storing all their information in one place."
Download it in Zip format - 100kb. Unzips to an xls.
---
Member login
Are you an Overland Adventure Traveller?
Does the smell of spices wafting through the air make you think of Zanzibar, a cacophony of honking horns is Cairo, or a swirl of brilliantly patterned clothing Guatemala? Then this is the site for you!
Hosted by Grant and Susan Johnson, RTW 1987-1998
Next HU Events
HU Event and other updates on the HUBB Forum "Traveller's Advisories" thread.
ALL Dates subject to change.
2023:
2024:
California: April 18-21
Virginia: April 25-28
Germany Summer: May
Switzerland: August
Romania: August
Ecuador: September
France: September
Austria: September 12-15
South Africa
Queensland: Oct 4-7
Germany Autumn: Nov.
Add yourself to the Updates List for each event!
Questions about an event? Ask here
ALL 15 chapters of the HU Achievable Dream Guide are available to download on Vimeo!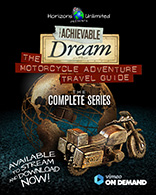 Binge watch over 18 hours of inspiring, informative and entertaining stories and tips from 150 travellers!
"a cross between entertaining stories, tech tips, and reference guide"
"A timeless introduction to Motorcycle Adventure Travel!"
Originally launched as a 7 DVD set, The Achievable Dream series can now be downloaded anywhere. OVER 18 hours of solid info take up zero space in your panniers. How convenient!
Books

All the best travel books and videos listed and often reviewed on HU's famous Books page. Check it out and get great travel books from all over the world.
NOTE: As an Amazon Affiliate we earn from qualifying purchases - thanks for your help supporting HU when you start from an HU Amazon link!