Contact Us
We are very easy to reach and promise to respond to your query as fast as possible - but it's just the two of us, so please be patient. If you haven't received an automated response in a few minutes, there is a problem with your email address. A real response to your query will come as fast as we can manage.
Sorry - due to the very international, world-wide nature of this website, we do NOT use telephone contact. We need to sleep once in a while! If you're reading this, you can easily reach us via one of the forms below as appropriate.
You can also contact us via snail mail in North America:
Grant Johnson
PO Box 2123
Sardis BC V2R1A5
CANADA
And no, that's not our residential address. That can, and has often, changed. The post boxes don't. Don't expect a quick reply via snail mail, and please include your email address if you have one. We are currently resident in the Vancouver BC area.
You can add your email address to the HU Newsletter, which comes out when we have something to say, generally about what's happening on HU and upcoming Events. It's a simple, low frequency way to keep in touch with the Motorcycle Travel World.
If you want to change your e-mail address or

unsubscribe, you can do that on the same form.
Add yourself to the Updates List for specific events in YOUR area!
Questions about an event? Ask here.
---
For general questions, please go to the HUBB - Horizons Unlimited Bulletin Board and post your question there. Any of thousands of travellers around the world may answer your question, often better than we could, because they may be there right now, or just did it! We also monitor the board as best we can, and may well reply ourselves, or one of our helpful and experienced volunteer moderators.
---
Got a current motorcycle travel story for us? For ezine/newsletter submissions, send it in to us using the Feedback form. If you would like to see your trip story in the Travellers Stories section, using our easy-to-use blog software - you can post your story from any internet cafe in the world, using only a browser - request your blog here!
---
Submit Information:
Here's your chance to help out other travellers
If you HAVE recent information of interest to travellers, please fill out one of the following forms to help others.
Bike Shipping Information Submission - If you have information on a bike shipment you have done, please let everyone know by filling in the Bike Shipping Information form, and that will go straight in the Shipping database to so future travellers can benefit.

If you are looking for shipping information, please go to the information on the Shipments Done page. If you can't find the information you need there, post an inquiry in the Trip Transport forum on the HUBB.

Border Crossing Information Submission - If you have any information on a border crossing anywhere in the world that we don't have listed yet, please enter what you can here. Don't worry if you can't answer all the questions, we appreciate all we can get. Thanks!

If your information doesn't fit in either of the above categories, please use the Feedback Form
and more info submission forms to come...
---
If you have a web page or know of a web page of interest, send us the web address. If you would like us to link to your website, please link to us first! Full information on how to link to us is here.
---
We would very much appreciate your comments, good or bad, what you liked and what you didn't like on the site. How and why the site is designed the way it is is explained on the Webmaster Feedback form. If you had any problems with navigation etc. please let us know on the Webmaster Feedback form. We are always interested in ways to improve ease of use and improve compatibility.
---
Advertising questions
For details on advertising on Horizons Unlimited, please see the advertising details and rates page. Contact details on that page.
---
We are always interested in hearing from other travellers, so drop us a line! If none of the above forms are suitable, you can contact us using the Feedback Form.
Please note that we get a lot of mail, but we will get back to you as soon as possible. Please be patient, we do our very best.
---
Complex Questions - Private Consultations
Sometimes the questions you want to ask are not just important ones for you, but also very complex ones. Unfortunately, I can't give you a quick or simple answer since a number of factors are involved. It would take time for me to consider the different issues and then let you know what I think.
Though my time is tight, I do a limited amount of telephone consulting. Perhaps that would be a better approach, so that I don't give a quick and ill-considered answer to a complex situation. Let me know if I can help in that way - note that telephone consultation is not free.
---
Please be assured that we will NOT under any circumstances, rent, lease, sell, or give out our mailing list, and/or your name and e-mail address, to anyone for whatever purpose.
---
Member login
Are you an Overland Adventure Traveller?
Does the smell of spices wafting through the air make you think of Zanzibar, a cacophony of honking horns is Cairo, or a swirl of brilliantly patterned clothing Guatemala? Then this is the site for you!
Hosted by Grant and Susan Johnson, RTW 1987-1998
Next HU Events
HU Event and other updates on the HUBB Forum "Traveller's Advisories" thread.
ALL Dates subject to change.
2023:
2024:
Virginia: April 25-28
Germany Summer: May
Switzerland: August
Romania: August
Ecuador: September
France: September
Austria: September 12-15
Queensland: Oct 4-7
Germany Autumn: Nov.
Add yourself to the Updates List for each event!
Questions about an event? Ask here
ALL 15 chapters of the HU Achievable Dream Guide are available to download on Vimeo!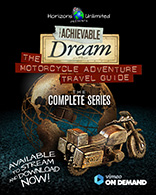 Binge watch over 18 hours of inspiring, informative and entertaining stories and tips from 150 travellers!
"a cross between entertaining stories, tech tips, and reference guide"
"A timeless introduction to Motorcycle Adventure Travel!"
Originally launched as a 7 DVD set, The Achievable Dream series can now be downloaded anywhere. OVER 18 hours of solid info take up zero space in your panniers. How convenient!
Books

All the best travel books and videos listed and often reviewed on HU's famous Books page. Check it out and get great travel books from all over the world.
NOTE: As an Amazon Affiliate we earn from qualifying purchases - thanks for your help supporting HU when you start from an HU Amazon link!