Horizons Unlimited Motorcycle Travellers Bulletin Board - The HUBB!
Introduction to the HUBB
Intro:
One of the biggest problems for long distance travellers is getting information, whether it's for the best route or just what to see on the way. We can't carry ten different Lonely Planet guides, and they're useless anyway for information on passable roads, or border crossing difficulties with a bike.
We invite you to share your information, tales of woe and joy, everything that made (or broke!) your trip: the latest good routes through the Middle East or the Sahara, India, China, best places to see in Europe or America, where to find a shrimp to toss on the barbie in Australia, or the great mechanic you found in Ushuaia or Timbuktu. All have a place here, and we will expand the forums as needed to accommodate all.
Use the HUBB to connect with other travellers you've lost touch with-or those with no address at all!
This is YOUR meeting point, so spread the word, post what you've learned on your travels, and pick up some tips for your own travels!
Some important tips on using the HUBB
If this is your first time on a Bulletin Board, there are some basic things you should know.
ALL CAPS is SHOUTING - don't! Use all lower case or Proper case.
Before posting anything, be sure you have had a good look round to see if it has already been answered. Long time users get tired of seeing the same question again and again - and will often ignore the post.
Look closely at the dropdown menu at the top - there is a lot of information that is already posted on the site in full article form.
If you can't find what you are looking for - and we understand the problem, since there are thousands of pages in the website and many, many more on the HUBB- use the SEARCH function at the top of every page. It works well, and will very often find what you are looking for. See the "Search Tips" for it on every results page as well. The HUBB itself has it's own search engine, accessible on the main HUBB page, or here.
If you can't find what you are looking for, go ahead and post - but PLEASE pick the appropriate forum - there are over 70 forums, and one of them should be exactly right. You will get faster results in the appropriate forum. N.B. Cross-posting to more than one forum is very rarely appropriate.
Try hard to enter a Topic Title or Subject that makes SENSE to most people and will make them interested in opening the post. "problem" or "libya" probably won't do.
For more tips on how to use the HUBB and get the most out of all the HUBB's great features, go here.
---
Member login
Are you an Overland Adventure Traveller?
Does the smell of spices wafting through the air make you think of Zanzibar, a cacophony of honking horns is Cairo, or a swirl of brilliantly patterned clothing Guatemala? Then this is the site for you!
Hosted by Grant and Susan Johnson, RTW 1987-1998
Next HU Events
HU Event and other updates on the HUBB Forum "Traveller's Advisories" thread.
ALL Dates subject to change.
2024:
Virginia: April 25-28
Germany Summer: May 9-12
Switzerland: August 15-18
Romania: August
Ecuador: August 23-25
France: September
Austria: September 12-15
Queensland is back! Oct 4-7
Germany Autumn: Oct 31-Nov.3
Add yourself to the Updates List for each event!
Questions about an event? Ask here
ALL 15 chapters of the HU Achievable Dream Guide are available to download on Vimeo!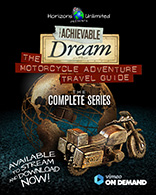 Binge watch over 18 hours of inspiring, informative and entertaining stories and tips from 150 travellers!
"a cross between entertaining stories, tech tips, and reference guide"
"A timeless introduction to Motorcycle Adventure Travel!"
Originally launched as a 7 DVD set, The Achievable Dream series can now be downloaded anywhere. OVER 18 hours of solid info take up zero space in your panniers. How convenient!
Books

All the best travel books and videos listed and often reviewed on HU's famous Books page. Check it out and get great travel books from all over the world.
NOTE: As an Amazon Affiliate we earn from qualifying purchases - thanks for your help supporting HU when you start from an HU Amazon link!