Achievable Dream: Part 1 - Get Ready!
This DVD reassures those who aren't sure if it is all possible - it is! - or if you have to be rich and famous to do it - you do not!
Covers planning, money, essential paperwork, health, and off-road riding. Be warned, viewing this DVD may be a life-changing experience!
Topics covered in 'Get Ready!' include:
Why go?
Planning the trip - where and when to go
Who to go with - travelling solo or with others
Money, money, money - how much will it cost, and dealing with money On the Road
Paperwork - passports and visas, carnet de passage, bike permits and insurance, licenses
Off-pavement riding - basic tips
Health - travel medical and evacuation insurance, malaria, vaccinations
Giving something back - voluntary work, environmental sensitivity
The world of HU Travellers Meetings and the global Community of Motorcycle Travellers!
---
Member login
Store categories
DVD Format
All Achievable Dream and Road Heroes DVDs are available in NTSC Format, which will play on your computer and in any TV in any region of the world.
Note: We do NOT region-lock or in any way restrict your ability to play or backup the DVDs.
Next HU Events
Don't miss out on the HU 2018 Motorcycle Adventure Travel Calendar! Fantastic holiday gift for your favorite adventurer!
HUGE, 11.5 x 16.5 inches! Photos are the winning images from over 650 entries in the 12th Annual HU Photo Contest!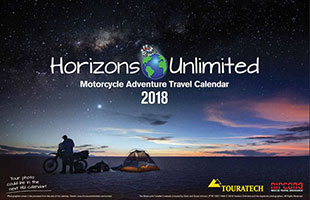 "So many awesome shots..." "Fantastic pictures. I'm very sorry that there is only 12 months in a year!"
HOLIDAY SPECIAL: Buy 4 Calendars and get free shipping anywhere in the world! Use Coupon Code 4CAL at Checkout.
We share the profit with the winning photographers. YOU could be in the HU Calendar too - enter here!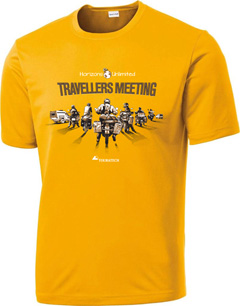 Didn't get to an HU meeting this year? Or are you looking for a great holiday gift for your favorite adventure traveller?
We have a few in stock, in a variety of colors and sizes, including Ladies sizes and shapes!
Back slogan: 'Make your own adventures, take the road to everywhere!'
Get them while they last at the HU Store - when they're gone, they're gone forever!
Books

All the best travel books and videos listed and often reviewed on HU's famous Books page. Check it out and get great travel books from all over the world.