Advertise with Us!
The "Horizons Unlimited Motorcycle Travellers' Website"
is the premier website for motorcycle travellers, covering the world for motorcycle people who are on the road for weeks, months and often years.
On this page:
Who will see your ads?
Your Advertising options
Contact us to place your ad
Payment
Privacy Policy
Please Download our Media Portfolios:
Who will see your ads?
The key to selling is talking to the people who need your product. Horizons Unlimited provides a community where your prospects are concentrated in one place, not spread across the ether.
Every month, your ad on the "Horizons Unlimited Overland Travellers' Website" reaches Horizons Unlimited's 71,400+ registered users, as well as the 165,000+ repeat visitors who research its massive knowledge-base.
Dedicated motorcycle and 4-wheel travellers rely on Horizons Unlimited for ideas and advice, whether long term overlanders or simply planning a short holiday riding outside their comfort zone.
Each has a variety of unique travelling needs you can meet.
---
How advertising with Horizons Unlimited helps you sell more
The average long-distance motorcycle trip can take 6-12 months, or longer, with average costs ranging from US$15,000 to US$25,000 per person. Some people spend much more than this.
Big or small, all those budgets mean money on the table for companies committed to helping travellers like Horizons Unlimited members reach their goals and achieve their dreams.
Our members often need help in areas such as:
Custom or bespoke manufacturing or engineering.
Vehicle customisation.
Specialist vehicle parts.
Transport and logistics.
Bureaucracy support.
Clothes and accessories.
Camping gear.
Guided tours and tourism services,
Accommodations.
Legal services.
Insurance.
Health.
Your Advertising Options
Website advertising options include:
Banner ads through forum sponsorship.
Vertical banners in the right-hand column of major sections.
Vertical banners in the right-hand column of the entire website.
Optional Geo-IP targeting in some areas.
Banner ads in applicable Links section.
In-post advertising and signature line advertising for businesses who post on the Horizons Unlimited Bulletin Board (HUBB) forum.
Rates start at US$50 per year, minimum invoice US$100.
You tell us what you need and we devise a package to suit.
We aim for as much flexibility as possible so you get the advertising you need, not what suits us. It's not an algorithm placing your ads, it's real people with a deep understanding of the market and the website, and what works best where. An ad for tours of Morocco will be seen in the Africa forum, not the South America one.
---
Talk to us today
To place an ad, please just get in touch via the Contact US link here or at the bottom of every page. We'll get back to you as soon as possible, even if we're on the road!
Once the ad is approved and the fee is paid, your ad is placed. PayPal is preferred, see below. We can also accept funds transfer in UK, Australia and Europe, and Interac in Canada.
Payment via check (or cheque) can be made in US $, Canadian $, British £, and Euros €. For other countries the best is US$ money order.
Mail check (or cheque) to our international post box, and please make the cheque payable to Grant Johnson, (NOT Horizons Unlimited!!), and mail to:
Grant Johnson
PO Box 2123
Sardis BC V2R 1A5
Canada

Pay with PayPal, and use your Visa / Mastercard / American Express:

Paying in US$? Click here:

Paying in UK£? Click here:

Paying in € Euros? Click here:

Paying in Canadian Dollars? Click here:

New to PayPal? Sign-Up here
You usually DO NOT need to be a PayPal member to make this payment, your credit card should work fine.
Accepting advertising requests
Please note that before accepting an ad and requesting payment, we ensure the goods or services offered are relevant to our Community and in keeping with the goals and principles of Horizons Unlimited.
Privacy Policy:
We are a 100% opt-in only list. We never sell or rent or lend our mailing list. Don't even ask. Privacy Policy in detail here.
What are you waiting for? Contact us NOW to place YOUR ad on the world's premier motorcycle and overland travel website. You'll be glad you did!
---
Member login
Are you an Overland Adventure Traveller?
Does the smell of spices wafting through the air make you think of Zanzibar, a cacophony of honking horns is Cairo, or a swirl of brilliantly patterned clothing Guatemala? Then this is the site for you!
Hosted by Grant and Susan Johnson, RTW 1987-1998
Next HU Events
HU Event and other updates on the HUBB Forum "Traveller's Advisories" thread.
ALL Dates subject to change.
2024:
Virginia: April 25-28
Germany Summer: May 9-12
Switzerland: August 15-18
Romania: August
Ecuador: August 23-25
France: September
Austria: September 12-15
Queensland is back! Oct 4-7
Germany Autumn: Oct 31-Nov.3
Add yourself to the Updates List for each event!
Questions about an event? Ask here
ALL 15 chapters of the HU Achievable Dream Guide are available to download on Vimeo!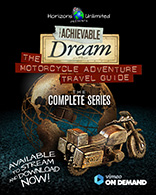 Binge watch over 18 hours of inspiring, informative and entertaining stories and tips from 150 travellers!
"a cross between entertaining stories, tech tips, and reference guide"
"A timeless introduction to Motorcycle Adventure Travel!"
Originally launched as a 7 DVD set, The Achievable Dream series can now be downloaded anywhere. OVER 18 hours of solid info take up zero space in your panniers. How convenient!
Books

All the best travel books and videos listed and often reviewed on HU's famous Books page. Check it out and get great travel books from all over the world.
NOTE: As an Amazon Affiliate we earn from qualifying purchases - thanks for your help supporting HU when you start from an HU Amazon link!