Why a bike?
Advantages (+) and Disadvantages (-)
Vs. Car
+ Cheaper to operate - in most of the world a litre of gasoline is US$ .60 or more. Also, road tolls are always less for motorcycles and in many countries (e.g. Peru) motorcycles don't pay tolls.
+ Cheaper to transport over oceans or impassable areas of land - you can fly it!
+ For continents (such as Africa) where a carnet is needed, much smaller deposit is required because a bike is generally cheaper than a car and certainly cheaper than a 4WD.
+ Perceived as more accessible and less "rich western tourist" to locals in third world - they identify with a motorcycle as a cheaper form of transport and are much friendlier as a result.
+ Maintenance is generally much easier than with a car
+ The feeling of complete freedom (hard to explain to non-motorcyclists)
+ Twisty roads are fun!
+ Conversation starter, especially if you plaster your boxes with country flags and world map with your route. Note: everyone loves to see their own country's flag.
+ Closer to the environment - this can be positive or negative depending on the environment (e.g. behind a cattle truck), but usually positive.
+ On truly bad roads, easier to avoid potholes and other hazards (including buses passing slow trucks on blind curves coming your way).
+ Easier to find safe motorcycle parking than car parking - try driving your car into the hotel lobby and parking it in front of the reception desk!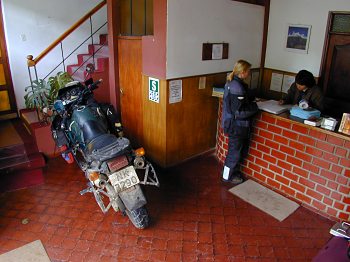 Bente Bråthen checking in with bike - Photo © Dag Jenssen, Rocinantes Travels
And on the negative side:
- You get wet when it rains.
- You can't sleep in it.
- Not as good a view for the passenger.
- No air conditioning or heater (electric vest is a good substitute for a heater).
- Can't go places that a 4WD can go (e.g. Namib Desert - but you can rent a 4WD nearby and leave the bike in Windhoek) or that a car can go (e.g. game parks in Africa are all convinced that lions will jump out of trees onto your motorcycle and they WILL NOT let you into the park with it).
- Less stable when crossing flooded roads!
Vs. Public Transport
+ Flexibility - you decide when and where you want to go - except in deep sand or mud
+ Safer than buses or taxis in the third world - at least you know the driver has a license!
+ Security for belongings
But:
- More expensive than buses
Vs. Bicycle
+ Considerably faster - can see much more in less time.
+ When being stoned by locals in Egypt you can get away more quickly! (This also applies if being chased by lions in Africa or bears in North America - an infrequent occurrence).
However:
- Not as good exercise.
- More expensive.
---
Member login
Are you an Overland Adventure Traveller?
Does the smell of spices wafting through the air make you think of Zanzibar, a cacophony of honking horns is Cairo, or a swirl of brilliantly patterned clothing Guatemala? Then this is the site for you!
Hosted by Grant and Susan Johnson, RTW 1987-1998
Next HU Events
HU Event and other updates on the HUBB Forum "Traveller's Advisories" thread.
ALL Dates subject to change.
2023:
2024:
Virginia: April 25-28
Germany Summer: May
Switzerland: August
Romania: August
Ecuador: September
France: September
Austria: September 12-15
Queensland: Oct 4-7
Germany Autumn: Nov.
Add yourself to the Updates List for each event!
Questions about an event? Ask here
ALL 15 chapters of the HU Achievable Dream Guide are available to download on Vimeo!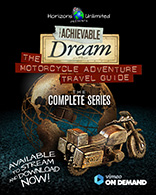 Binge watch over 18 hours of inspiring, informative and entertaining stories and tips from 150 travellers!
"a cross between entertaining stories, tech tips, and reference guide"
"A timeless introduction to Motorcycle Adventure Travel!"
Originally launched as a 7 DVD set, The Achievable Dream series can now be downloaded anywhere. OVER 18 hours of solid info take up zero space in your panniers. How convenient!
Books

All the best travel books and videos listed and often reviewed on HU's famous Books page. Check it out and get great travel books from all over the world.
NOTE: As an Amazon Affiliate we earn from qualifying purchases - thanks for your help supporting HU when you start from an HU Amazon link!