Achievable Dream: Part 5 - Tire Changing!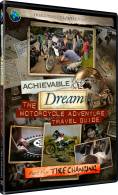 On a long-distance motorcycle trip, you WILL find THAT nail, usually in the most inconvenient time and place.
When you're venturing off the beaten path, you can't just call your friendly automobile association! Fear no more - Grant will demystify the black art of Tire Changing and Repair in this DVD full of expert tips and information to help you STAY on the road!
Grant's tire-changing demonstrations are always well-attended and much appreciated by motorcycle travellers at HU Meetings worldwide. This DVD was filmed at a demonstration to an HU Meeting in Spain, and on the road in a remote mountain pass in Switzerland.
This 1.5 hour DVD answers all your questions, for both tube and tubeless tires:
Getting Started
Getting it Off
Pulling the wheel off
Breaking the bead
Removing the tire
What's in the valley
Plugs and Patches - which types and how to use
Getting it On
Mounting the tire
Seating the bead
Finishing Touches
Tire pressure
Tightening the front axle
Balancing the tire
---
Member login
Store categories
DVD Format
All Achievable Dream and Road Heroes DVDs are available in NTSC Format, which will play on your computer and in any TV in any region of the world.
Note: We do NOT region-lock or in any way restrict your ability to play or backup the DVDs.
Next HU Events
NEW!

Chile: Mar 8-11

NEW!

Sweden Mini: Jun 29-Jul 1

NEW!

Ecuador: Jul 20-22

NEW!

Italy: Sep 14-16
Indonesia: Oct 11-14
Germany Autumn: Nov 1-4
South Africa: Nov 8-11
Don't miss out on the HU 2018 Motorcycle Adventure Travel Calendar! Fantastic holiday gift for your favorite adventurer!
HUGE, 11.5 x 16.5 inches! Photos are the winning images from over 650 entries in the 12th Annual HU Photo Contest!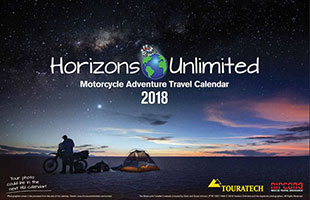 "So many awesome shots..." "Fantastic pictures. I'm very sorry that there is only 12 months in a year!"
HOLIDAY SPECIAL: Buy 4 Calendars and get free shipping anywhere in the world! Use Coupon Code 4CAL at Checkout.
We share the profit with the winning photographers. YOU could be in the HU Calendar too - enter here!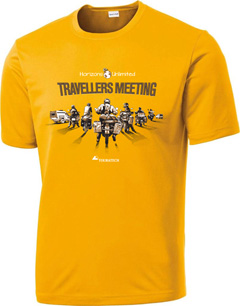 Didn't get to an HU meeting this year? Or are you looking for a great holiday gift for your favorite adventure traveller?
We have a few in stock, in a variety of colors and sizes, including Ladies sizes and shapes!
Back slogan: 'Make your own adventures, take the road to everywhere!'
Get them while they last at the HU Store - when they're gone, they're gone forever!
Books

All the best travel books and videos listed and often reviewed on HU's famous Books page. Check it out and get great travel books from all over the world.