Connect!
Keep in touch!
This section will help you to stay connected to your friends and loved ones, and make new friends along the way!
We want your motorcycle (or 4 wheel) travel story, whether it's around the world or a once-in-a-lifetime trip to anywhere. At Horizons Unlimited, the most popular motorcycle travel website, you'll get a lot more readers than in some obscure corner of the web. You can inspire others to take the plunge! Plus, your readers won't be subjected to popup/under ads or turned away because you've exceeded their bandwidth limits.

It's all set to go, no setup required, and it's free! But even better, we'll share the revenue from Google Adwords with you! Motorcycle or overland travel stories only, please. Request your blog here!
We're very proud of the 700+ HU Communities in 109 countries! People who want to meet travellers - yes that's YOU - and can provide local assistance, and may be your new best friends! And you can start or join your own HU Community when you get home, to give back to other travellers.
Resources and Links
Horizons Unlimited Presents!

Ladies on the Loose! For the first time ever, a motorcycle travel DVD made for women, by women! These intrepid women share their tips to help you plan your own motorcycle adventure. They also answer the women-only questions, and entertain you with amazing tales from the road! This highly inspirational and entertaining DVD is presented by Lois Pryce, veteran solo traveller through South America and Africa and author of 'Lois on the Loose', and 'Red Tape and White Knuckles.'

Guys, if you hope to persuade your significant other to join you on a trip, you need to buy this DVD and watch it together!"It has me all fired up to go out on my own adventure!" See the trailer here!
Links Page
---
Member login
Are you an Overland Adventure Traveller?
Does the smell of spices wafting through the air make you think of Zanzibar, a cacophony of honking horns is Cairo, or a swirl of brilliantly patterned clothing Guatemala? Then this is the site for you!
Hosted by Grant and Susan Johnson, RTW 1987-1998
Next HU Events
NEW!

Chile: Mar 8-11
Ontario: May 24-27
HUMM Appalachians: Sep 14-16

NEW!

Italy: Sep 14-16
France: Sep 21-23
Indonesia: Oct 11-14
Germany Autumn: Nov 1-4
South Africa: Nov 8-11
Don't miss out on the HU 2018 Motorcycle Adventure Travel Calendar! Fantastic holiday gift for your favorite adventurer!
HUGE, 11.5 x 16.5 inches! Photos are the winning images from over 650 entries in the 12th Annual HU Photo Contest!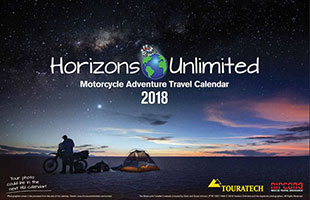 "So many awesome shots..." "Fantastic pictures. I'm very sorry that there is only 12 months in a year!"
HOLIDAY SPECIAL: Buy 4 Calendars and get free shipping anywhere in the world! Use Coupon Code 4CAL at Checkout.
We share the profit with the winning photographers. YOU could b