Connect!
Keep in touch!
This section will help you to stay connected to your friends and loved ones, and make new friends along the way!
We want your motorcycle (or 4 wheel) travel story, whether it's around the world or a once-in-a-lifetime trip to anywhere. At Horizons Unlimited, the most popular motorcycle travel website, you'll get a lot more readers than in some obscure corner of the web. You can inspire others to take the plunge! Plus, your readers won't be subjected to popup/under ads or turned away because you've exceeded their bandwidth limits.

It's all set to go, no setup required, and it's free! Login and go to Create your blog! Yup, that's all there is to it!
We're very proud of the 800+ HU Communities in 115+ countries! People who want to meet travellers - yes that's YOU - and can provide local assistance, and may be your new best friends! And you can start or join your own HU Community when you get home, to give back to other travellers.
Resources and Links
Horizons Unlimited Presents!

Ladies on the Loose! For the first time ever, a motorcycle travel DVD made for women, by women! These intrepid women share their tips to help you plan your own motorcycle adventure. They also answer the women-only questions, and entertain you with amazing tales from the road! This highly inspirational and entertaining DVD is presented by Lois Pryce, veteran solo traveller through South America and Africa and author of 'Lois on the Loose', and 'Red Tape and White Knuckles.'

Guys, if you hope to persuade your significant other to join you on a trip, you need to buy this DVD and watch it together!"It has me all fired up to go out on my own adventure!" See the trailer here!
And of course ALL the Videos are downloadable on Vimeo!
Links Page
---
Member login
Are you an Overland Adventure Traveller?
Does the smell of spices wafting through the air make you think of Zanzibar, a cacophony of honking horns is Cairo, or a swirl of brilliantly patterned clothing Guatemala? Then this is the site for you!
Hosted by Grant and Susan Johnson, RTW 1987-1998
Next HU Events
HU Event and other updates on the HUBB Forum "Traveller's Advisories" thread.
ALL Dates subject to change.
2023:
2024:
Virginia: April 25-28
Germany Summer: May
Switzerland: August
Romania: August
Ecuador: September
France: September
Austria: September 12-15
Queensland: Oct 4-7
Germany Autumn: Nov.
Add yourself to the Updates List for each event!
Questions about an event? Ask here
ALL 15 chapters of the HU Achievable Dream Guide are available to download on Vimeo!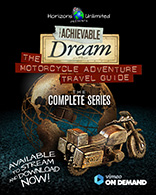 Binge watch over 18 hours of inspiring, informative and entertaining stories and tips from 150 travellers!
"a cross between entertaining stories, tech tips, and reference guide"
"A timeless introduction to Motorcycle Adventure Travel!"
Originally launched as a 7 DVD set, The Achievable Dream series can now be downloaded anywhere. OVER 18 hours of solid info take up zero space in your panniers. How convenient!
Books

All the best travel books and videos listed and often reviewed on HU's famous Books page. Check it out and get great travel books from all over the world.
NOTE: As an Amazon Affiliate we earn from qualifying purchases - thanks for your help supporting HU when you start from an HU Amazon link!