Achievable Dream: Part 3 - On the Road!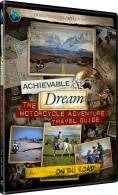 What is it like to spend weeks, months or years on the road?
In this 2-DVD set, our veteran travellers share their tips (and great stories) for staying healthy, happy and secure on your motorcycle adventure.
You'll get the advice you need to help you cross borders, break down language barriers, overcome culture shock, ship the bike across oceans or war zones, and deal with the 'stuff' that happens such as breakdowns and emergencies. It also covers how to get the bike across oceans or war zones - shipping and the alternatives - air, sea, rent, swap, buy, organised tours.
This 2-DVD set (324 minutes of content) contains the following chapters:
Riding the World
Day to Day
Where to Sleep
Language & Culture
Borders & Officials
Shipping the Bike
Building a Crate (Demo)
Dealing with Breakdowns
Safety and Security
Emergencies
First Aid for Bikers (Demo )
Meeting Travellers
Coming Home
We've got a fantastic and entertaining bunch of contributors with many amazing stories to tell and hard-earned wisdom to impart, enhanced with demos, video clips and heaps of great photos. We think it strikes the right balance between information and entertainment!
---
Member login
Store categories
DVD Format
All Achievable Dream and Road Heroes DVDs are available in NTSC Format, which will play on your computer and in any TV in any region of the world.
Note: We do NOT region-lock or in any way restrict your ability to play or backup the DVDs.
Next HU Events
NEW!

Chile: Mar 8-11

NEW!

Sweden Mini: Jun 29-Jul 1

NEW!

Ecuador: Jul 20-22

NEW!

Italy: Sep 14-16
Indonesia: Oct 11-14
Germany Autumn: Nov 1-4
South Africa: Nov 8-11
Don't miss out on the HU 2018 Motorcycle Adventure Travel Calendar! Fantastic holiday gift for your favorite adventurer!
HUGE, 11.5 x 16.5 inches! Photos are the winning images from over 650 entries in the 12th Annual HU Photo Contest!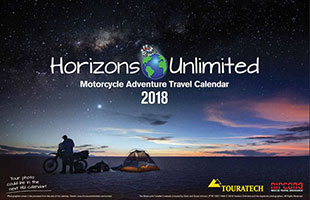 "So many awesome shots..." "Fantastic pictures. I'm very sorry that there is only 12 months in a year!"
HOLIDAY SPECIAL: Buy 4 Calendars and get free shipping anywhere in the world! Use Coupon Code 4CAL at Checkout.
We share the profit with the winning photographers. YOU could be in the HU Calendar too - enter here!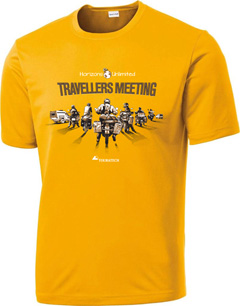 Didn't get to an HU meeting this year? Or are you looking for a great holiday gift for your favorite adventure traveller?
We have a few in stock, in a variety of colors and sizes, including Ladies sizes and shapes!
Back slogan: 'Make your own adventures, take the road to everywhere!'
Get them while they last at the HU Store - when they're gone, they're gone forever!
Books

All the best travel books and videos listed and often reviewed on HU's famous Books page. Check it out and get great travel books from all over the world.