Horizons Unlimited Store, Pay Later Page
Store Later Payment Page
If you're at this page, it's because you didn't make your payment immediately on ordering. That's ok, perhaps the form was confusing!
If you HAVE NOT ordered yet, please go to the Store Order Page first or we won't know what you're paying for! And you won't get your stuff!
NOTE: You should have received an email within a very few minutes confirming that we have your Store Order and the details you provided, with the amount owing.
If you DIDN'T receive it within 10 minutes, there is a problem with the email address you have used. Please check it carefully. Also make sure "horizonsunlimited.com" is in your white list.
You can make your payment by cheque/check or PayPal or Credit Card (using the PayPal system - you do NOT need to have a PayPal account).
Please make your payment below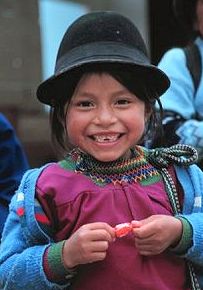 To Pay by PayPal / Visa / Mastercard / American Express:


To pay by ANY online method, check your order details are correct in the email we sent you with subject:

"Order from the Horizons Unlimited Store for...,"


Note the amount owing for the options you chose, enter your name (should be same as in the form) in the PayPal field below,
Click the "Pay Now" button below.
On the PayPal page, eEnter the amount owing in the 'Unit Price' box and click the 'Update Totals' button.
Note: IF your PayPal e-mail is different to your order e-mail (OR you are ordering for someone else):
PayPal does NOT share your details with us, except for the name and e-mail address they have on file for you. Please ensure the ORDER name is entered below, so we can match your payment :-)
Thanks for your order, and we hope you enjoy your HU goodies! If there is ANY problem please let us know immediately!
Grant and Susan
Pay by PayPal / Visa / Mastercard / American Express:


New to PayPal? OPTIONAL - Sign-Up here.
Pay by cheque below:
Note for different Currencies:
The PayPal form will be in US$, but PayPal lets you pay in Cdn $, Pound Sterling, Euro, Aus $ or Yen equivalent. On the Payment Details page, PayPal will show you the current exchange rate and the equivalent amount in your Primary Currency. You will also have "More funding options." When you pay, PayPal will handle the conversion for you. If you don't like the exchange rate, send us a cheque, as below! But it will take longer, as we don't ship until the cheque is received. :)
OR:
If you prefer to pay by cheque, we can accept payments in US$, C$, UK£ or Euros:
Print off the email confirmation you received (if you didn't get one within a few minutes of filling out your order form, there is a problem with your email) and MAIL it with a cheque (or a check) for your order in US$ or the equivalent in: CDN$ or UK£ or Euros€)
Please make cheque payable to Grant Johnson, (NOT Horizons Unlimited!!), and mail to your closest address below:
USA and Canada

Grant Johnson
PO Box 2123
Sardis BC V2R1A5
CANADA

UK, Europe and everywhere else
As soon as we receive your order and payment, we'll send your goodies to you!
Thanks for your order!

We hope to see you "On the Road" someday, somewhere...
Grant and Susan Johnson
Would you like to give us any feedback?
---
Member login
Store categories
Next HU Events
HU Event and other updates on the HUBB Forum "Traveller's Advisories" thread.
ALL Dates subject to change.
2024:
Virginia: April 25-28
Germany Summer: May 9-12
Switzerland: August 15-18
Romania: August
Ecuador: August 23-25
France: September
Austria: September 12-15
Queensland is back! Oct 4-7
Germany Autumn: Oct 31-Nov.3
Add yourself to the Updates List for each event!
Questions about an event? Ask here
ALL 15 chapters of the HU Achievable Dream Guide are available to download on Vimeo!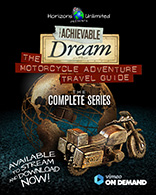 Binge watch over 18 hours of inspiring, informative and entertaining stories and tips from 150 travellers!
"a cross between entertaining stories, tech tips, and reference guide"
"A timeless introduction to Motorcycle Adventure Travel!"
Originally launched as a 7 DVD set, The Achievable Dream series can now be downloaded anywhere. OVER 18 hours of solid info take up zero space in your panniers. How convenient!
Books

All the best travel books and videos listed and often reviewed on HU's famous Books page. Check it out and get great travel books from all over the world.
NOTE: As an Amazon Affiliate we earn from qualifying purchases - thanks for your help supporting HU when you start from an HU Amazon link!