Grant and Susan Johnson
Grant came to this odyssey naturally. Winner of Canadian National Championships in road racing and motocross, and Gold Medals in cross country motorcycle racing, a sailboat racer, scuba diver and expert skier, he thrives on adrenaline. While travelling the back roads of British Columbia, and through much of the US by motorcycle, he hatched the crackpot scheme of travelling around the world on a motorcycle.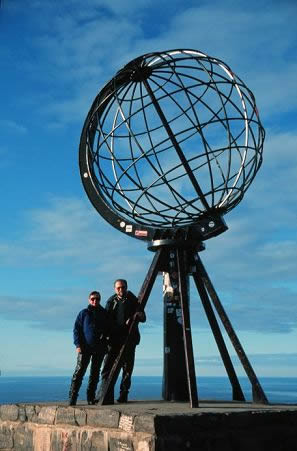 At the Nordkapp (North Cape) marker, 71º 10' N., the northern end of the road in Europe.
Susan, however, was a quiet accountant whose hobbies included bridge and reading. How did she end up on the back of a motorcycle travelling through Africa? Her early history provides part of the answer. Her father's occupation as project manager for large construction projects for a multinational company resulted in a move to Colombia (South America) at age 9, and the travel bug bit hard. During her 20s she focused on education and building her career, but by age 31 the 60-70 hour weeks and stress of managing large systems development projects had left her wondering: "Is this all there is to life?" She was ready for new adventures, and Grant was the man to share them with.
1984 - Our first date:
Grant: "What do you want to do with your life?"

Susan: "Travel."

Grant: "I want to go around the world on a motorcycle."

Susan: "Why not?"
Three years later, in early 1987, to the dismay of our parents and most of our friends, we had sold everything, quit our jobs and were heading for Panama on a motorcycle. It's not a bad way to see the world, (except when it's raining!)
Since then, when not travelling to remote places by motorcycle, Susan has consulted to many large organizations, including banks, insurance companies, airlines and government departments in Canada, Australia, Singapore, Hong Kong, and the UK. She has managed projects, taught courses, co-written magazine articles and spoken at international conferences and seminars. Susan Johnson resume
At various times, Grant has earned his living as a motorcycle mechanic and dealer, manager of several sports equipment stores, and as a freelance photographer and writer. While living in Australia, he wrote and successfully marketed a software program for photographers, and since 1992 has worked as an independent computer consultant to small and medium sized businesses from Australia to Tanzania, as well as teaching high-end computer software (groupware) to large companies in South-East Asia. Since 1998, his full-time labour of love has been HorizonsUnlimited.com.
We love travelling, and not the kind where you take a two week package tour to somewhere. When we travel, we have no schedules to keep, we don't make reservations in advance, we stay as long as we want and leave when we decide to go. We travel very slowly, as will be obvious when you see the chronology in the travelogues. We've seen over 50 countries in the 13 years we've been travelling, but all the travelling just whets our appetite for more, so it will probably be another 10 years - or more - before we finish!
---
Member login
Are you an Overland Adventure Traveller?
Does the smell of spices wafting through the air make you think of Zanzibar, a cacophony of honking horns is Cairo, or a swirl of brilliantly patterned clothing Guatemala? Then this is the site for you!
Hosted by Grant and Susan Johnson, RTW 1987-1998
Next HU Events
HU Event and other updates on the HUBB Forum "Traveller's Advisories" thread.
ALL Dates subject to change.
2023:
2024:
California: April 18-21
Virginia: April 25-28
Germany Summer: May
Switzerland: August
Romania: August
Ecuador: September
France: September
Austria: September 12-15
South Africa
Queensland: Oct 4-7
Germany Autumn: Nov.
Add yourself to the Updates List for each event!
Questions about an event? Ask here
ALL 15 chapters of the HU Achievable Dream Guide are available to download on Vimeo!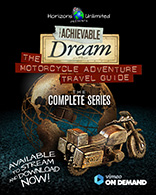 Binge watch over 18 hours of inspiring, informative and entertaining stories and tips from 150 travellers!
"a cross between entertaining stories, tech tips, and reference guide"
"A timeless introduction to Motorcycle Adventure Travel!"
Originally launched as a 7 DVD set, The Achievable Dream series can now be downloaded anywhere. OVER 18 hours of solid info take up zero space in your panniers. How convenient!
Books

All the best travel books and videos listed and often reviewed on HU's famous Books page. Check it out and get great travel books from all over the world.
NOTE: As an Amazon Affiliate we earn from qualifying purchases - thanks for your help supporting HU when you start from an HU Amazon link!