Grant and Susan in South America
Summary
We arrived in Buenos Aires, Argentina by air from Cape Town at the end of November, 1997. We drove south from Buenos Aires to Rio Gallegos, 2600 km of nothing - scrub brush followed by more scrub brush, thousands of kilometers of it. Patagonia is endlessly flat, occasionally punctuated by a gully or a small hill. Not a recommended ride, but we weren't really doing it for the scenery. Our destination was Ushuaia, Tierra del Fuego, and the end of the road in South America. We arrived in Ushuaia just before Christmas, and encountered a small but hardy band of like-minded motorcyclists, many of whom had driven down from Alaska (the rest, like us, were driving up).
Christmas Eve, 1997 - Ushuaia, Tierra del Fuego, Argentina - furthest south you can drive - note the snow on the mountains - this is mid-summer!
Our Christmas present to ourselves was very extravagant - a trip to Antarctica aboard a small cruise ship. We felt better about the price (US$2,300 each) when we considered it would have been twice as much if we had booked from North America.
After a fantastic but too short stay there (long enough to shoot 45 rolls of slide film (Grant) and 15 rolls of print film (Susan) on the penguins, seals and glaciers), it was time to head north - the only possible direction from Ushuaia.
We appreciated the variety of scenery in Chile, from the glaciers and wildlife in Torres del Paine National Park in the south to the Atacama Desert in the north, and the fact that it was considerably cheaper than Argentina was a bonus.
Osorno, southern Chile
Peru was even less expensive, but as we headed north we ran into the effects of El Niño, which had caused widespread flooding in central and northern Peru. From flooded roads and detours to destroyed roads and washed out bridges, the "easy" Pan American Highway was more of a challenge than we could ever have anticipated.
| | |
| --- | --- |
| PanAmerican Highway, north of Trujillo, Peru. | Crowd around bike after its bath in the PanAmerican river! |
We were taking so long to cover short distances, that by the time we arrived in Trujillo in northern Peru, we had run out of time, a new concept for us.
Susan had committed to a contract for the following week back in Canada, so she headed for the airport while Grant continued north through Ecuador - and more of El Nino's effects - into Colombia, finishing South America in Bogota. He and Max had some amazing adventures on the last stretch, while Susan worked and worried about him until he arrived back in North America in mid April, 1998.
---
Member login
Are you an Overland Adventure Traveller?
Does the smell of spices wafting through the air make you think of Zanzibar, a cacophony of honking horns is Cairo, or a swirl of brilliantly patterned clothing Guatemala? Then this is the site for you!
Hosted by Grant and Susan Johnson, RTW 1987-1998
Next HU Events
HU Event and other updates on the HUBB Forum "Traveller's Advisories" thread.
ALL Dates subject to change.
2024:
Virginia: April 25-28
Germany Summer: May 9-12
Switzerland: August 15-18
Romania: August
Ecuador: August 23-25
France: September
Austria: September 12-15
Queensland is back! Oct 4-7
Germany Autumn: Oct 31-Nov.3
Add yourself to the Updates List for each event!
Questions about an event? Ask here
ALL 15 chapters of the HU Achievable Dream Guide are available to download on Vimeo!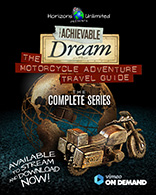 Binge watch over 18 hours of inspiring, informative and entertaining stories and tips from 150 travellers!
"a cross between entertaining stories, tech tips, and reference guide"
"A timeless introduction to Motorcycle Adventure Travel!"
Originally launched as a 7 DVD set, The Achievable Dream series can now be downloaded anywhere. OVER 18 hours of solid info take up zero space in your panniers. How convenient!
Books

All the best travel books and videos listed and often reviewed on HU's famous Books page. Check it out and get great travel books from all over the world.
NOTE: As an Amazon Affiliate we earn from qualifying purchases - thanks for your help supporting HU when you start from an HU Amazon link!