How to Host a Travellers Meeting
Horizons Unlimited (HU) Travellers Meetings are uniquely designed to inspire, inform, and connect overland adventure motorcycle travellers who want to experience the whole world, not just a small, familiar corner of it.
Horizons Unlimited Travellers Meetings are where HUBB forum chats, internet searches, and social "likes" and "follows" become the real deal – with real people in real-life and in real-time. It's where the global HU community of fellow motorcycle travellers and would-be travellers can inspire and be inspired through shared experiences, stories, tips, and practical how-to demonstrations. This is the heart and soul of every HU event. What a concept!
You've come to the wrong place if you're looking for: (1) a motorcycle rally; (2) a beer bash; (3) rock bands and loud parties.
When you organize an HU Travellers Meeting, you attract fellow adventurists who will encourage you and each other to transform travel dreams into reality. Meet people who share your vision of riding a motorcycle to South America or Africa, across Asia, or even around the world. You may even cross paths again in Mongolia or Timbuktu! Admit it, most of your friends and family think you're insane. You're not alone!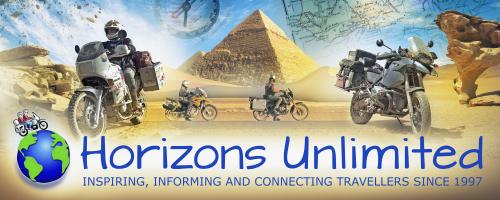 YouTube link: Horizons Unlimited Meetings Trailer
From a modest start in May 2001 in our own backyard when we lived in the UK, Horizons Unlimited Travellers Meetings have grown to include Australia (QLD, VIC and WA), Ireland, Germany, England, Bulgaria, Montenegro, Greece, Argentina, Brazil, Thailand, USA (Virginia, North Carolina, Colorado and California), Canada (Ontario and BC). Now we're aiming for India, Turkey, Japan, more USA and Canada. Group sizes range from 30-40 people for Mini-Meetings, up to 500+ for our largest meeting in the UK.
We want your event to be as successful and enjoyable as possible, not only for those who attend, but also for you (the organizers and volunteers). To help you achieve this, we have created a Horizons Unlimited Event Organizer's Manual. It will help you to plan and host an HU Travellers Meeting in your location that can attract local adventure motorcyclists and overland travellers who may take a detour to attend.
The Event Organizer's Manual is mainly intended for planning the larger, multi-day HU Overland Adventure Travel Event, but there are sufficient details to organize smaller, local meetings such as HU Mini-Meets and HU Adventure Weekends.
No matter the size of your event, everyone will go home fired-up with adventure travel possibilities. Enjoy!

Which HU Event is Right for You?
Horizons Unlimited (HU) organizes and promotes 4 different Events in 2 flavors: Travellers Meetings and Riding Events. There is an HU event to meet the needs of your HU Community. NOTE: ALL HU Travellers Meetings welcome travellers on bicycles and 4WDs.
1. Mini-Meet (Travellers Meeting)
Small "local" HU Community mini-meetings are the simplest to organize. They are great for welcoming a traveller passing through or as an excuse for getting together to keep the travel fires burning. Usually held in someone's backyard, garden, field for a barbie, or in a restaurant or local watering hole.

Just a few easy steps to get started:

NOTE: If you're thinking a multi-day event and incurring costs - e.g. renting a venue, marquee/tent and organizing catering, that's NOT a Mini-Meeting! See Overland Adventure Travel Meeting (#4) below.
2. The HUMM (Competitive Navigation Challenge)
The HUMM is a unique 2-3 day, off-road motorcycle orienteering/geo-caching event for teams of 2-4 riders. NO GPS is allowed, map-reading and navigation skills are paramount. For 2016, we will be running HUMMs in the Canadian Rockies and in Spain.

See www.horizonsunlimited.com/humm for details of how the event runs. The HUMM trailer gives a good overview of the rider experience.

We hope to expand in 2017 to other locations, including USA, India and Peru. If you know of a great location and are interested in helping to organize one of these, please get in touch!
3. Adventure Weekend (Riding and evening presentations)
Riding is the main focus with a presentation or two in the evening on Friday and Saturday. Presentations are valuable, but not mandatory. There may be ride-outs or self-guided rides with suggested routes/maps. If there are ride-outs with a Group Leader, talk to Grant and Susan about insurance requirements. See below for more details.

See the unofficial HU Colorado Adventure Weekend Video here!
4. Overland Adventure Travel Meeting (Multi-Day event)
A larger, multi-day destination event where fellow overland travellers and would-be travellers can inspire and be inspired through shared experiences, stories, tips, and practical how-to demonstrations. See below for more details.

The HU Overland Adventure Travel Meeting Experience

Inspirational stories and presentations that bring overland motorcycle adventure to life. Listen to what it's like to experience South America, Africa, Alaska, Russia or the Far East.
Informative seminars e.g. "How to Travel the World on a Motorcycle" by people who've done it.
Lots of time for sharing stories, technical tips, border crossing hints and much more.
Gab under the stars until 2:00 AM talking about where to go next!
Overall Structure of an HU Overland Adventure Travel Meeting
We like to keep things simple. HU Overland Adventure Travel Meetings may run for 2-4 days between Thursday and Sunday, depending on the location and availability. As the events grow, we push how early we start and how late we go on Sunday.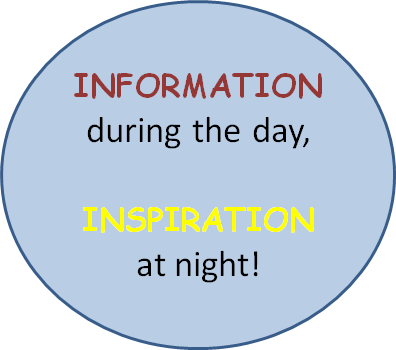 DAY 1 – People show up, sign in or register, buy t-shirts and/or meal tickets, set up their tents, reconnect with familiar faces, admire each other's bikes, freshen up, enjoy a drink, and generally get settled in. After eating dinner at a reasonable hour, we round out the evening with a couple of 30-40-minute slideshow presentations starting at about 7:00 PM.
DAY 2 (and DAY 3, if applicable) – Like your panniers, the day is FULLY PACKED with value! We kid you not. Our basic philosophy is that there's no such thing as too many talks/seminars/demos/tech clinics! In addition to inspiring presentations, here's the types of activities that go on:
Break out/roundtable sessions and panel discussions on topics such as specific bike models, South America, camping equipment, carnets and other travel logistics planning.
Practical demos tackling almost any and every topic relevant to overland adventure travel; e.g. navigation/GPS, first aid, self-defense, packing light, setting your bike up, blogging from the road, self-publishing, yoga for bikers, bodging/bike maintenance, photo and videography, tire repair, safe riding techniques, how to pick up your bike, off-road riding, all are of interest.
Exhibitors show off their latest gear and products. In return, they get feedback from the folks who REALLY test the gear in real life;
At the organizers' discretion, there might be a ride-out or two (on or off-road).
Mostly, we just want everyone to meet other travellers, share stories, explore adventure possibilities, and fan the flames of their moto wanderlust.
FINAL DAY – A low-key day with nothing officially planned. Wind up the event with thank yous, another cup of tea/coffee, and final conversations before hitting the road.
Quick Overview of the Essentials
A restaurant or community hall nearby or preferably on the grounds, with a large room which can host the food and slide shows, and not too far to drive or walk afterwards. A restaurant with a large room is great as they usually include the room since they are providing the meal. Renting a community hall means arranging for catering. Tip: Unless the event will be a 'Mini-Meeting' forever, check that the venue has capacity for the event to grow to 150-200 participants.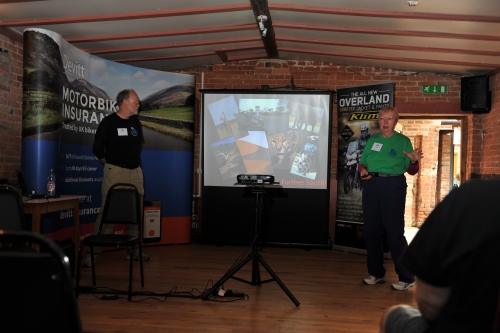 Speakers and/or presenters with slides of their trips to exotic locations. Depending on where you are, Grant and Susan may be available to speak, and we have a number of presentations! Travellers on the road might show up and locals may also have some good stories to tell and/or information to impart. The problem isn't usually getting someone to do a slide show, it's squeezing all the volunteers in!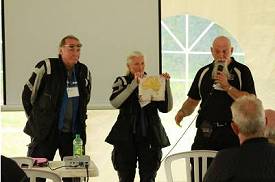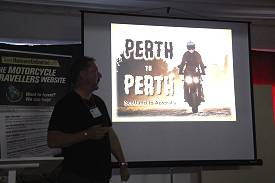 Additional key attractions and activities: Practical how-to sessions; Panel discussions; Breakout sessions; Show-and-Tells and Walk-Arounds. Make plans to include skills training and activities to encourage off-road riding skills (e.g., Slow Bike Challenge).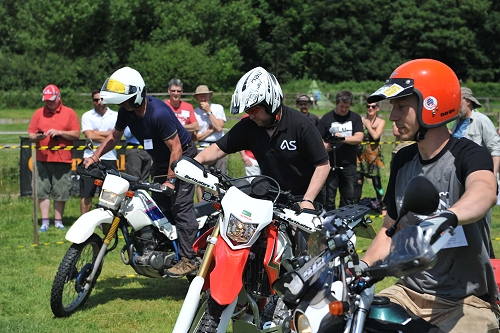 Determine essential costs. The bare minimum requirement is to confirm the costs for camping and a meal for Saturday night. We will jointly agree on the prices for the various packages: meeting (camping and presentations), the meal(s), t-shirts and HU Membership packages. All finalized info is then posted on the meeting page.
Registration Desk: This is where a lot of the action happens. Although most people pay in advance, there will always be some payments on event day for registrations and impulse purchases of t-shirts. Make sure someone remains at the Registration Desk to handle all the paperwork, collect money, explain the proceedings, and hand out decals and t-shirts.
Some nice roads in the area for riding during the day on Thursday or Sunday.
Getting Started: Now What?
Sound like fun? Here's the next steps!
Talk to us about locations. We're open to just about any possibility, either 1-2 hours from a major population centre, or in a fantastic riding area (preferably both!)
Ask for the Event Organizers Manual, which has everything you need to know, including a venue checklist and a document to send to prospective venues to explain what our meetings are all about and our requirements.
If you have a suitable venue in mind, confirm its availability in order to set the date. Avoid long weekends! Campgrounds fill up quickly. Borders and ferries get backed up. Unlike ferries, for some reason borders don't offer preferential lanes to motorcycles.
Does the date conflict with another HU event or other motorcycle events/rallies? Pick another date if it does. This might rule out the possibility of Grant and Susan attending your event (if they're in the neighbourhood at the time).
Got a confirmed date and venue with confirmed costs/quotes? Talk to Grant and Susan about it. After dates, costs and pricing are locked in, we can announce the event and get underway!
We'll organize a web page with details of the meeting / mini-meeting and an online registration form which sends an e-mail to yourself and us, so you know how many are coming to tell the caterer and campground.
We also provide a poster specifically for your event (in English, but can do local language if you provide the translation!) that can be printed out and put up at the various local bike shops and gathering places. We can also send a notice to the local motorcycle magazines if you provide us with their addresses.
We can publicize it via the HU Bulletin Board (HUBB), our e-zine, social media (e.g., Facebook, Twitter), and the website. You can promote it to your friends and on local websites and bulletin boards.
We'll support you every step of the way. We want the events to be win-win-win for you, us and all the participants so that we all want to come back and do it again next year!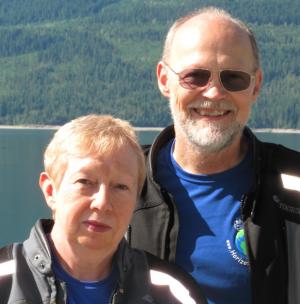 Got comments or questions? Talk to us!

Thanks for your interest and support!
Cheers,
Grant & Susan
Horizons Unlimited
Inspiring, informing and connecting travellers since 1997!
---
What happens at HU events?
HU South Africa
Comments about HU Events
"So many trips, tips, subjects, discussions, questions, answers, experiences, insights... I could go on and on. I will be back, and back, and back."
"It was like being with family... a friendly group with shared love of adventure."
"Everyone was humble, genuine, and encouraging, and I really needed that kind of 'we're all just people' kind of atmosphere."
"You'll see and hear the most useful ideas on so many subjects that it boggles the mind."
"Full of very inspiring people who got me fired up again and motivated for my next trip!"
"What a fantastic inspirational weekend...we will be back."
"I have picked up so much information... and met some new friends and wonderful people."
"...a new league of awesomeness."
"Great atmosphere and camaraderie, especially at dinner time, and interesting presentations."
"I have learned so much, made some great mates and met some of the best people. I was buzzing by the time I got home. I have a little trip planned and just can't wait to get out there."
HU Events Refund Policy
Like adventures, life can throw surprises our way. Stuff happens. While we would love for you to join the fun and connect with everyone at our events, we understand that you (and the funds) may be needed elsewhere. We'll catch up later!
On our side, we know you appreciate that we have financial commitments to venues and caterers!
The best way to let us know that you're unable to attend an event is to reply to the Registration Confirmation Email you got from us when you first signed up.
Up to 30 days prior to event start, we will refund all fees in full less a $10 (or €9 or £8) handling fee and PayPal charges. At your request, we can apply your Event Registration and all fees to any subsequent HU event you wish in that year or following year.
Up to 15 days prior to event start, we will refund only the camping/accommodation and food packages in full less a $10 (or €9 or £8) handling fee and PayPal charges. At your request, we can apply your Event Registration fee (with no handling fee) to any subsequent HU Event you wish in that year or following year. If you purchased a t-shirt, we will ship it to the mailing address you provide.
Within 15 days of the event start, there will be no refunds. At your request, we can apply your registration fee (with no handling fee) to any subsequent HU event you wish in that year or following year. If you purchased a t-shirt, we will ship it to the mailing address you provide.
If WE cancel an event:
We are constantly evaluating the situation for every event, and very much err on the side of caution. We will endeavour to announce "Final" decision one month or more before the event, but the situation COULD change closer to time, and we could be required by law to cancel.
If we are forced to cancel for COVID or natural disaster, we will roll your registration over to next year automatically.
If you want to transfer your existing registration to any other HU event in the world, just let us know.
Need a full refund? PLEASE REPLY to your original Registration Confirmation email to make it easier for us to find. If you can't find it, please email a request to: events-c (AT) horizonsunlimited(-)com with the subject line: "Refund event-name event-year"
Next HU Events
HU Event and other updates on the HUBB Forum "Traveller's Advisories" thread.
ALL Dates subject to change.
2023:
2024:
California: April 18-21
Virginia: April 25-28
Germany Summer: May
Switzerland: August
Romania: August
Ecuador: September
France: September
Austria: September 12-15
South Africa
Queensland: Oct 4-7
Germany Autumn: Nov.
Add yourself to the Updates List for each event!
Questions about an event? Ask here
Why host an HU meeting?
"Our pleasure to pay back the community that we have had so much support and inspiration from, and to inspire others to travel. Greetings from Perth Australia!"
Tamara Kabat, Western Australia
"I've worked in the motorcycle industry for 20 years, and nothing -- except maybe my own travels -- brings me more joy than helping HU spread the word!"
Steve Anderson, Virginia
"What we receive back from organising a HU meeting is infinitely more than the effort we put in. Being part of the catalyst inspiring others to fulfil their travel dreams and, in turn being ourselves inspired is only one of the payback benefits. Being part of, and adding something to a family of like-minded people, and meeting inspirational and genuinely good people is something we are eternally grateful for. If you are tempted to take up the challenge of organising a HU meeting anywhere in the world, contact Grant and Susan... you will receive all the support and back-up you need... and you will never regret the decision."
Liam McIlhone, Ireland
"Always feel great to cross our path again, anytime, somewhere in this beautiful planet... Have a safe journey folks..."
Jeffrey Polnaja, Indonesia
"It's only an honor, you meet so many fantastic travelers from all over the world, so if you are in South Africa come and visit us."
Kobus Fourie, South Africa
"Thank you, Grant and Susan for opening up your hearts and wisdom, so that we may share this with others. It is a deep honor to be a part of this beautiful movement that is gracefully inspiring so many to go out and live a life with purpose. I especially love the connection with charitable organization Do Good As You Go to help connect our inspired travelers with giving back to communities they pass through. This is how we make the world a better place."
Nicole Stavro Espinosa, California