A few of the articles written about Horizons Unlimited and Grant and Susan Johnson.
Rider Magazine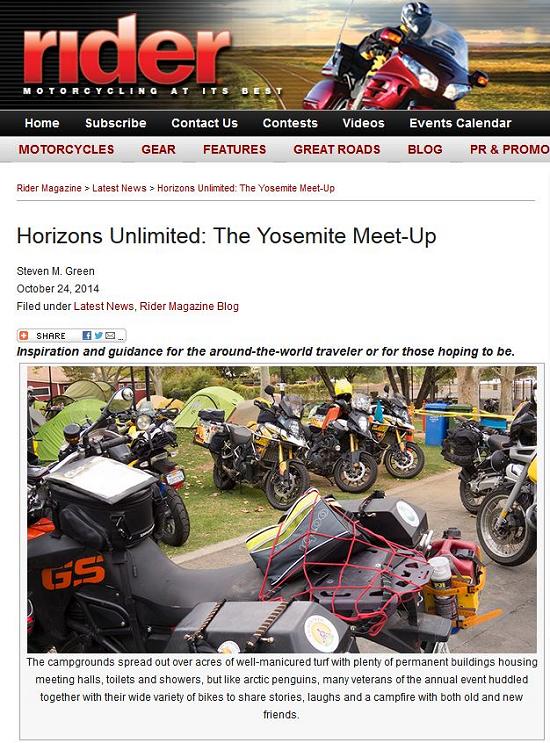 Motorcycle USA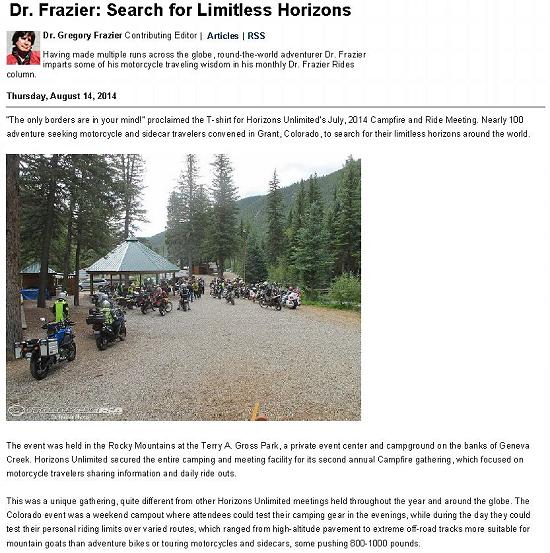 British Dealer News, August 2014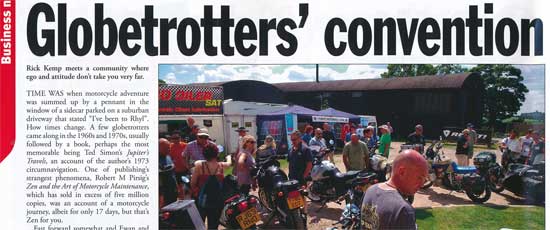 Northern Ontario Travel, July 2014
..."Celebrate the final weekend of summer with a fantastic ride to Muskoka and experience HU's Ontario Event. It may be the end of the season, but seeds germinate and take root over the winter. You never know where next season's riding adventures will take you."
ZENMotorcyclist.com
ADVENTURE Rider, Issue#4, Australia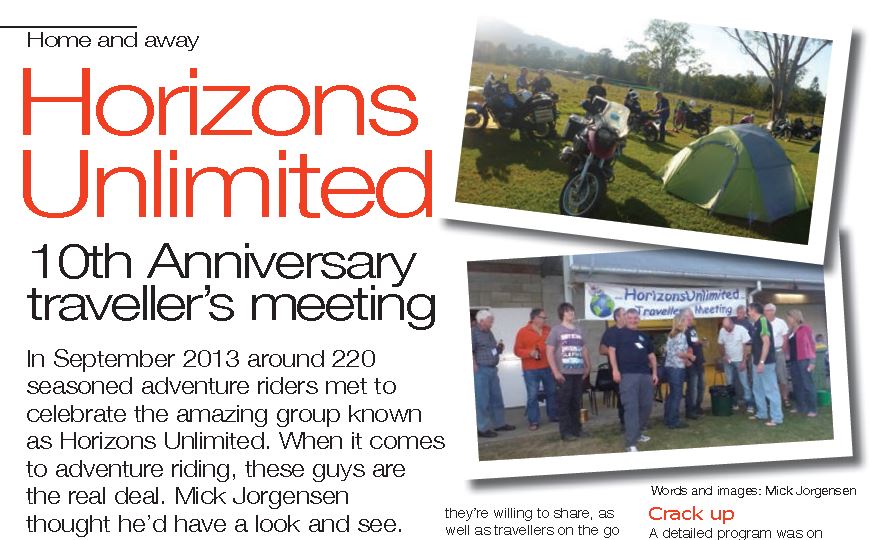 The Westerner (Australia), October 2013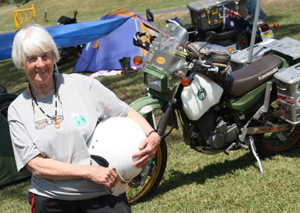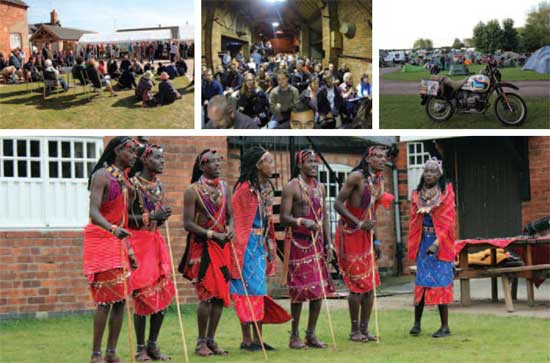 Australian Motorcyclist Magazine, August 2013
Australian Road Rider, July 2013
The World is not Enough, by Justin Law, profiles Martin Williams, Paul and Jan Dwyer and Haydn and Dianne Durnell and the Australia 2013 HU meetings in Dayboro, Cavendish and Perth.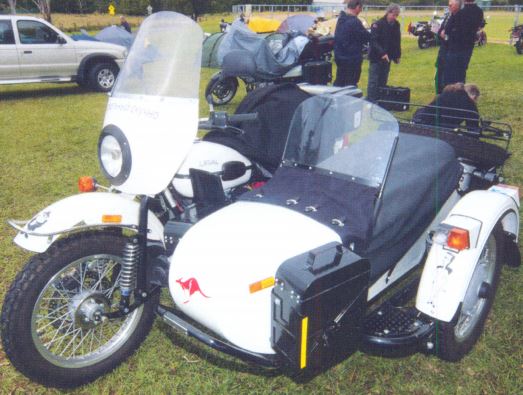 Road Bike Magazine (USA), Apr/May 2013
Motorcycle USA, November 2012
Motorradspiegel, Germany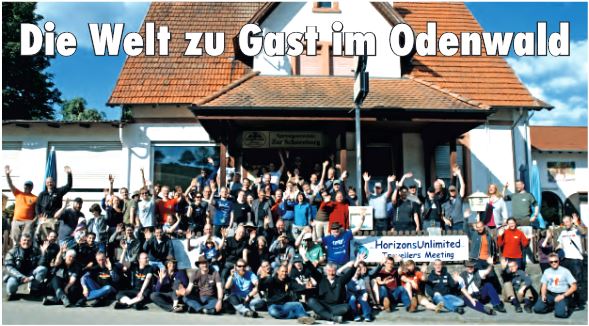 Australian Road Rider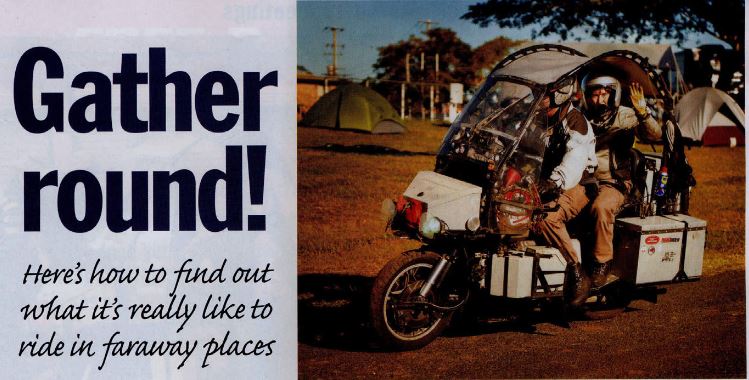 ADVMoto, January 2012
Nicole Espinosa: Finding Inspiration HU Travelers Meeting 2011, Cambria CA


"...you have a Horizons Unlimited (HU) Travelers Meeting - the most inspirational adventure riding event ever created"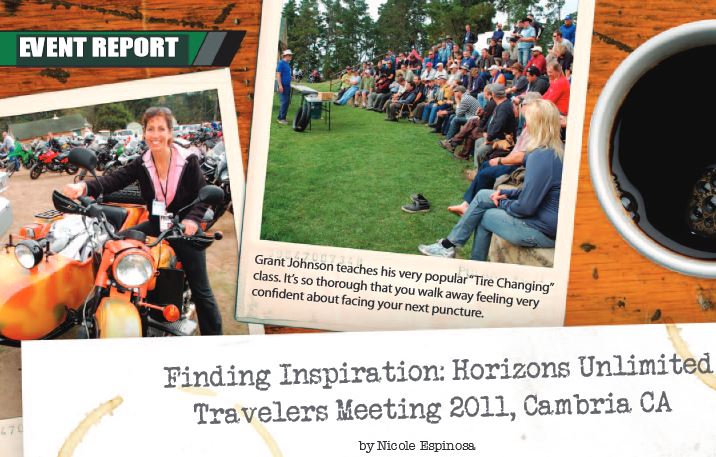 Motorcycle-USA, December 2011
Dr. Frazier: Adventure Touring Candy Store


"With over 200 registered attendees, most arriving on adventure kitted motorcycles from as far away as Australia and the United Kingdom, the parking lot, campground and display area was a motorcycle adventure seeker's accessory and modification candy store.

"
RiderMagazine.com, November 2011
by Clement Salvadori: HU Travellers Meeting, California 2011


"...I was especially tickled when Horizons Unlimited (HU) called me up to say they were having a meeting in Cambria, 35 miles from my home."
Motorcycle USA.com, December 2010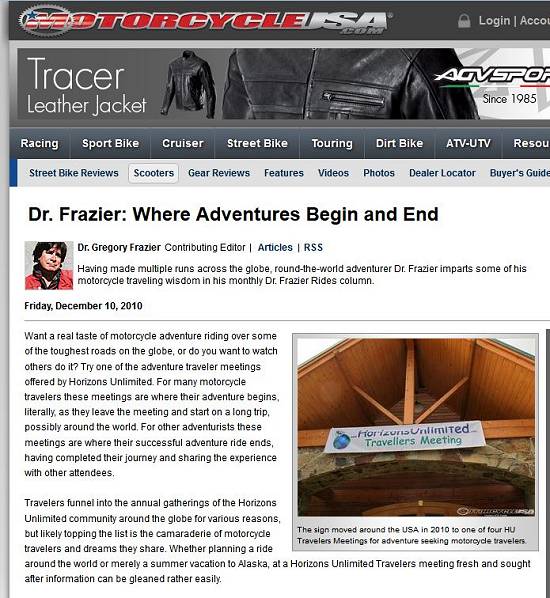 Motorrad Abenteuer, Sept / Oct 2008

Unbegrenzter Horizont, Horizons Unlimited Treffen in Deutschland by Erwin Thoma (link to come)

www.OverlandJournal.com, USA, August 2008, by Graham Jackson
MotorcycleUSA.com, USA, August 2008, by Greg Frazier
Trailbike Adventure Magazine, Australia, June 2007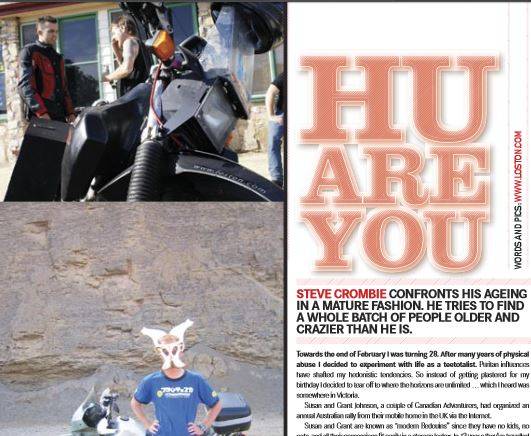 The Telegraph, UK, December 30 2006
RoadBike, USA, June 2006, by Greg Frazier
Rider Magazine, USA, October 2005 by Dan Hilton
Toronto Star, Canada, October 29 2005, by Mark Richardson
Edmonton Journal, Canada, October 21 2005, by Tim Yip
Edmonton Journal, Canada, October 22 2004, by Tim Yip
Motorcycle Voyager, UK
CANADIAN BIKER, Canada, March 1999 by John Campbell
the drifting johnsons

"YOU'LL MEET THEM TIME AND AGAIN, the world travellers. They'll seem older yet somehow younger than yourself; a life intensely lived affects mortality and jumbles time out of sequence..."
The Vancouver Province, Vancouver, B.C., Canada, November 16, 1998, by Dana Gee
"For Grant and Susan Johnson, life has definitely been a highway. In fact, it's been 100,000 kilometres of highways, roads and trails..."
Tourenfahrer, Germany, March 2000 (In German only) by Andreas Huelsmann
Reisetreffen: Fernweh inklusive

Article about Motorcycle Travellers Meetings and where to find information on travel by motorcycle. On the second page are a few paragraphs about our website.

Wenn jemand eine Reise plant, dann hat er viele Fragen, jedoch ist es nicht immer einfach, die Antworten darauf zu finden. Eine gute Quelle sind Fernreise-treffen, auf denen sich die Zunft der resienden Motorradfahrer zum Erfahrungsaustausch treffen kann

Rough translation:

If someone plans a journey, then there are many questions to ask, however it is not always easy to find the responses to it. A good course is "Travel Meetings," at which travellers meet the guild of the travellers to exchange experience.
---
Member login
Are you an Overland Adventure Traveller?
Does the smell of spices wafting through the air make you think of Zanzibar, a cacophony of honking horns is Cairo, or a swirl of brilliantly patterned clothing Guatemala? Then this is the site for you!
Hosted by Grant and Susan Johnson, RTW 1987-1998
Next HU Events
NEW!

Chile: Mar 8-11

NEW!

Sweden Mini: Jun 29-Jul 1

NEW!

Ecuador: Jul 13-15

NEW!

Italy: Sep 14-16
France: Sep 21-23
Indonesia: Oct 11-14
Germany Autumn: Nov 1-4
South Africa: Nov 8-11
Don't miss out on the HU 2018 Motorcycle Adventure Travel Calendar! Fantastic holiday gift for your favorite adventurer!
HUGE, 11.5 x 16.5 inches! Photos are the winning images from over 650 entries in the 12th Annual HU Photo Contest!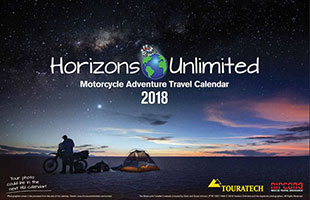 "So many awesome shots..." "Fantastic pictures. I'm very sorry that there is only 12 months in a year!"
HOLIDAY SPECIAL: Buy 4 Calendars and get free shipping anywhere in the world! Use Coupon Code 4CAL at Checkout.
We share the profit with the winning photographers. YOU could be in the HU Calendar too - enter here!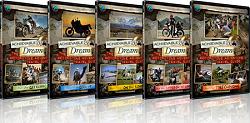 Ho, ho, ho!
Santa came early this year, so we're taking
20% off
all DVDs in the
HU Store
! Get the complete
Achievable Dream Collectors Box Set
for only
$79
(regularly $99)! Remember to use
Coupon Code 'EZSPEC'
on your order. Coupon expires
Jan 31
!