Suspension - rear shock
Submitted by Susan A Johnson on 9 April, 2012 - 16:06
From a post on the HUBB requesting information a shock for world travel, for an Africa Twin:

My "Generic answer for most any bike":

Once upon a time, long long ago, I used to tell people that "the stock shock was carefully designed to hold the rear fender off the tire when the bike is in the crate, on it's way to you". While clearly no longer completely true, I think it is still largely true for those of us running long trips two-up.

Overall, my personal feeling is that it is VERY important to put a good rear shock on any bike for a two-up round the world trip. It's not just a matter of "will the stock shock survive" but "will it work well in the meantime"?

The difference in handling - and therefore safety - between a hopelessly inadequate and overloaded stock shock and a shock built for the load is HUGE. My bike for instance handles very well fully loaded - and many G/S riders don't believe me - because they are riding on a stock shock, and have no idea of the difference. The rear shock is responsible for easily 80% of the handling of the bike, especially on a two-up and loaded tourer.

For another opinion, ask Chris Bright about how good stock shocks are - on his BMW R100GS he went through 4 stock shocks before he got wise and installed (I think) an Ohlins. Getting shocks shipped into Africa and South America is very expensive and a lot of hassle, and shocks have been know to fail spectacularly - breaking in half isn't unheard of.

Finally, no matter how hard you try, you will never get the load "balanced" - (short of putting 125 pounds of luggage in front of you to offset your passenger) you can only reduce the imbalance. "Balanced" is solo unloaded, (on some TOURING bikes balanced is two-up light load. The AT doesn't fit that category!)

Check out Works Performance (see the links page) for a shock for your bike - they custom make each one to suit the load and conditions. And their price is reasonable. You could get it installed in LA when you get there. Then you will really appreciate the difference! Tell them I sent you.

Specific to AT:

I know zip about AT's, and they may well come with a great shock for the job - but I'd be mighty surprised!

I've discussed our (as in 'world traveller') requirements at length with a real shock expert, and the conclusion is that it is practically impossible to build a shock that will work perfectly solo unloaded AND two-up fully loaded. The mechanics of the current shock / suspension system, and the characteristics of springs, are such that it just can't be done at an acceptable price and complexity. So if a bike is good solo from the factory, it has to be inadequately sprung fully-loaded two-up. A good compromise is all we can get.

Forgive the long-winded ramble, but I hope this clarifies things somewhat for all.
---
Member login
Are you an Overland Adventure Traveller?
Does the smell of spices wafting through the air make you think of Zanzibar, a cacophony of honking horns is Cairo, or a swirl of brilliantly patterned clothing Guatemala? Then this is the site for you!
Hosted by Grant and Susan Johnson, RTW 1987-1998
Next HU Events
NEW!

Chile: Mar 8-11

NEW!

Sweden Mini: Jun 29-Jul 1

NEW!

Ecuador: Jul 13-15

NEW!

Italy: Sep 14-16
France: Sep 21-23
Indonesia: Oct 11-14
Germany Autumn: Nov 1-4
South Africa: Nov 8-11
Don't miss out on the HU 2018 Motorcycle Adventure Travel Calendar! Fantastic holiday gift for your favorite adventurer!
HUGE, 11.5 x 16.5 inches! Photos are the winning images from over 650 entries in the 12th Annual HU Photo Contest!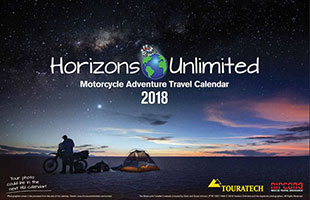 "So many awesome shots..." "Fantastic pictures. I'm very sorry that there is only 12 months in a year!"
HOLIDAY SPECIAL: Buy 4 Calendars and get free shipping anywhere in the world! Use Coupon Code 4CAL at Checkout.
We share the profit with the winning photographers. YOU could be in the HU Calendar too - enter here!