Why Go?
Wanderlust
The allure of distant lands, strange and exciting sights and smells, new people to talk to, history come alive before you, wild animals in their natural splendor, all are a part of the dream of travel. Part of growing up for me was reading National Geographic from cover to cover, endless poring over maps. I even enjoyed Geography courses in school.
I started touring at 16 on a Ducati 250. My first tours were only a few hundred kilometers, but gradually expanded, taking in all of my native British Columbia, Canada, and eventually most of North America. With my wife Susan, I started to fulfill my dream, around the world by motorcycle, in the spring of 1987.
Over 13 years later, we are still expanding our horizons, having now travelled to over 50 countries, 39 with the bike, a 1986 BMW R80G/S that fell off the back of a truck when new. We have lived in Australia, Singapore, Hong Kong, USA and the UK. We have "completed" the initial dream of around the world, having done a North to South route, from North Cape to Cape Agulhas, South Africa, and from Ushuaia, South America to Prudhoe Bay, Alaska, taking in New Zealand and Australia as well. But the wanderlust is still in our blood, we still have a lot of places to see and things to do, new people to meet, new friends to make, and a host of adventures to experience.
We were about to leave on our first trip around the world, when my mother asked me "Why don't you travel around this country more first?"
The flaw is that by the time you've seen all "this country," no matter where your home is, you may well be unable to get to some of the other countries that require a little effort to see.
I need to see the WORLD, not just one very small corner of it. What I have seen has enhanced my understanding and appreciation of what makes this planet and its diverse people such a wonderful and interesting place.
Fear is the number one problem we all have when facing the unknown, and another country is a big unknown until we've been there. I think most people who have "been there" will tell you it's great, go - and have a good time! (see the comments on the right)
Some places require a greater degree of care and attention than your hometown, but so does the big city just down the road from your home. You simply need to be alert, and use common sense.
Remember, "home" will still be there, unlike the wild animals in Africa, the fascinating culture of the people of Bhutan, and the unspoiled beauty of places like Sipadan or Namibia.
What's keeping you?
Grant and Susan Johnson, your hosts here on Horizons Unlimited.


Why? by James Richmond
"'Why do you do it?' friends often ask, perplexed,
Brows raised, minds sorely vexed.
'The world out there is dangerous!
Aren't you scared? Why do this?
You need steady work, a house, two cars!
You have only a motorbike, and sleep under stars!'
Dear friend, if you must ask, you cannot know
This curiosity that drives me so.
To you it is hidden; in me rises unbidden!
But one day the world I'll have ridden
By iron steed, then perhaps this need
Will have vanished, finally vanquished!
That day will find me on deathbed,
With no regrets for the life I led.
Will you be able to say the same?
Or will you despair a life worn plain?
I will stake my Himalayan memories
Against your estate of a thousand trees.
Pit my Thai sunset
Against your private jet.
Weigh my horse rides at sunrise
To your Italian suits and ties.
I'll rejoice in friends before I go,
Not the figures of my stock portfolio.
And, amazingly, there are more like me;
They reject slavery, and are truly free.
They took the chance we all had,
And honestly it makes me sad
That you didn't.
You thought you couldn't...
What?
Live without the luxuries
Of all our modern amenities?
You choose the bonds of mortgage, but claim to be free,
Wasting a lifetime absorbed by TV.
Why watch it? but live it!
One life's all you get!
Don't put off 'til morrow and continue to borrow
The lives of strangers; 'tis the greatest of dangers
To the soul
Which grows old
Before its time.
Hercules, Columbus,
Guevara, Odysseus,
Champlain, Agamemnon,
The list goes on...
What have they in common?
Regardless man or god,
The soil of continents they trod,
Not in search of gold but adventure!
Not growing old 'cause they ventured
Far from safety; but far be it from me
To Judge...
--------------------
The pitiless pity us
With souls black pitted.
Pray! save it for those less spirited.
For us... our horizons are unlimited."
by James Richmond, Canada, in India
---
Member login
Are you an Overland Adventure Traveller?
Does the smell of spices wafting through the air make you think of Zanzibar, a cacophony of honking horns is Cairo, or a swirl of brilliantly patterned clothing Guatemala? Then this is the site for you!
Hosted by Grant and Susan Johnson, RTW 1987-1998
Next HU Events
HU Event and other updates on the HUBB Forum "Traveller's Advisories" thread.
ALL Dates subject to change.
2023:
2024:
California: April 18-21
Virginia: April 25-28
Germany Summer: May
Switzerland: August
Romania: August
Ecuador: September
France: Septembert
Austria: September
South Africa
Queensland: Oct 4-7
Germany Autumn: Nov.
Add yourself to the Updates List for each event!
Questions about an event? Ask here
ALL 15 chapters of the HU Achievable Dream Guide are available to download on Vimeo!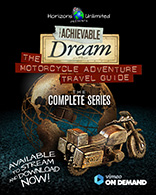 Binge watch over 18 hours of inspiring, informative and entertaining stories and tips from 150 travellers!
"a cross between entertaining stories, tech tips, and reference guide"
"A timeless introduction to Motorcycle Adventure Travel!"
Originally launched as a 7 DVD set, The Achievable Dream series can now be downloaded anywhere. OVER 18 hours of solid info take up zero space in your panniers. How convenient!
Books

All the best travel books and videos listed and often reviewed on HU's famous Books page. Check it out and get great travel books from all over the world.
NOTE: As an Amazon Affiliate we earn from qualifying purchases - thanks for your help supporting HU when you start from an HU Amazon link!