Border Crossings - Melaka, Malaysia to Dumai, Indonesia
25 April 2001 Melaka
Accomodation - Robins Nest Guest House 16 to 23 Ringgit for a double room. Close to passenger and cargo terminals. Listed in Lonely Planet.
Passenger Ferry - Follow Me Express Ferry Service on the 'Indomal Express'. Morning and afternoon ferries. 59 RM per person (special price).
Cargo - Jalinan Muara Enterprise. Ph 012-6231867 Small office near
customs/ferry termal.
Customs - Between passenger and cargo dock/terminals.
Schedule :
8.00am Arrive at cargo terminal.
10.30am Carnet and invoice processed. 400 RM (negotiable).
11.00am Bike loaded onto 'Kurnia Jaya' S27-41 and lashed to wheel house. Bags of onions packed around bike.
12.00 Bike leaves. Journey 8 hrs.
3.45pm Low tide. Old ferry shuttles us to new ferry and we transfer 2-3 kms out to sea. Keep luggage to a minimum. Journey 2 hours.
6.00pm Dumai - Immigration - 60 day tourist visa. Return ticket or show of funds not requested. Customs - no searches. Both very easy.
The following is what we recommend you do to avoid 'rip offs'.
1. Leave ferry terminal - Walk or catch a rickshaw to the main customs office/bldg (approx 4-500 mtrs). Through archways to main road, turn left and it's on the right hand side.
2. Advise customs officals what is happening. E.T.A. of bike, company name and contact number and accomodation requirements. We stayed at the Hotel Srikandi for 70,000 Rs. There are cheaper but they were full. Don't stay at the Royal Hotel unless you have lots of money. Customs have a driver and a 4 x 4 and will probably drive you everywhere for no charge. They are extremely helpful. Be prepared to pay if this is not possible. There are touts everywhere trying to rip you off including the shipping agent.
3. Hopefully!! customs will drive you to cargo dock to collect the bike. 8 pm for us.
4. Collect bike after ten lads lift bike off boat and demand 100,000 Rs (approx US$10) You can negotiate.
5. Ride back to customs and process carnet. We could not as too late. Left bike at customs and driver took us back to hotel.
26 April 2001
6. 8.am to 11.30 am Customs picked us up, carnet was processed. They drive us to the police station to arrange permit for the bike. All done, no charges, very helpful. You need a rough itinerary for police permit.
7. Police permit requires you to check into police stations each overnight stay. We are doing this but most police do not understand proceedures. All are very friendly and helpful.
Good luck and enjoy.
---
Member login
Are you an Overland Adventure Traveller?
Does the smell of spices wafting through the air make you think of Zanzibar, a cacophony of honking horns is Cairo, or a swirl of brilliantly patterned clothing Guatemala? Then this is the site for you!
Hosted by Grant and Susan Johnson, RTW 1987-1998
Next HU Events
NEW!

Chile: Mar 8-11

NEW!

Sweden Mini: Jun 29-Jul 1

NEW!

Ecuador: Jul 13-15

NEW!

Italy: Sep 14-16
France: Sep 21-23
Indonesia: Oct 11-14
Germany Autumn: Nov 1-4
South Africa: Nov 8-11
Don't miss out on the HU 2018 Motorcycle Adventure Travel Calendar! Fantastic holiday gift for your favorite adventurer!
HUGE, 11.5 x 16.5 inches! Photos are the winning images from over 650 entries in the 12th Annual HU Photo Contest!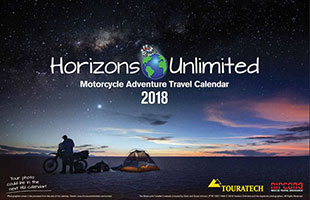 "So many awesome shots..." "Fantastic pictures. I'm very sorry that there is only 12 months in a year!"
HOLIDAY SPECIAL: Buy 4 Calendars and get free shipping anywhere in the world! Use Coupon Code 4CAL at Checkout.
We share the profit with the winning photographers. YOU could be in the HU Calendar too - enter here!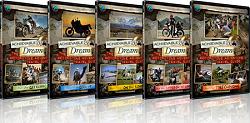 Ho, ho, ho!
Santa came early this year, so we're taking
20% off
all DVDs in the
HU Store
! Get the complete
Achievable Dream Collectors Box Set
for only
$79
(regularly $99)! Remember to use
Coupon Code 'EZSPEC'
on your order. Coupon expires
Jan 31
!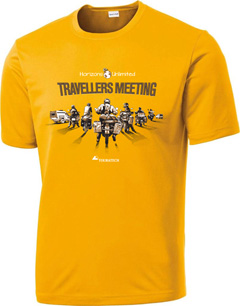 Didn't get to an HU meeting this year? Or are you looking for a great holiday gift for your favorite adventure traveller?
We have a few in stock, in a variety of colors and sizes, including Ladies sizes and shapes!
Back slogan: 'Make your own adventures, take the road to everywhere!'
Get them while they last at the HU Store - when they're gone, they're gone forever!