Border Crossings - North and East Africa
Border Crossings - by Ted Simon
From Libya to Egypt.
Very time-consuming. (5 or 6 hours) so get there early. Lots of small payments, adding up to almost $100, which remain mysterious unless you have Arabic. You will get an Arabic Plate, and with it a plasticated license to drive. Make sure they give it to you. I didn't get one, and it proved a nuisance when I was leaving. It would have been a much greater nuisance if anyone had stopped me and asked to see it.
Egypt to Sudan by ferry.
At Aswan, getting out of Egypt is not too bad as long as you have papers and the plate. Ferry sails on Mondays (for now) in the afternoon. You have to be there by 1pm, but 10 am is much better. There are two boats, apparently. One carries cars, and I image getting on it is quite easy. The other is smaller, and getting the bike in and out is rather harrowing - makeshift gangplanks, and a deep hatch to drop it through.
Under the heading of Myths to Dispel:
I did NOT have to empty my tank before getting on the ferry from Aswan to Wadi Haifa. So if you plan to ride from W.H. fill up in Aswan. But if you plan to put the bike on a train in Wadi Haifa, then they will empty your tank. Crossing takes about 24 hours (they say 16). A train used to meet the ferry but doesn't now. It may leave next day, or not. It is very slow, and times are erratic. Wadi Haifa to Atbara was 26 hours. 3000 dinar for me, 3500 for the bike (150 kilos - it's OK to cheat on the weight). About $26 total. Both overland routes are very hard.
In Wadi Haifa:
Police come on the ferry, and can be very officious. Don't take pictures while they're around. Customs isn't too bad. There are two people to look for in the Customs Hall. One is an older man called Kamal, who took very good care of me. The other I've heard about is a younger man called Mita.
The real problems begin with the police, passport control, permits, pictures, all kinds of security crap. Let one of those two people advise you. There are fees to pay, although the visa has already cost you $60.
From Sudan to Ethiopia, via Galabat/Metema.
Both sides fairly informal. The customs chief of Galabat is not always there, and you may have to wait to get the carnet stamped.
Immigration in Metema is gracious. They'll even ask you to rate their performance. When I came through I couldn't find any customs anywhere, and just went through regardless. There was supposed to be a customs post further along the road towards Gondar, but I never saw it. Hence, no carnet. When I came out in Moyale, this was not a problem. Accommodation on either side of the border is less than basic. On the Metema side, if you ride another 20 K or so, you can find a quiet place to camp.
Moyale, going south from Ethiopia to Kenya.
Again, fairly easy. On weekends you may have to get the Ethiopian officials from their homes, but they seem used to this. On the Kenya side, they work through the weekend.
Hotels on the Kenya side are more expensive (I'm told), but the Tourist Hotel on the Ethiopian side was terrible. Try one of the others further back. Petrol is about the same price on both sides. Kenya now takes $50 from Brits too (we were exempt until recently).
Ted Simon - 'The interruptions ARE the journey'
---
Member login
Are you an Overland Adventure Traveller?
Does the smell of spices wafting through the air make you think of Zanzibar, a cacophony of honking horns is Cairo, or a swirl of brilliantly patterned clothing Guatemala? Then this is the site for you!
Hosted by Grant and Susan Johnson, RTW 1987-1998
Next HU Events
NEW!

Chile: Mar 8-11

NEW!

Sweden Mini: Jun 29-Jul 1

NEW!

Ecuador: Jul 13-15

NEW!

Italy: Sep 14-16
France: Sep 21-23
Indonesia: Oct 11-14
Germany Autumn: Nov 1-4
South Africa: Nov 8-11
Don't miss out on the HU 2018 Motorcycle Adventure Travel Calendar! Fantastic holiday gift for your favorite adventurer!
HUGE, 11.5 x 16.5 inches! Photos are the winning images from over 650 entries in the 12th Annual HU Photo Contest!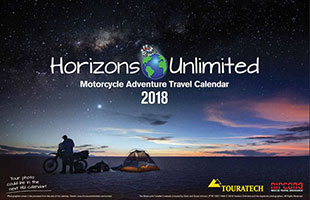 "So many awesome shots..." "Fantastic pictures. I'm very sorry that there is only 12 months in a year!"
HOLIDAY SPECIAL: Buy 4 Calendars and get free shipping anywhere in the world! Use Coupon Code 4CAL at Checkout.
We share the profit with the winning photographers. YOU could be in the HU Calendar too - enter here!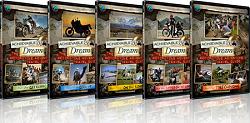 Ho, ho, ho!
Santa came early this year, so we're taking
20% off
all DVDs in the
HU Store
! Get the complete
Achievable Dream Collectors Box Set
for only
$79
(regularly $99)! Remember to use
Coupon Code 'EZSPEC'
on your order. Coupon expires
Jan 31
!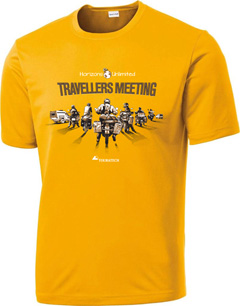 Didn't get to an HU meeting this year? Or are you looking for a great holiday gift for your favorite adventure traveller?
We have a few in stock, in a variety of colors and sizes, including Ladies sizes and shapes!
Back slogan: 'Make your own adventures, take the road to everywhere!'
Get them while they last at the HU Store - when they're gone, they're gone forever!