Argentina, Travellers information
Argentina Fire Extinguisher Law
There is a law in Argentina which requires vehicles to carry a fire extinguisher and triangle markers. It specifically EXCLUDES motorcycles, but the police in some areas have found a lovely new scam, and are stopping motorcycles and trying to fine them for not carrying an extinguisher etc.
You can print the document in Spanish and English here, to print and carry with you, and show them when you are stopped. Do NOT pay the "fine"! This is further discussed inthe HUBB thread here.
Tip from Flying Gringo: "If you don't know, or don't speak Spanish very well, or at all, the word to use is COIMA . Whenever they mention money, say something like No Coima , or look at them and ask, Coima ? They will do their best to assure you that they are not trying to "pedir coima," and move off to easier marks."
Ley Nacional de Transito N° 24.449
Art. 40 Requisitos para circular, Ins: "Fâ€
"Que posea matafuegos y balizas portátiles normalizados, excepto las motocicletasâ€
That has fire extinguisher and triangles markers, except motorcycles.
"Art. 3° .- Garantía de Libertad de transito.
Queda prohibida la retención o demora del conductor, de su vehículo, de la documentación de ambos y/o licencia habilitante por cualquier motivo, salvo los casos expresamente contemplados por esta ley u ordenados por Juez competente."
Free Transit guaranty. It's forbidden the retention or detention of the driver, his documents, and/or his license for any reason, except the situation specifically contemplated in this law or ordered by a Judge in charge.
"Art 4°.- Convenios internacionales.
Las convenciones internacionales sobre transito vigentes en la republica son aplicables a los vehículos matriculados en el extranjero en circulación por el territorio nacional, y a las demás circunstancias que contemplen, sin perjuicio de la aplicación de la presente en los temas no considerados por tales convenciones."
International Treaties. The International Agreements about transit valid in the Republic are applicable to the vehicles registered in a foreigner country in transit through the national territory and others circumstances treaty, without detriment the application of this law on the situations not considered by these Agreements.
---
Member login
Are you an Overland Adventure Traveller?
Does the smell of spices wafting through the air make you think of Zanzibar, a cacophony of honking horns is Cairo, or a swirl of brilliantly patterned clothing Guatemala? Then this is the site for you!
Hosted by Grant and Susan Johnson, RTW 1987-1998
Next HU Events
NEW!

Chile: Mar 8-11

NEW!

Sweden Mini: Jun 29-Jul 1

NEW!

Ecuador: Jul 13-15

NEW!

Italy: Sep 14-16
France: Sep 21-23
Indonesia: Oct 11-14
Germany Autumn: Nov 1-4
South Africa: Nov 8-11
Don't miss out on the HU 2018 Motorcycle Adventure Travel Calendar! Fantastic holiday gift for your favorite adventurer!
HUGE, 11.5 x 16.5 inches! Photos are the winning images from over 650 entries in the 12th Annual HU Photo Contest!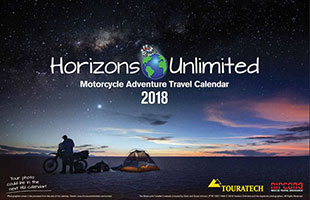 "So many awesome shots..." "Fantastic pictures. I'm very sorry that there is only 12 months in a year!"
HOLIDAY SPECIAL: Buy 4 Calendars and get free shipping anywhere in the world! Use Coupon Code 4CAL at Checkout.
We share the profit with the winning photographers. YOU could be in the HU Calendar too - enter here!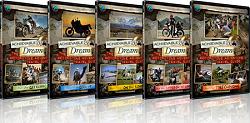 Ho, ho, ho!
Santa came early this year, so we're taking
20% off
all DVDs in the
HU Store
! Get the complete
Achievable Dream Collectors Box Set
for only
$79
(regularly $99)! Remember to use
Coupon Code 'EZSPEC'
on your order. Coupon expires
Jan 31
!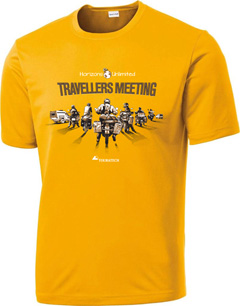 Didn't get to an HU meeting this year? Or are you looking for a great holiday gift for your favorite adventure traveller?
We have a few in stock, in a variety of colors and sizes, including Ladies sizes and shapes!
Back slogan: 'Make your own adventures, take the road to everywhere!'
Get them while they last at the HU Store - when they're gone, they're gone forever!
MC Air Shipping, (uncrated) USA / Canada / Europe and other areas. Be sure to say "Horizons Unlimited" to get your $25 discount on Shipping!
Insurance - see: