Mexico, Travellers information
Mexico Entry details, vehicle permit information here.
Copper Canyon
See the Horizons Unlimited Copper Canyon Travellers Meeting information here for more, and try to get to one of them yourself! We have a great time, with lots of travellers from all over the world, and some fantastic riding, informative slide shows and more.
By Kurt Wilde, e-mail: kjwi...@wildecompany.com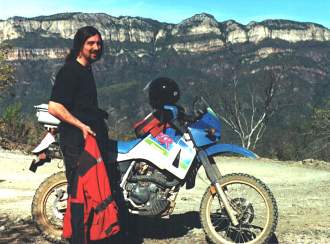 Kurt Wilde with his KLR
Introduction
The Copper Canyon region of Mexico is one of the largest systems of canyons in the world. While there is in fact a Copper Canyon (Barrancas del Cobre), generally the term refers to a specific portion of the western Sierra Madre mountains (Sierra Madre Occidental) known as the Sierra Tarahumara. The majority of this area is situated in the northern Mexican state of Chihuahua. However, portions also extend into the states of Sonora and Sinaloa. In total, 65,000 square kilometers are included.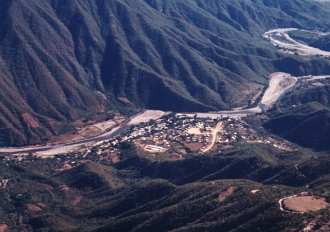 Town of Urique at the bottom of Urique Canyon
There are nine major canyons: Urique, Sinforosa, Batopilas, Candamena, Mayo and Huapoca, Chinipas, Septentrion and Oteros. In the United States of America, we tend to view the Grand Canyon as a truly massive feature of the earth. Yet in northern Mexico only 200 miles south of the US border, lies a system of canyons that humble the mighty Grand Canyon. The deepest, Urique, is a total of 1,879 meters.
Add to this natural beauty the interesting mix of cultures and history. While Spanish invaders and later missionaries left their indelible mark in the form of missions and towns, the much older culture, traditions and language of the native Tarahumara still live on.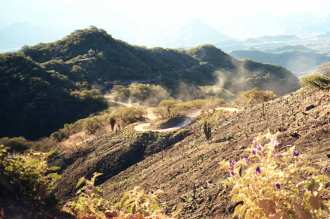 A typical road (and dust)
Climate
The climate of the Sierra Tarahumara is as varied as it's elevations. As one rides through the region it is easy to be struck with the change in climates in just a matter of miles. Towns and the bottom of the deeper canyons such as Urique and Batopilas experience tropical and semitropical conditions. In contrast, other areas such as Creel could be considered alpine and yet others as desert. Following are two examples of what one might expect at different times of the year:

Creel:

Elevation:

2338 meters (7669 feet) above sea level

Mean annual temperature:

10.6 C (51 F)

Maximum temperature:

38.5 C (101 F)

Minimum temperature:

-23 C (-9.4 F)

January mean temperature:

4 C (38 F)

June mean temperature:

18 C (64 F)

Mean annual precipitation:

709 mm (27.9 inches)

January mean precipitation:

50 mm (2 inches)

June mean precipitation:

180 mm (7.2 inches)

Batopilas:

Elevation:

501 meters (1650 feet) above sea level

Mean annual temperature:

24.2 C (76 F)

Maximum temperature:

44.5 C (112 F)

Minimum temperature:

-12 C (10.4 F)

January mean temperature:

17 C (64 F)

June mean temperature:

32 C (88 F)

Mean annual precipitation:

622 mm (24.5 inches)

January mean precipitation:

40 mm (1.6 inches)

June mean precipitation:

160 mm (6.2 inches)

When To Go:
Given the high heat and heavier rainfalls of the summer months, for riding, winter (December - March) are the best months to travel in the area. During the rainy months, rivers will be running higher and if traveling in the more remote areas some roads may become impassable. While there is a chance of snow during the winter in some areas, it is unlikely to last as most days warm up above freezing.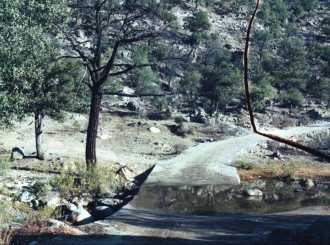 One of the many stream crossings
Road Conditions:
Road conditions can vary dramatically. There are a number of paved roads linking some of the larger towns and more are being planned. However, to truly enjoy the area, plan on leaving the pavement early and often. The unpaved roads can vary from good single track roads passable with small trucks to truly horrendous rutted muddy quagmires. A lot of this has to due with the weather. Also, most roads are only graded once a year and so become rutted by traffic and water in the intervening time. Not that a newly graded road is always a blessing. I once passed through an area that was being graded (a 10 mile climb over the mountains and into Sonora). Eventually I passed the parked dozer and entered the ungraded area. Both roads were lousy for a motorcycle with dual sport tires, but for different reasons: Loose gravel or deep ruts, take your pick.
Another fact that may jump out at you as you ride along is the absence of guard rails. Many of the roads appear to be carved out of the side of mountains: Cliff on one side going up, and another going down on the other. The reason I mention this is, when a truck with questionable brakes come barrelling down the road in the opposite direction, he has the defacto right of way. Get out of the way (preferably to the "cliff going up side" of the road)!

A view of the road giving an idea of riding conditions

What To Ride:
I would strongly recommend a mid-sized dual sport motorcycle: KLR650, DR650, F650, that kind of thing. They are relatively easy to ride, can haul one person and gear with ease and should take you faithfully anywhere you want. For the more experienced, a BMW airhead R80 or R100 GS would do nicely. Would I take a bright shiny $14000US + R1150GS with fancy aluminum cases, and all the gadgets Touratech can supply? Not likely. There's a decent chance the bike (and you) will go over at some point. Whether it's while crossing a river or into a ditch while avoiding the runaway logging truck, it can happen to the best. It'd be a shame to have to leave that nice paint job and a few choice accessories by the side of the road.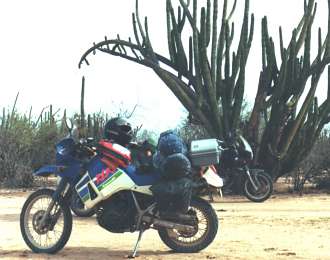 Sonora, all loaded up.
Getting A Vehicle Into Mexico:
From the USA, this is a fairly easy and painless endeavour. However, keep in mind, the Mexican government it trying to ensure that vehicles brought into the country leave. Knowing this will make the following seem logical: The drivers of all vehicles brought into Mexico proper(this does not include the 'free trade' zone generally within 10 miles of the US border) will need to show proof of ownership (copy of title or registration) and will obtain a vehicle importation certificate. This took the form of a sticker that was fastened to the windshield of my bike. It was necessary to have a valid international credit card (VISA, MasterCard, etc.). In 2000, I was charged $160Mx for the importation fee. It is possible to post a 'bond' in travelers check, however as this is figured as a percentage of value of the vehicle, I couldn't say what it might cost. When returning to the US it is necessary to stop and 'get your vehicle checked out' of the country. I can't speak for all area's, but the crossing south of Juarez was well run and very efficient. The sort of operation you'd encounter at any first-world international airport customs.
Is It Dangerous?
This depends on what you think of as dangerous. There are areas, albeit the more remote ones, where drug trafficking is prevalent. These, in my opinion, are the most dangerous. However, they can also be the most interesting due to their remoteness. There were a number of men in the town of Urique, for example sporting very fancy pistols tucked into their belts on my visit there. Earlier that same day, we had been stopped and searched on the road down into the canyon by a group of soldiers. As soldiers go, they were quite polite. However, I had the feeling they weren't necessarily willing participants in 'The War On Drugs' and were simply going through the motions. I've been told that occasionally, under pressure from the US, the Mexican government will step up their efforts in stopping narco-trafficking. These efforts are short-lived, however. My best advice it to always tread softly around men with guns no matter who they are.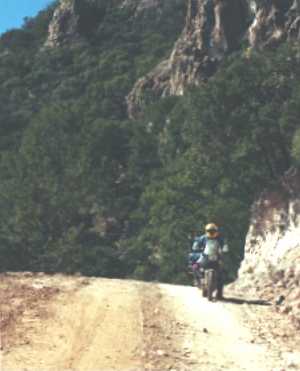 Road down to Urique
Accommodations:
These are getting better. There is a plan afoot to build thousands of rooms worth of hotels for tourists in the area. Personally, I'm not sure if this is for the best. However, for the locals, it will bring electricity and telephones to towns that currently do not have it. Even now, many of the towns will only have electricity supplied by local diesel power generators and this is only until 9:00 PM or so. Many towns such as Batopilas and Urique have recently been connected to the grid and now have full time electricity as well as telephone service. Consequently, a rise in tourist activity is expected. With this rise, will be an increase in accommodation availability.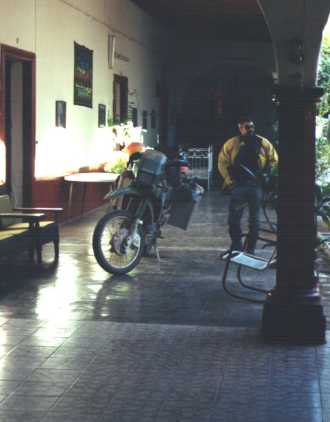 Bike storage, Chinipas
It is possible to spend as much as US $200 per night for a hotel room and as little as US $10. Camping is also a possibility. There are a number of campgrounds scattered throughout the area, although I've never used them instead opting for sites by the side of the road in more remote locations.

Area Details:
Creel - This is a rather unattractive town on that serves as a way point between other locations. It is accessible by train as well as paved road and is midway between the Urique and Batopilas canyons. For the frugal-minded lodging can be had at Margarita's. Originally a hostel, private rooms with baths are now offered as well. There are a number of other hotels as well.
Batopilas - This very old town, dating to the 16th century, received electricity only a few years ago. Located in the bottom of the canyon with the same name, this town is accessible only by gravel road. The ride is worth the effort as it descends into the canyon quite drastically and then runs along the canyon wall for a number of miles before reaching town. Located just outside of town is a mission called Satevo, which is also worth seeing. There are roads that leave Batopilas to the south that can take the more adventurous rider out of the canyon by a different route. There are a number of hotels in town to provide accommodation. Camping is also available along the river outside of town to the south. On my visit there I stayed at the Casa Real de Minas de Acanasaina. This hotel provided a very nice room with private bath for US $10 per person.
Urique - Another old town, smaller than Batopilas, located in the Urique canyon. Urique received electricity in 2001 as well as phone service. The ride into Urique is via dirt road, most of which is fairly easy. However, the last ten miles or so, drop quite severely. There is a great view of the canyon on the way down. There are a number of hotels in Urique. On my last visit, I stayed at the hotel owned by the owner of the Plaza restaurant located at the side of the town's plaza.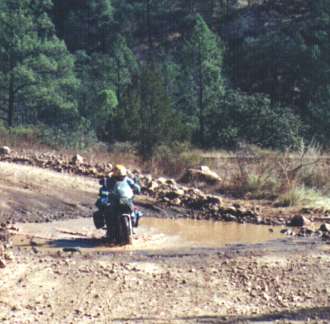 Minor river (stream) crossing
El Divisidero - This is not really a town, but a train stop. The main feature here is the view: It's magnificent and worth the stop. Reachable by paved road, almost anyone can ride to El Divisidero. There's a hotel here, but it's very expensive (US $200). An alternative is El Rancho Lencho, located a mile or so from the train stop. Here a 'bunk house' type of room is provided as well as rudimentary washing facilities (no hot water). The family is very nice and will provide food upon request.
Chinipas - Not really a tourist destination, hotel facilities are very sparse. Once a mining town, it now serves local ranches. Accessible only by dirt road. From Chinipas it is possible to cross the mountains to Sinora. However, the road is very steep and not for the faint of heart. In one of the towns plaza's are the oldest steam locomotives in North America.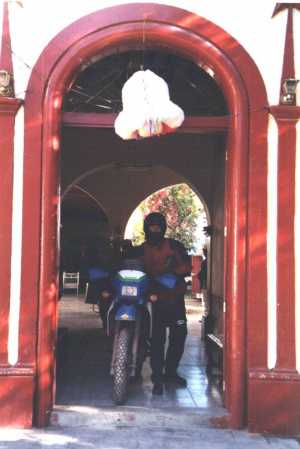 Kurt coming out of the hotel in Chinipas
Conclusion:
There are plenty of sources of information about the area, though perhaps not from a motorcycling standpoint. Such publications as the Lonely Planet offer books on the area, though they will probably include at least all of northern Mexico if not the country as a whole. As a rule, people are generally helpful and getting information from locals 'as you go' is also a good option.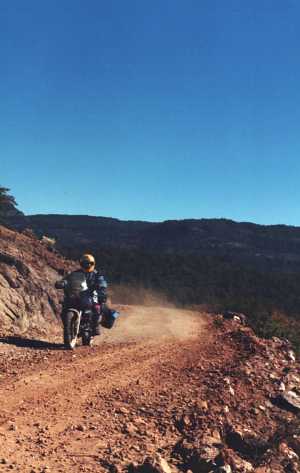 Another view of road down to Urique
I found riding in the area very rewarding. Having been there twice, now, I can say a lot of the area remains to be seen by myself. I certainly hope I will be able to return and ride there again. Most 'adventure riders' will be likewise impressed with Copper Canyon and I certainly urge those people to go.

---
Member login
Are you an Overland Adventure Traveller?
Does the smell of spices wafting through the air make you think of Zanzibar, a cacophony of honking horns is Cairo, or a swirl of brilliantly patterned clothing Guatemala? Then this is the site for you!
Hosted by Grant and Susan Johnson, RTW 1987-1998
Next HU Events
What are you waiting for - Get On the Road with your own adventure! Take 30% off the Achievable Dream - On the Road! 2-DVD set until July 31 only.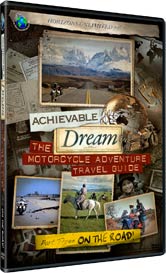 Our veteran travellers share their tips (and great stories) for staying healthy, happy and secure on your motorcycle adventure. You'll get the advice you need to help you cross borders, break down language barriers, overcome culture shock and deal with the 'stuff' that happens such as breakdowns and emergencies. It also covers how to get the bike across oceans or war zones - shipping and the alternatives - air, sea, rent, swap, buy, organised tours. "An ideal present for any would-be bike traveller!"
Check it out at the HU Store! Remember to use Coupon Code 'ONTHEROAD' on your order when you checkout.
Books

All the best travel books and videos listed and often reviewed on HU's famous Books page. Check it out and get great travel books from all over the world.