Romania Community
Horizons Unlimited Motorcycle Travellers Community Romania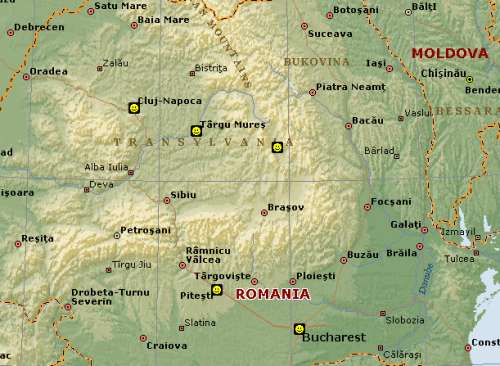 From Szabi, (Santha Szabolcs) starter of two new Communities in Romania, Targu Mures, where he works and lives, and Miercurea Ciuc where he grew up, his parents live, and he spends lots of time.

"Some Transylvania history: before World War II Transylvania belonged to Hungary or to Austro-Hungarian Empire, so in this part of Romania there are a lot of Hungarian (and German) people (about 1,5 millions Hungarians, 0,5 millions Germans). The people who come from or live in Hungary (or German languages countries) know these cities by their Hungarian (or German) names. Because of the people in these part of the Hungarian Kingdom were soldiers, and their role was to protect the kingdom's border, in time, they become fewer and fewer, and it was a necessity for the king to settle German knights. This is why in Transylvania a city has two or three names, so this is why the Hungarian names of these cities are also:
- Romanian name of Targu Mures (capital of Mures county) is Marosvásárhely in Hungarian (or Neumarkt in German languages) and - Miercurea Ciuc's Hungarian name is Csíkszereda (Seklerburg in German languages) - capital of Harghita county.
NOTE: The Encarta 2002 maps knew their Hungarian names even the name of the small villages, but the 2004-2005 Encarta forget them. :-(
But their official names are the Romanian names.
Some links that may be useful:
Here is (about) all the information a traveller need. It is about Hargita County and has English version. Satellite photo of M-Ciuc and its environment here.
About Tg Mures: http://www.muresonline.ro in Hungarian only - no English or German translation.
More to come, submissions welcome!
UPDATE:
From Virgil Codarcea, Romania, comes this correction:
"Transylvania was indeed not always part of Romania but this was before WW I and not before WW II which is significantly different. Transylvania never belonged to Hungary simply because at the time when it was not part of Romania (before 1918), Hungary did not exist as such but was just a province of an empire."
---
Member login
Are you an Overland Adventure Traveller?
Does the smell of spices wafting through the air make you think of Zanzibar, a cacophony of honking horns is Cairo, or a swirl of brilliantly patterned clothing Guatemala? Then this is the site for you!
Hosted by Grant and Susan Johnson, RTW 1987-1998
Next HU Events
Don't miss out on the HU 2018 Motorcycle Adventure Travel Calendar! Fantastic holiday gift for your favorite adventurer!
HUGE, 11.5 x 16.5 inches! Photos are the winning images from over 650 entries in the 12th Annual HU Photo Contest!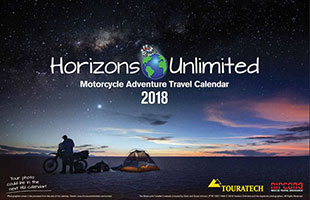 "So many awesome shots..." "Fantastic pictures. I'm very sorry that there is only 12 months in a year!"
HOLIDAY SPECIAL: Buy 4 Calendars and get free shipping anywhere in the world! Use Coupon Code 4CAL at Checkout.
We share the profit with the winning photographers. YOU could be in the HU Calendar too - enter here!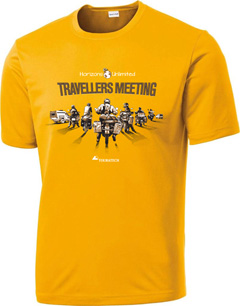 Didn't get to an HU meeting this year? Or are you looking for a great holiday gift for your favorite adventure traveller?
We have a few in stock, in a variety of colors and sizes, including Ladies sizes and shapes!
Back slogan: 'Make your own adventures, take the road to everywhere!'
Get them while they last at the HU Store - when they're gone, they're gone forever!
Books

All the best travel books and videos listed and often reviewed on HU's famous Books page. Check it out and get great travel books from all over the world.