Myanmar, Travellers information
Motorcycling IN Myanmar
by Ron Grant, May 2004
I have lived here in Yangon for a bit over 3 months now, so here goes with what I have learned. A year or so ago, as far as I can learn, some of 'the authorities' got nervous about the possibility of an attack on one of their cars by a nimble motorcyclist. Quick solution? All motorcycles banned from the greater Yangon area. My friends tell me there were not that many motorcycles here before that, but there are certainly not many now. In fact, although most folk here react 'pretty quickly' to any government decree, I believe that not all the 'cycles I see here are Government, Army or Police. Those are in theory the only ones still permitted. Most cycles here are small Japanese, Thai or Chinese, with the latter making big inroads in recent years. Not surprising as the most popular Chinese 125cc scooter is of quite modern design, and sells new for $500us. Of course there are few new bikes in Yangon city, due to the ban. There are very few bikes in Yangon over 250cc, the exception being older Police BMW's. One also sees the 'odd' pre 1962 BSA, and a few old Triumphs. Most of these are being gathered and restored for out shipment to Western countries.
Notwithstanding the previous, it IS possible to buy and use a bike here in the city, I have met two foreigners doing it, and have seen another. When I went out looking for a bike for myself, I soon found the following: 400 cc Kawasaki Bandit approx. 15 years old $1500us 400 cc CBR Honda approx 10 years old $2500us 250cc twin 4 stroke Kawasaki 20 years old $1500us 125cc On/Off road 2 stroke Yamahas 5 years old $2000us
Although I would categorize these prices as 'pretty good' by international standards, many things are VERY cheap here, and due to the roads, a motorcycle has limited use here, so the utility value of it, in my opinion, makes the costs listed a bit high. As a comparison, a 4 mile taxi ride in Yangon costs about $2. Also, the SIX month rainy season would drop the 'safe use' factor too low for many people to ride at that time. The latterly listed 'dirt bikes' are definitely the best type of bike for here, as the roads are rough, and on the best highway there would never be the need and hardly ever the possibility of going faster than 50mph or so. The rural 'between city' roads are narrow, bumpy and often populated by 3 wheel trishaw bicycles and walkers, not really 'go fast' territory.
'Up North', there are definitely a lot more bikes than here in banned Yangon. Mandalay is really the 'motorcycle capitol' of Myanmar, and one finds a LOT of the on/off road 125 cc watercooled Jap bikes, there. For real choice, a purchaser would be best advised to go to Mandalay to buy.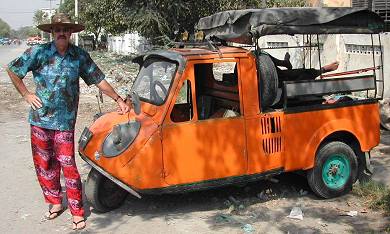 Now for the idiosyncrasies. My French friend rides his 900 Honda with no license plate, and no proof of ownership. His theory is that by riding a motorcycle in Yangon, he is breaking the law, so why not break ALL the laws! Since the ban was put into effect, he has never been challenged by a Policeman, and feels the chances of such a challenge are remote. Few Police would choose to accost a foreigner, most speak little English, and foreigners here almost have 'diplomatic immunity' for such minor traffic transgressions. He is convinced that if indeed he was challenged, the problem would be solved by a small funds transfer. I know another French motorcyclist riding with similar practices, on his 600 single Honda. One observer suggested that yes, a lot of that is true, but if you have an accident with a completely illegal bike, it may be serious. If your only illegal act is riding a 'legal registered' bike, illegally in Yangon, an accident would be a smaller problem. Food for thought. Certainly, for myself at this stage, such concerns 'slowed me down' in respect of a motorcycle purchase. At the moment, with the rainy season starting, and ending only 4 months before the end of my one year contract, it looks like I will not be buying soon.
I feel the 'chance' of having a collision on one's motorcycle here would be low. Traffic in Yangon, a city of 5 million people, is surprisingly relaxed. I suspect that 80% of the vehicles on the road are piloted by professional drivers, as most well off folk employ a chauffeur. There are no young people owning cars, no old folks driving, and almost everyone driving has a big stake in remaining accident free. Most workers transport needs are satisfied by busses and open trucks, or taxis. In fact, Yangon has certainly discovered the 'solution' to any city's rush hour woes. It's simple, just have all busses run with 200 people on them, or an open backed 'dump truck', with over 100. For the shorter commutes, and more personalized service, a Toyota 'trayback' can be used for only 25 or so!
For a resident, the real advantage of motorcycle ownership would be the flexibility it would offer for around town journeys. Oh yes, you should know about the fuel situation here, also. Along with a LEGAL vehicle, one gets a 'ration card' that allows fuel purchases at the government stations. Fuel there costs 18 CENTS a gallon. Taxis are limited to 2 gallons a day, private cars, one gallon. Further purchases must be made on the 'black market' at $1.50us a gallon. Interesting, eh? My French friend says that government gas is not a smart option for a performance bike, as the quality is too low, so whether one gets a ration card may be of little concern.
For a VISITOR? Well, on first thought I would think that a bike would not be a preferred transport option, but then I think of Cambodia and Vietnam, and how many tourists choose motorcycles there. Certainly legally buying a bike here would be a significant problem for a short term tourist, all visas are maximum 28 days. I am certain, however, that a determined biker could make some arrangement privately with a bike owner. One major concern I would have is if he/she wanted to travel 'cross country' on the bike, the frequent 'toll gates' and army checkpoints may present a problem. In theory, most can be passed through by a motorcyclist, but by a 'white guy pilot?' I'm not so sure. If he was just going to use it around Mandalay, for example, he would probably be OK, but what tourist comes to Myanmar to spend all his time in Mandalay? To date, I know of NO ONE, resident or tourist, that has traveled long distances around Myanmar by motorcycle.
Before I came to Myanmar, I tried hard on www.horizonsunlimited.com to find information about riding in Myanmar. I found virtually nothing. Maybe this information will be helpful to others with similar interests.
Ron Grant in Yangon May 21/2004
Story and photos copyright© Ron Grant e-mail: ults...@ihug.com.au, 2003 - 2007 All Rights Reserved.
---
Member login
Are you an Overland Adventure Traveller?
Does the smell of spices wafting through the air make you think of Zanzibar, a cacophony of honking horns is Cairo, or a swirl of brilliantly patterned clothing Guatemala? Then this is the site for you!
Hosted by Grant and Susan Johnson, RTW 1987-1998
Next HU Events
What are you waiting for - Get On the Road with your own adventure! Take 30% off the Achievable Dream - On the Road! 2-DVD set until July 31 only.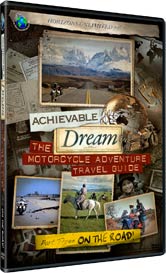 Our veteran travellers share their tips (and great stories) for staying healthy, happy and secure on your motorcycle adventure. You'll get the advice you need to help you cross borders, break down language barriers, overcome culture shock and deal with the 'stuff' that happens such as breakdowns and emergencies. It also covers how to get the bike across oceans or war zones - shipping and the alternatives - air, sea, rent, swap, buy, organised tours. "An ideal present for any would-be bike traveller!"
Check it out at the HU Store! Remember to use Coupon Code 'ONTHEROAD' on your order when you checkout.
Books

All the best travel books and videos listed and often reviewed on HU's famous Books page. Check it out and get great travel books from all over the world.