Malaysia, Travellers information
Malaysia
Introduction
Amran Parimon has sent us the following links information, which Susan has added to:
"I hope the attached document would be useful to all fellow bikers coming to this part of the world. We (Malaysian) are not perfect and neither do we live in heaven. There are nice places and people and "not so nice" places and people too. Still this is home to me and despite seeing and living in other countries I still find Malaysia and her imperfection (bike is expensive and humidity is very high) as my world heaven.
Keep the smile and stay upright,
Regards from Kuala Lumpur, Amran Parimon"
General Information:
Under Local Customs:

"Seniority is greatly respected within Malay households. The eldest male of a family should be greeted first and frequently sits in the best or highest seat.
Pointing with a finger is considered to be extremely rude. Instead, the entire hand should be used to indicate a direction, but not a person.
It is important to remove one's shoes at the door of a house upon entering. It is also customary to do so upon entering a mosque or an Indian temple.
Women should not wear dresses, skirts or shorts that are too short. In cities, towns and villages, shorts are considered highly inappropriate.
Do not dress in any manner that may give the impression that you are a 'hippie,' as 'hippies' are banned from the country.
Never give liquor to a Muslim (alcoholic beverages are forbidden in the Muslim religion), or clocks, watches, knives or white flowers to a Chinese person (white flowers are associated with death in Chinese culture, and so are clocks, knives and watches - the word for time and death sound similar)."

Under Useful Phrases:

"Yes - Ya
No - Teedak
How are you? - apa kabar
Good bye - se la mat jalan
Thank you - Terima kasih
Excuse me - Ma fkan say-ya
Do you speak English? - Ta-hoo-kah ber -da ha sa Ingris?
I don't understand - Saya tidak fa-ham
Help! - To-long!
Please bring me the menu - To long bawa untuk say-yame-noo
Please bring me the bill - To long bawa untuk say-ya bil"

Inter knowledge (also lists itself as The Official Homepage of the Malaysia Tourism Promotion Board, New York). Places, People, Nature, Fun, Activities, History, Calendar of Events. Good listing of National Parks.
Perak Mosque - from InterKnowledge.com

Under Activities - what is there to do in Malaysia anyway? Answer - visit the world's oldest rain forest, visit a longhouse, diving, spelunking, jungle trekking, shopping, eating out. In other words, something for everyone!

Geographia Malaysia is another link to the same content: The Official Homepage of the Malaysia Tourism Promotion Board, New York.

The official Malaysian Tourism Promotion Board has a useful Calendar of Events to help in your planning.

Getting around (when you're off the bike):
Light Rail Transit (PUTRA LRT) has useful transit network maps on their new site.
Travel Diaries/Stories:
Stephan and 'Chenda Solon, UK, Around the World, in Singapore and Malaysia

Peter and Kay Forwood, Australia, RTW, Travel around Malaysia/Singapore on a Harley

One of many great pics from Peter and Kay Forwood's travels to Malaysia

Connor Carson, UK, Round the World, in Malaysia and Indonesia

Jan Arild and May Tina Teland from Norway who visited Malaysia in 2000
Miscellaneous and Search Engines:
Listing of Cybercafes in Malaysia

Search Engines

1. Cari.com
---
Member login
Are you an Overland Adventure Traveller?
Does the smell of spices wafting through the air make you think of Zanzibar, a cacophony of honking horns is Cairo, or a swirl of brilliantly patterned clothing Guatemala? Then this is the site for you!
Hosted by Grant and Susan Johnson, RTW 1987-1998
Next HU Events
NEW!

Chile: Mar 8-11

NEW!

Sweden Mini: Jun 29-Jul 1

NEW!

Ecuador: Jul 13-15

NEW!

Italy: Sep 14-16
France: Sep 21-23
Indonesia: Oct 11-14
Germany Autumn: Nov 1-4
South Africa: Nov 8-11
Don't miss out on the HU 2018 Motorcycle Adventure Travel Calendar! Fantastic holiday gift for your favorite adventurer!
HUGE, 11.5 x 16.5 inches! Photos are the winning images from over 650 entries in the 12th Annual HU Photo Contest!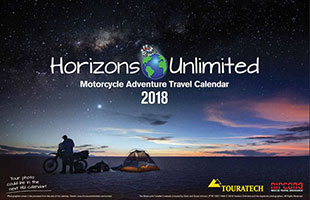 "So many awesome shots..." "Fantastic pictures. I'm very sorry that there is only 12 months in a year!"
HOLIDAY SPECIAL: Buy 4 Calendars and get free shipping anywhere in the world! Use Coupon Code 4CAL at Checkout.
We share the profit with