Shipments done by Travellers
The HU Shipping Database!
From THIS page, you can find details of shipments ALREADY MADE by travellers, both air and sea, so you can plan your own shipment.

For each shipment, the details include Shipping Date, Cost, Shipper Contact details and a Description of the experience, often including very detailed and extremely useful information about the requirements for crating or the paperwork involved at the destination location.
If you are aware of any more up-to-date information, or you know of any shipping details for locations which aren't listed below:

Please let us know here for minor details, or
Submit information on a shipment YOU HAVE ALREADY MADE here.
Thanks to all who have contributed this information, keep it coming!
NOTE: This is not our normal view, but Google's API has somehow broken the view with a map and everything nicely laid out. We will fix it as soon as possible, but it's a very big job for us. Any Google API experts feel free to contact us! For now this will have to do, sorry.
Usage: Enter one or more of the fields, as you wish. Blank field means "all". Be sure to use correct country names, e.g. "United Kingdom" not UK or England. Unfortunately "united states" (united states of america doesn't work) gets United Kingdom as well, just work down to the bottom or last page. Not case-sensitive. Results sorted by newest first.
Shipment: From Paris, France to Calgary, Canada - April, 2023
AMC - good intentions, did not know the requirements to get the bike out of CDG.
I needed to get help from a local freight forwarder associated with the airline the bike flew with (Westjet). AMC did not know the customs clearance requirements and failed to produce the proper Airway Bill. Caused a day delay and a lot of stress to get the bike on the aircraft.
My recommendation is to contact Westjet and get their local rep contact in the city of origin. Have them complete the AWB and Customs clearance.
Shipment: From Kathmandu to Bangkok - March, 2023
Today 3/22/2023 I have managed to send my BMW F800 motorcycle from Kathmandu to Bangkok by Nepal Airlines, I had many doubts because the easy thing would have been to go to Kuala Lumpur and then enter Thailand, the problem was that not every month there is a plane direct cargo to Kuala Lumpur, so I flew my motorcycle thanks to Eagle Eyes Export for €1150 with Suraj and Savin, good service from Kathmandu contact +977 984-9273516 it went great, they asked me for the passage card in Bangkok because they like to consult it to get the numbers right and they didn't stamp it for me, also they didn't ask me for a guide or a travel agency, so I'm happy traveling freely through Thailand. Of course, there are many papers to fill out, it took me a day and a half, the key is to call Buttan, the concierge of the Cargo office, who knows the whole process, which is very complex. I'll give you a gold consist: 0850939286. Call him the day you go to pick up your motorcycle, it's better to start early at 9 because then everyone stops to eat from 12 to 1. Then at 3:30 they close. You will have to give some tips to speed up the procedure, bring cash.
Shipment: From Miami, USA to Bogota, Colombia - February, 2023
Shipped from Miami to Bogota early February 2023. Bike Yamaha Ténéré T700. Cost about $3,200. SOAT extra of course. (Colombian bike insurance.)
Their partner in Miami is Royalty Eximport. Contact there is Clara.
comercial@cargorider.com.co
Bike arrived on a Thursday and I met them at the customs offices Friday morning. Customs was very slow, not much got done Friday even though Cargo Riders was working very hard to get things done. We had to go back Saturday for over three hours. Paperwork done but couldn't get the bike then. We came back Monday, and the top of the ramp where my crated bike should have been was blocked with other crates.
Cargo Riders rep. finally complained to a boss, and more than three hours after arriving at the cargo area, they moved stuff out of the way and Cargo Riders tore the box down and I got the bike.
Then we went to Cargo Riders offices, I paid up, and one of the employees took me on a 15 walk to some other offices to buy my SOAT/Colombian motorcycle insurance.
Problems were with customs people and cargo employees. Cargo Rider pushed hard to get me going. I recommend them.
Shipment: From Darwin, Australia to DILI, East-Timor - February, 2023
tamaki.miyazaki@Cevalogistics.com
Company structure a bit confusing. logistics link is part CMA CGM group. Ship is operated by ANL. Depot in Darwin by PJs Logistics (it's also possible to go with PJs directly, very friendly and helpful staff. PJs properly calculates a rate with dimensions and weight etc while logistics Link seems to use a flat rate for bikes).
Dropped off my bike one week before estimated Departure (to allow for time for loading of container). Departure got delayed by about a week. And arrival was delayed aswell.
All up 5 weeks from drop off to pick up. Ship goes to Singapore first. (not sure if there's routes where it goes Darwin first. Apparently the direct route is only 3 days) ANL in Timor took care of my carnet. Unfortunately they've got it wrong and stamped the export rather then import. Once leaving the country via land another mistake. Now I have two wrong pages right Infront of my carnet. Learned my lesson and always supervise the process in person.
Local contact in Dili: Ruth Martin's ruth.martins@anltl.tl +670 3310162 (WhatsApp)
Shipment: From Sohar, Oman to Karachi, Pakistan - February, 2023
***DO NOT SHIP TO PAKISTAN*** On our journey from France to Malaysia, we decided to avoid Iran and travel via the Arabian Gulf. After shipping from Athens to Haifa by Ro/Ro, we found a company in Sohar, near Muscat, to send our motorbikes to Pakistan by container. The company seemed serious, even though it had never done such a service before.
Although the service was very good, the agent swore to us that he made sure that customs clearance wouldn't cost us more than $400 in Pakistan, as he knew that we probably wouldn't send our bikes if it was more than that. Once the boat was arrived in Pakistan, the guy disappeared of course...
The ferry initially took 2 weeks to make the crossing instead of the few days we expected. After this delay, it took us 3 weeks to clear our bikes through customs in Pakistan. Customs over there could not be more corrupt. Dont even try to clear a vehicle through customs there if you dont want to pay a bribe and waste a lot of time as well as a lot of money. Even embassies have vehicles that have been stuck in customs for months or even years, according to the information we gathered on the spot. In the end, we spent three weeks in the offices shouting at indifferent officials on an almost daily basis.
Our agents were both incompetent and corrupted by the system. In all, we paid nearly $2,000 for customs clearance alone and got the motorbikes back by recording confidential conversations containing sensitive information about the corrupt officials and blackmailing them to stop making us paying or else we would broadcast the recording. In short, its not so much the shipping thats at fault as the simple fact of wanting to clear something through customs in Pakistan... Good luck !
Shipping (1 container) : 610 Omani rials for two motorcycles (305 each) = 1450 euros for 2 motos Custom clearances (total) : 700 dollars (bribe) + around 1000 dollars (clearance & shipping company freights) + more in theory (we avoided 500 dollars of more freights forcing our agents to pay it with the recording)
*******FRENCH VERSION******** ***NE PAS EXPÉDIER AU PAKISTAN*** Lors de notre voyage de France en Malaisie, nous avons décidé d'éviter l'Iran et de passer par le golfe Persique. Après avoir expédié nos motos d'Athènes à Haïfa par Ro/Ro, nous avons trouvé une société à Sohar, près de Mascate, pour les envoyer au Pakistan par conteneur. La société semblait sérieuse, même si elle n'avait jamais effectué un tel service auparavant. Bien que le service soit très bon, l'agent nous a juré qu'il s'était assuré que le dédouanement ne nous coûterait pas plus de 400 dollars au Pakistan, car il savait que nous n'enverrions probablement pas nos motos si c'était plus. Une fois le bateau arrivé au Pakistan, le gars a bien sûr disparu... Le ferry a d'abord pris 2 semaines pour faire la traversée au lieu des quelques jours prévus. Après ce retard, il nous a fallu 3 semaines pour dédouaner nos motos au Pakistan. Les douanes pakistanaises sont on ne peut plus corrompues. N'essayez même pas de dédouaner un véhicule si vous ne voulez pas payer de pot-de-vin et perdre beaucoup de temps et d'argent. Même les ambassades ont des véhicules qui sont bloqués à la douane depuis des mois, voire des années, selon les informations que nous avons recueillies sur place. Au final, nous avons passé trois semaines dans les bureaux à crier presque quotidiennement contre des fonctionnaires indifférents. Nos agents étaient à la fois incompétents et corrompus par le système. Au total, nous avons payé près de 2 000 dollars pour le seul dédouanement et récupéré les motos en enregistrant des conversations confidentielles contenant des informations sensibles sur les fonctionnaires corrompus et en les faisant chanter pour qu'ils cessent de nous faire payer, faute de quoi nous diffuserions l'enregistrement. En résumé, ce n'est pas tant le transport qui est en cause que le simple fait de vouloir dédouaner quelque chose au Pakistan... Bonne chance ! Frais de shipping (1 conteneur) : 610 rials omanais pour deux motos (305 chacune) = 1450 euros pour 2 motos Dédouanement (total) : 700 dollars (pot-de-vin) + environ 1000 dollars (frais de dédouanement et de transport) + plus en théorie (nous avons évité 500 dollars de frais supplémentaires en obligeant nos agents à les payer avec l'enregistrement).
---
Member login
Are you an Overland Adventure Traveller?
Does the smell of spices wafting through the air make you think of Zanzibar, a cacophony of honking horns is Cairo, or a swirl of brilliantly patterned clothing Guatemala? Then this is the site for you!
Hosted by Grant and Susan Johnson, RTW 1987-1998
Next HU Events
HU Event and other updates on the HUBB Forum "Traveller's Advisories" thread.
ALL Dates subject to change.
2023:
2024:
Virginia: April 25-28
Germany Summer: May
Switzerland: August
Romania: August
Ecuador: September
France: September
Austria: September 12-15
Queensland: Oct 4-7
Germany Autumn: Nov.
Add yourself to the Updates List for each event!
Questions about an event? Ask here
ALL 15 chapters of the HU Achievable Dream Guide are available to download on Vimeo!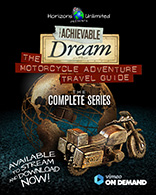 Binge watch over 18 hours of inspiring, informative and entertaining stories and tips from 150 travellers!
"a cross between entertaining stories, tech tips, and reference guide"
"A timeless introduction to Motorcycle Adventure Travel!"
Originally launched as a 7 DVD set, The Achievable Dream series can now be downloaded anywhere. OVER 18 hours of solid info take up zero space in your panniers. How convenient!
Books

All the best travel books and videos listed and often reviewed on HU's famous Books page. Check it out and get great travel books from all over the world.
NOTE: As an Amazon Affiliate we earn from qualifying purchases - thanks for your help supporting HU when you start from an HU Amazon link!