Motorcycle travel stories
Browse books in this category
Review by Glynn Roberts, UK Horizons Unlimited Meeting Organiser "Sam Manicom's new book Under Asian Skies has...

Sam Manicom's fourth book, which is based on his partner Birgit's diaries, takes the reader exploring through Mexico, the United States and Canada. Lands that Sam...

8 year round the worlder Sam Manicom had never intended to write books. He travelled for the adventures, and the chance to learn about the world and himself. Thankfully he wrote a...

This is Sam Manicom's third book. By the beginning of Distant Suns he'd been on the road for four years through Africa, Australia, SE Asia, Asia and the Middle East.During this...

Die Sehnsucht nach Patagonien, sie wurde immer größer: Über 30 Jahre nach seiner ersten Motorradreise durch den wilden Süden von Chile und Argentinien bricht Michael Schröder,...

"These are not bedtime stories. If reading the rough spots from this journey is getting you down,then try riding them. Pick up a Lonely Planet if my realities are too harsh...

Two years ago, I left my house on my 60th birthday, on a modest but sexy Royal Enfield motorcycle, carrying a small banjo and in the company of a giant myth. I took a 2500 mile...

This is the story about Stach´s and Halina´s motorcycle odyssey from Poland to Shanghai in the 1930s. More than 24.000 km in two and a half years on a BSA with sidecar...

Going the Wrong Way. A 'coming of age' road trip like no other. Chris leaves the Belfast Troubles behind and creates his own trouble. It's a wild ride but Chris...

When Mark loses almost everything his life has epitomised for nigh on 40 years, can his motorcycle see him through? Follow his journey around the world through love, loss, pain,...

Leaving the economic turmoil of Greece behind, Stergios Gogos initially set off to discover the world. By the tip of Africa he'd found much more than he'd bargained...

A book about a trip to the remote Siberian regions of Yakutia, Kolyma and Chukotka, an unforgiving but fascinating area whose shores are washed by the waters of two oceans - the...

Amigos, check out my tale about a mc trip from Vancouver to Panama, across to Colombia on the Stahlratte, down the Andes to Ushuaia and back up to Rio de Janeiro.

'It's more than just a long motorcycle trip...' Tony Wheeler, co-founder Lonely Planet. 'The road maybe silken but it is far from smooth...' Ted Simon,...

Seven years, twenty countries, no plan. How it started... In 1998, after bringing up a family and enjoying a lifetime career as a nurse and health visitor in the UK, I...

OVERLAND MAGAZINE BOOK REVIEW Just occasionally a book arrives on the motorcycle travel scene that is different, brave, sure to cause controversy and perhaps be forever known as...

OVERLAND MAGAZINE BOOK REVIEWDerek Mansfield could never be called a conventional character. Perhaps then, it's not surprising that his books aren't either. There...
---
Member login
Book categories
Are you an Overland Adventure Traveller?
Does the smell of spices wafting through the air make you think of Zanzibar, a cacophony of honking horns is Cairo, or a swirl of brilliantly patterned clothing Guatemala? Then this is the site for you!
Hosted by Grant and Susan Johnson, RTW 1987-1998
Next HU Events
HU Event and other updates on the HUBB Forum "Traveller's Advisories" thread.
ALL Dates subject to change.
2024:
Virginia: April 25-28
Germany Summer: May 9-12
Switzerland: August 15-18
Romania: August
Ecuador: August 23-25
France: September
Austria: September 12-15
Queensland is back! Oct 4-7
Germany Autumn: Oct 31-Nov.3
Add yourself to the Updates List for each event!
Questions about an event? Ask here
ALL 15 chapters of the HU Achievable Dream Guide are available to download on Vimeo!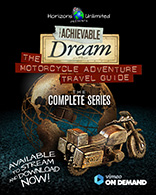 Binge watch over 18 hours of inspiring, informative and entertaining stories and tips from 150 travellers!
"a cross between entertaining stories, tech tips, and reference guide"
"A timeless introduction to Motorcycle Adventure Travel!"
Originally launched as a 7 DVD set, The Achievable Dream series can now be downloaded anywhere. OVER 18 hours of solid info take up zero space in your panniers. How convenient!
Books

All the best travel books and videos listed and often reviewed on HU's famous Books page. Check it out and get great travel books from all over the world.
NOTE: As an Amazon Affiliate we earn from qualifying purchases - thanks for your help supporting HU when you start from an HU Amazon link!