Gold HU Membership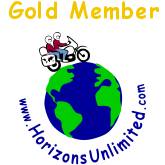 Why become an HU Gold Member?
HUBB privileges and mucho good karma!
For those who may not be aware, we both now work full-time+ on the website / bulletin board / e-zine, usually 8-12 hours per day and 7 days a week. Grant has been full-time on it since 1998. We're not a big multi-national company, just two people who love motorcycle travel and have grown what started as a hobby in 1997, but quickly (by 1998) became a full time labour of love.
You've told us how important this site and its Community is to you. We intend to survive, and have been trying to figure out just how for a long time. Currently, the site is funded from motorcycle travellers meetings, advertising and sales of DVDs, t-shirts and other products with a very small amount from memberships.
We are very grateful to the advertisers we have, and hope to attract more, so if you know anybody who should be advertising with us, please send them around! Ad rates and information here.
Coming to a Horizons Unlimited meeting is a great way to meet fellow travellers, and your meeting registration fee also helps support the website.
When you decide to become a Member, it helps directly support the site, and is very much appreciated. In return you get additional privileges on the HUBB, access to the Members Private Store, and more to come on the site as we roll out new systems.
Member Benefits
Currently there is no requirement to be a member to access the website, the HUBB or to receive the e-zine. For now, mostly what you get for your membership contribution is our sincere gratitude, good karma and knowing that you're helping to keep the motorcycle travel dream alive.
Members do get additional features on the HUBB, such as having more space for posting pictures. The table below summarizes the HUBB benefits for members. Please note that we have taken nothing away from the privileges Registered Users have, we have just added additional privileges for contributing members.
Details on additional Member benefits on the HUBB
Suggested amounts to Contribute for Membership are:
Contributing Member: US$20
Gold Member: US$45
Calculate Exchange to your currency at www.xe.com
Of course any amount you decide is fair for what YOU get out of HU is fine! All contributions are appreciated and will be acknowledged.
If you want to contribute a DIFFERENT amount than the store order page allows, or pay by cheque/check, please go to the Membership details page.
Thanks for your support!
Grant and Susan
---
Member login
Store categories
Next HU Events
What are you waiting for - Get On the Road with your own adventure! Take 30% off the Achievable Dream - On the Road! 2-DVD set until July 31 only.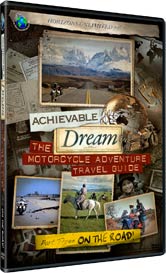 Our veteran travellers share their tips (and great stories) for staying healthy, happy and secure on your motorcycle adventure. You'll get the advice you need to help you cross borders, break down language barriers, overcome culture shock and deal with the 'stuff' that happens such as breakdowns and emergencies. It also covers how to get the bike across oceans or war zones - shipping and the alternatives - air, sea, rent, swap, buy, organised tours. "An ideal present for any would-be bike traveller!"
Check it out at the HU Store! Remember to use Coupon Code 'ONTHEROAD' on your order when you checkout.
Books

All the best travel books and videos listed and often reviewed on HU's famous Books page. Check it out and get great travel books from all over the world.