| | |
| --- | --- |
| KTM 690 Enduro, which model? | |
Which Bike?
Comments and Questions on what is the best bike for YOU, for YOUR trip. Note that we believe that ANY bike will do, so please remember that it's all down to PERSONAL OPINION. Technical Questions for all brands go in their own forum.


16 Jul 2019
Registered Users

New on the HUBB

Join Date: Jul 2019

Posts: 1

KTM 690 Enduro, which model?
---
Hello travellers! This is my first post here,
I'll be finishing university in the near future and am planning on spending the time after that travelling by motorcycle as much as I can. I have been riding for some years now but mostly on streets, since where I live there isn't much dirt that you are allowed to ride on.
I have ridden different bikes, the last was a BMW 100GS airhead. I am by no means a professional mechanic, but have worked on all my bikes in the past and got to the point where I always have been able to replace and repair everything myself.
I have owned a KTM 690 Enduro before (which got stolen

) and loved that bike. Like any bike it had it's issues. After reading up as much as possible I have decided to get a second one. I think it's the by that will suit me best for the trips I plan. I'm aware there are pos and cons, but that bike always took me anywhere, be it road or offroad. Sure it's heavy for a dirtbike and small for a road bike. Most important, I always had fun riding it and in the end, that probably what it's all about.
The first trips will probably be around Europe, since I live here. The Balkans, Poland. But my goal is to do a trip through South America and the Andean mountains. I want to ride as far from paved roads as possible, not to race or rally just to get a lost and see what nature has to offer.
The KTM 690 Enduro has been chaning over the yeas, the last iteration of that being a big update in 2019 with quickshifter (are you serious?) and more electronics.
I don't need ultra-fancy electronics. I sure don't need a quickshifter. The less I have, the easier it will be to repair. I know my way around a multimeter, but I don't want redundant stuff I will never need on my bike.
What year's model of the KTM 690 Enduro would you recommend?
I read that the service intervals are longer after the 2013 model. Have the gotten bigger after that? That sure would be a plus. Also you used to be able to hook up a ODB-2 adapter to read errors and see what the problem is, is that still true? What is the most reliable model year?
Is the 2019's motor upgrade worth the money and extra stuff that comes with it?
Thank for any feedback, I hope someone has owned or repaired a few of these and can tell me more. I'll probably buy a used one, but if the 2019 is really that much better I'll also consider a new one.
Cheers!
Pablo


18 Jul 2019
Registered Users

Veteran HUBBer

Join Date: Aug 2015

Posts: 489
I am lurking at ktm 689 enduro R as well, but 2019 model.
I think considering the changes I would rather aim at new model.
I don't care about electronics as well but other stuff is good to have.
I have 500 exc and servicing is easy, 690R should be even easier and less frequent.
Hopefully they put in more reliable fuel pump and gearing is changed for better,
didn't tested yet though.
Good review/comparison to previous model here:
few highlights below:
- NEW Dynamic LC4 single-cylinder engine with less vibration and more power featuring electronic fuel injection, Ride-by-Wire technology, dual balancer shafts, PASC slipper clutch and 6-speed gearbox.
- NEW styling based on the EXC family for a more aggressive look and enhanced ergonomics.
- NEW chassis for optimized rider feel and control with a lower seat (910 mm / 35.8 in) while keeping the same suspension travel.
- Cornering ABS with Offroad mode (to disengage rear ABS) for hard braking under all circumstances and the Quickshifter+ for smooth clutchless shifting.
- Motorcycle traction control (MTC), motor slip regulation (MSR) and Street and Offroad ride modes that can be switched directly from the handlebars for controlled power delivery.
https://www.advpulse.com/adv-bikes/k...-690-enduro-r/


10 Aug 2019
Super Moderator

Veteran HUBBer

Join Date: Dec 2004

Location: London and Granada Altiplano

Posts: 3,030
@donpablo: 2012 model year is when the big changes were made. Before then there were two models of 690, a high seat version with black frame called the 690 E and a very high seat version with orange frame called the 690 R for which you probably needed to have an inseam of 34 inches or more.

From 2012 the 690 E ceased production and the 690 R suspension was changed to the previous 690 E height.
At the same time the engine was enlarged from 650 to 690cc, service intervals increased, better front light and a rev counter added. There were many complaints about reliability on earlier models but this seemed to improve dramatically from 2012.

In 2014 ABS was added and an option to show gear position in place of trip odometer.

In 2019 better fueling, smoother motor, larger fuel tank (by 1.5 litre), traction control, but the rev counter removed.
__________________
"For sheer delight there is nothing like altitude; it gives one the thrill of adventure
and enlarges the world in which you live," Irving Mather (1892-1966)

Currently Active Users Viewing This Thread: 1

(0 Registered Users and/or Members and 1 guests)
Posting Rules

You may not post new threads

You may not post replies

You may not post attachments

You may not edit your posts

---

HTML code is Off

---
Next HU Events
HU Event and other updates on the HUBB Forum "Traveller's Advisories" thread.
ALL Dates subject to change.
2024:
Virginia: April 25-28
Germany Summer: May 9-12
Switzerland: August 15-18
Romania: August
Ecuador: August 23-25
France: September
Austria: September 12-15
Queensland is back! Oct 4-7
Germany Autumn: Oct 31-Nov.3
Add yourself to the Updates List for each event!
Questions about an event? Ask here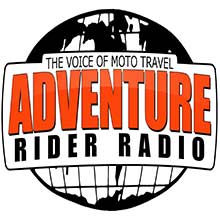 Check the
RAW
segments; Grant, your HU host is on every month!
Episodes below to listen to while you, err, pretend to do something or other...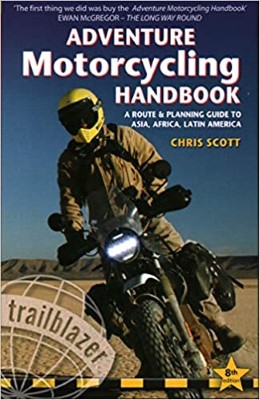 2020 Edition of Chris Scott's Adventure Motorcycling Handbook.
"Ultimate global guide for red-blooded bikers planning overseas exploration. Covers choice & preparation of best bike, shipping overseas, baggage design, riding techniques, travel health, visas, documentation, safety and useful addresses." Recommended. (Grant)

Ripcord Rescue Travel Insurance™ combines into a single integrated program the best evacuation and rescue with the premier travel insurance coverages designed for adventurers.
Led by special operations veterans, Stanford Medicine affiliated physicians, paramedics and other travel experts, Ripcord is perfect for adventure seekers, climbers, skiers, sports enthusiasts, hunters, international travelers, humanitarian efforts, expeditions and more.
Ripcord travel protection is now available for ALL nationalities, and travel is covered on motorcycles of all sizes!
What others say about HU...
"This site is the BIBLE for international bike travelers." Greg, Australia

"Thank you! The web site, The travels, The insight, The inspiration, Everything, just thanks." Colin, UK

"My friend and I are planning a trip from Singapore to England... We found (the HU) site invaluable as an aid to planning and have based a lot of our purchases (bikes, riding gear, etc.) on what we have learned from this site." Phil, Australia

"I for one always had an adventurous spirit, but you and Susan lit the fire for my trip and I'll be forever grateful for what you two do to inspire others to just do it." Brent, USA

"Your website is a mecca of valuable information and the (video) series is informative, entertaining, and inspiring!" Jennifer, Canada

"Your worldwide organisation and events are the Go To places to for all serious touring and aspiring touring bikers." Trevor, South Africa

"This is the answer to all my questions." Haydn, Australia

"Keep going the excellent work you are doing for Horizons Unlimited - I love it!" Thomas, Germany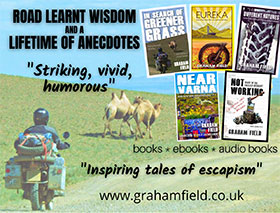 Diaries of a compulsive traveller
by Graham Field
Book, eBook, Audiobook
"A compelling, honest, inspiring and entertaining writing style with a built-in feel-good factor" Get them NOW from the authors' website and Amazon.com, Amazon.ca, Amazon.co.uk.
Back Road Map Books and Backroad GPS Maps for all of Canada - a must have!
New to Horizons Unlimited?
New to motorcycle travelling? New to the HU site? Confused? Too many options? It's really very simple - just 4 easy steps!
Horizons Unlimited was founded in 1997 by Grant and Susan Johnson following their journey around the world on a BMW R80G/S.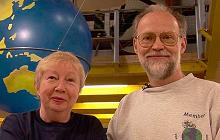 Read more about Grant & Susan's story
Membership - help keep us going!
Horizons Unlimited is not a big multi-national company, just two people who love motorcycle travel and have grown what started as a hobby in 1997 into a full time job (usually 8-10 hours per day and 7 days a week) and a labour of love. To keep it going and a roof over our heads, we run events all over the world with the help of volunteers; we sell inspirational and informative DVDs; we have a few selected advertisers; and we make a small amount from memberships.
You don't have to be a Member to come to an HU meeting, access the website, or ask questions on the HUBB. What you get for your membership contribution is our sincere gratitude, good karma and knowing that you're helping to keep the motorcycle travel dream alive. Contributing Members and Gold Members do get additional features on the HUBB. Here's a list of all the Member benefits on the HUBB.
All times are GMT +1. The time now is
11:10
.