HU Travellers Meeting Switzerland 2023
5th Annual Horizons Unlimited Overland Adventure Travel Event
Thursday, August 17 to Sunday, August 20 2023 - Meierskappel, Switzerland
It's All About Overland Adventure
Whether you're a seasoned veteran with wisdom to share or a complete novice hungry for ideas and guidance, it doesn't matter if you ride a motorcycle, a bicycle, or drive an expedition vehicle...
Horizons Unlimited meetings are for everyone who dreams of adventure along the road less travelled.
Inspiring, Informing & Connecting
Some people value Horizons Unlimited events for what they learn from the unique line-up of presenters. Some people value the chance to discover new products and services at the trade stands. Some people value just kicking back with a beer among old friends and new.
Most people enjoy a little bit of everything, and everyone goes home fired-up for adventure with a smile on their face.

The event will include a packed schedule of presentations and activities. All within the relaxed and friendly atmosphere that Horizons Unlimited is known for.
Below is a short (1:45) video from the 2022 event: (or you can see the full version - 6min 43s)
Online registration is now closed,
but we have plenty of room,
so come and join in!
Horizons Unlimited Switzerland Event Schedule
The event is taking place from Thursday, August 17 to Sunday, August 20 2023.
The plan is simple. Show up on Thursday afternoon, meet people and setup. Ride-outs (depending on weather) and workshops will take place on Thursday, Friday and Saturday. Organizers will be there on Wednesday afternoon, if anyone wishes to arrive early and just hang out or go for a ride in the area.
Event schedule will be posted here approximately 1 week before the event.
The schedule WILL CHANGE - stuff happens! Check the latest schedule to be posted at the meeting on the day.
Schedule and Programme
Please note that things might change. We will constantly update the google sheet when there are changes and also display the final programme on-site
Presenters at HU Switzerland 2023
Workshops and Tech Sessions below
Presentation 1: Africa East Coast
Presentation 2: Africa West Coast
Joshua will share his stories from his two trips to Africa. In two separte presentations he will talk about both his trips, one down the West Coast, and one down the East Coast.
"We travelled the African East Coast from October 2020 until February 2022 with two Honda CRF250L on our own. We covered 50.000 kilometers with 40 percent offroad tracks. Our focus is always on the exchange with the amazing people we meet along the road. Against all odds, we had a wonderful time on the road and the world is still as amazing as it was before. Covid virus, civil war, corruption, and violence could never change the fact that the people of this world are just great and the hospitality is even greater where you least expect it. "
"We want to tell the stories of all those who inspired us, all those who helped us, all those who will always be in our hearts and travel with us ever since we met them. Some positive vibes don't kill anybody these days, so come around and listen to our stories."
JOSHUA STEINBERG travelled western Africa, South America, eastern Africa, and parts of Asia and Europe by motorcycle. All in all, 150.000 kilometers and 60 countries. Less is more for us. Small budget, small bikes, small tent. Ride on!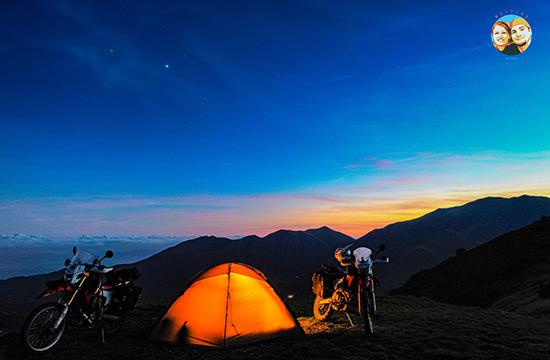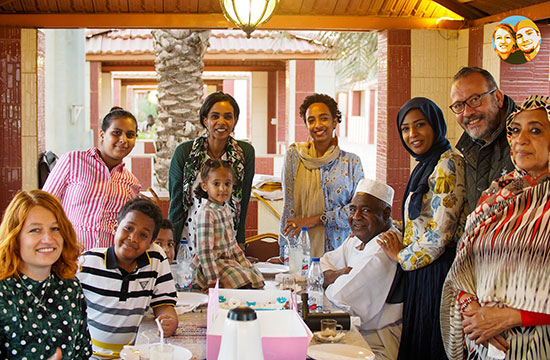 Heike & Gerd Burch,
Leben pur

Seit 3 Jahren sind wir unterwegs - und wollen einfach nicht aufhören!

NOTE: This presentation will be in German, Questions can be answered in English.


Ob auf zwei Motorrädern, später nur noch auf einem oder dann im Van: Die Reise ist unser Leben, das Gefährt nur eine Nebensache. Zugegeben: eine wichtige, um die Freiheit des Reisens zu spüren!
Ob bei eisigen -30°C im lappländischen Winter oder im Sand der tunesischen Wüste, ob im Linksverkehr Englands oder entlang malerischer Traumküsten Europas. Ob im heissen Sommer der Türkei oder im «interessanten» Verkehr Georgiens: Das Beste an allen Orten sind die Begegnungen mit den Menschen vor Ort und mit anderen Reisenden.
Wir berichten von eingefrorenen Schiebetüren, dem Zusammenleben auf 9,5 Quadratmetern, dem unvermeidlichen Sand in der Wüste und unvergesslichen Fährfahrten. Wir schauen, wie wir mit wenig auskommen und trotzdem zu viel dabei haben.
Über HEIKE & GERD: "In der dritten Phase unseres Lebens (nach unserer eigenen Kindheit und der unserer Kids) haben wir uns 2020 auf den Weg gemacht, die Welt zu entdecken. Unsere Erlebnisse teilen wir auf unserem Blog www.leben-pur.ch"
ride2seetheworld - auch durch China
Vorstellung unserer 4,5 jährigen Reise durch die Welt mit dem Schwerpunkt Mongolei, China und Laos
NOTE: This presentation will be in German, Questions can be answered in English.

Als wir, Robert und Barbara, im Oktober 2018 mit unseren beiden Motorrädern von Zuhause aufbrachen, wollten wir die Welt kennenlernen. Wir beide hatten wenig Erfahrungen mit Fernreisen und waren neugierig auf so viele Teile der Erde. Wir dachten daran, etwa 1-2 Jahre zu reisen, ohne Pläne und auch ohne ein Ziel. Eines wussten wir aber ziemlich sicher: China mit einer geführten Tour zu durchqueren, passt nicht zu unserem selbstbestimmten Reisestil - das wollten wir auf keinen Fall machen.
Im März 2023 endet unsere Reise nach 4, 5 Jahren unterwegs sein. 42 Länder haben wir "erfahren" und jetzt kommen wir aus Chile wieder zurück nach Deutschland. Mit unglaublich vielen wunderbaren Geschichten im Gepäck - so auch unsere Geschichte von über 5.000 Kilometern quer durch China mit einer organisierten Tour und Guide. Denn eines zeigt diese Geschichte: Reisen funktioniert am Besten ohne Plan!
Berndt Nording

Morocco without a Plan

Planning to travel across an ocean to Europe to ride Morocco. Wait, isn't that on a different continent? Forget the PLAN!
Ob For the year 1 B.C. I made a plan to continue my travels through Europe and go a bit further afield to Morocco. Bad idea! Traveling is always a good idea, making a PLAN is definitely not. Follow along with me on my journey and count all the hazards that can knock a PLAN sideways from bureaucrats to the weather gods as well as a couple of other Gods. Then there is the incredibly stupid idea of using the internet to gather information.
Über BERNDT: "I have been a traveler my whole life and started using a motorcycle for traveling half a century ago. In 2012 I shipped a motorcycle to Germany and have been making trips to various destinations from there on a yearly basis since then."
Judith Seeberger

1 month solo in the Balcans

Jens Ruprecht

Maximo 80

South America - okay, why not. Buying a motorcycle over the phone. Where are those things - only 10 PS (horsepower)? Customs issues, new friends, traveling illegally. Paris Dakar 2009, do we stand a chance? Reaching the finish line with a gearbox problem??? Just to mention a few points of our three-week journey through South America.
Educational Sessions
Because Horizons Unlimited events are about informing, not just inspiring, we also have a great line-up of educational sessions for you!
| | |
| --- | --- |
| | Filippo's Motorbike Elektronics Workshop |
NOTE: This workshop will be in German, questions can be answered in English.


No need to worry about electrical problems - all you need is a little basic knowledge and lots of creativity, Filippo will explain you the basiscs and show you tips and tricks - and also where to be careful! Smoke and explosions to be expected! :)
There will also be time to discuss your questions and problems.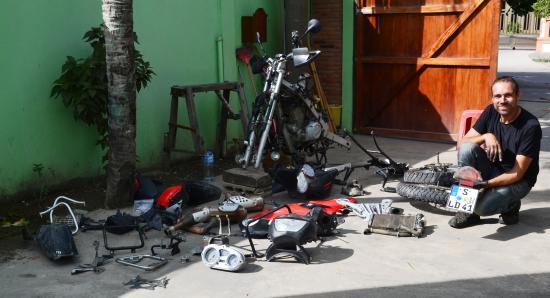 About the presenter: Filippo is a trained electronics specialist and has extensively travelled the world by motorcycle, truck, 4x4 - he has huge experience in motorcycle mechanics and in particular the electrics and electronics.

More to come...
How about you? We're all here to learn, and there's LOTS to learn! We want to do more presentations and seminars - but we need volunteers to give them! Any topic you can contribute having to do with motorcycle travel, maintenance, planning etc, lasting 20 minutes or more, would be great. Please sign up here.
The Adventure Travel Zone
Equipment Specialists
Manufacturers
Tour Operators

Adventure Travel Authors and Film-Makers
The HU Store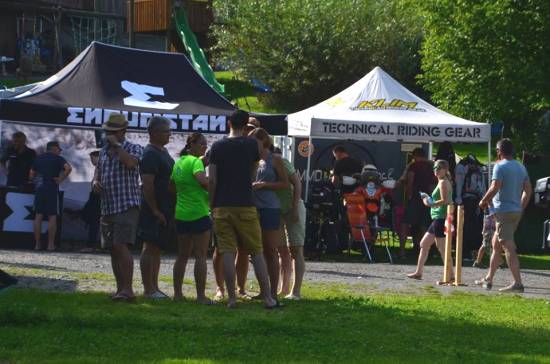 If you know of any other motorcycle or travel equipment vendors or tour operators who should be there, please suggest it to them!
Exhibitors, more details and registration here. Please contact us if you have more questions.
Panel discussions at most HU events include...


Border crossings - How to get through borders with minimal stress and cost!
Packing light - Tips and techniques from experienced travellers to reduce weight and bulk.
Regional discussions - e.g. travelling in South America or Asia.
For Women Only - A must for the ladies, so be sure to plan on being there! A chance to talk to experienced travelling women without the men around!
Experienced Travellers Panel - ask the experts anything you want!
Walk arounds / Show and tell!
Tool Kits - Show us your favorite tools. Toolkit discussion.
Tents and Bedding discussion (in the camping area) - What works, cheap vs dear and which ones keep you dry, warm and comfy!
Farkle Walk - Take a stroll and talk about your best bike mods - homemade saddle bags, toolbox mounts, GPS mounts, seats, side stands, tank panniers, cup holders, etc.
Online registration is now closed,
but we have plenty of room,
so come and join in!
Facilities for a great weekend!
Heike and Filippo have found a great venue for our Horizons Unlimited Switzerland Travellers Meeting!
Erlebnisbauernhof Gerbe
6344 Meierskappel
Central Switzerland
+41 417903534
Camping
Official campsite with showers and toilets. Camping fees are not included in registration and have to be paid in cash upon arrival: 16 CHF per person per night. Please note: this applies only if you travel on two wheels or by foot and sleep in a tent. No reservation is needed in this case.
If you plan to attend with a van, mobile home, etc. or if you want more space, please book a place at the campsite directly. Official prices of the campsite apply and have to be paid directly to the campsite.
Tipi tents for rent or Sleeping in the Barn are also available, please contact the campsite directly via their website: www.swiss-bauernhof.ch
Facilities
Workshops and presentations take place in the well-equipped barn or outside
Free Wi-Fi
Swimming possibility in nearby lakes
Restaurant/bar on-site. Meals are NOT included in registration.
Bakery and supermarkets are only few minutes away.
Refrigerated trailer to store your food and drinks
Beautiful surrounding in the heart of Switzerland
Great motorcycling roads nearby and the Alps at your doorstep, with the famous Furka, Grimsel, Susten or Klausen Pass roads only a few kilometres away. Check out Best Biking Roads.



PRE-REGISTRATION PRICING FOR FULL PASSES

Includes admission to all slide shows, workshops and demos on Thursday, Friday and Saturday. Camping fees are NOT included in registration. The fees have to be paid on-site. Meals are NOT included.

Pre-Register & Pay before:

Event Price

15 March, 2023

€35 (saves €20)

10 Aug, 2023

€45 (saves €10)

AT THE EVENT PRICING (APPLIES AFTER Aug 9)

Pay Cash on Arrival

Full Pass

€55

Weekend Pass (arrive Friday after 6 pm)

€45

Day Pass (Saturday only)

€30
---