HU Travellers Meeting Canwest 2024
Workshops and Educational Sessions
...because Horizons Unlimited meetings are about information, not just inspiration!
Exhibitors -
So Far
If you know of any other motorcycle or travel equipment vendors or tour operators who should be there, please suggest it to them!
Exhibitors, more details and registration here. Please contact us if you have more questions.
Facilities for a Fantastic Four Days!
The HU CanWest 2024 Travellers Meeting will be held in Nakusp, BC. Activities will be primarily at the Nakusp Arena and the Nakusp Municipal Campground, which we completely reserve for the event. We have a fantastic menu of catered food at the event itself.
Although Nakusp has a population of under 2,000, it's a tourist destination and thus has a fantastic range of accommodation including camping, restaurants and shopping choices (in the summertime, anyway!)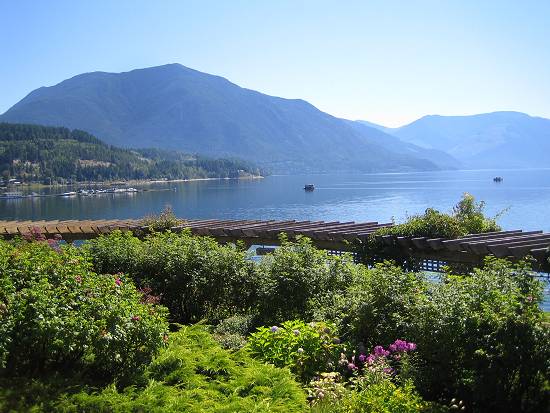 Camping
We have reserved the entire Nakusp Municipal Campground for this event. Camping is NOT included in your registration fee! Tent camping is a very special price for us of $21 per tent per night. (Regular price is $27-$35). Motorhome price (powered) is $31 per vehicle per night.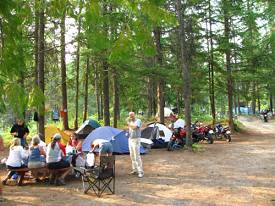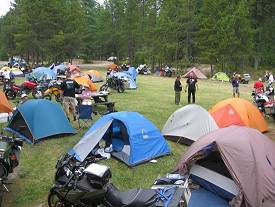 Powered sites are extremely limited, only for medical issues, CPAP machines, etc. Choose 'Powered Site' when registering, and indicate in the comments why you need it (you can charge your phone/tablet at the Charging Station at the Reg Desk). Motorhomes can also use the powered sites, you must register as a motorhome - fee is $31 per night.
The powered spaces have 50 amp sockets for motorhomes, so you WILL NEED an adapter. You may be able to buy one in town, but safest is to bring your own! If you check in early, BE SURE to clarify with the campground attendant that you are with us.
Also note, there are NO RESERVED SPACES from Thursday Jul 11 through Saturday Jul 13. You will be sharing sites, so plan to make new friends!
Nakusp Municipal Campground Map
Nakusp Municipal Campground Policies
Dogs are welcome but must be tethered and or on a leash at all times.
Owners are responsible to pick up feces as per Village Bylaws.
Firewood is available for purchase from the campground manager.
Quiet time is 10PM to 7AM
R/V Generators may only be used from 9AM to 11AM and 6PM to 8PM. Generators must not be left on attended.
Fires are permitted in fire pits only and are subject to fire bans
Do not burn garbage in your fire pits, and please do not damage the trees.
Campground speed limit is 5km/hr
Glamping
Riders Retreat
1-250-265-8043
Rebecca at Riders Retreat offers motorcycle friendly camping (glamping?), with an outdoor kitchen, all bedding, cooking and camping supplies provided. Rebecca is a super hostess who also runs the bar at HU events! Be sure to tell her you're with Horizons Unlimited!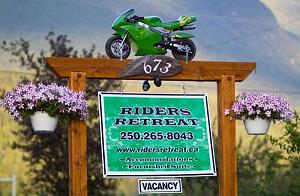 "Riders Retreat is the ideal place for motorcyclists who love to camp. Situated on the Golf Course in Nakusp, BC, we offer camping, and a furnished RV and Bus. One feature that sets us apart from any other campground is our equipped tent sites, which include your tent, bedding, lanterns, chairs, coolers and a picnic table. All set up and ready to go. So feel free to pack nice and light.
There are washrooom and shower facilities available, which include all your towels, soap, shampoo and conditioner, as well as a community cooking area equipped with pots and pans, BBQ's, cookstoves, dishes, silverware, spices and basically anything you would need to feed the weary traveller."
Hotels / Motels
The Lodge at Arrow Lakes
Phone: 1-800-663-0100
Centrally located in Nakusp within walking distance to all amenities, public beach, arena and campground.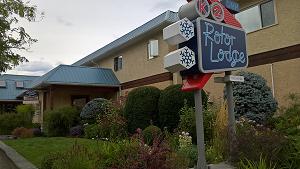 The hotel has two main accommodation areas at different prices.
The main building has a restaurant (Arrow Lake Tavern), lounge, liquor store and 28 guest rooms. The Tenderfoot Annex is newer, has 19 rooms. We have stayed here and can recommend it.
Selkirk Inn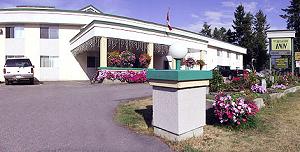 Phone: 1-800-661-8007
The Selkirk Inn is centrally located, has 39 rooms, most air-conditioned and many of them include kitchenettes. No restaurant on site. We have stayed here, and it is clean and comfortable.
Canyon Court Motel
Phone: 1-888-509-4499
We haven't stayed here, but this motel gets good reviews. Per their website, the rooms all have air-conditioning, cable TV, fridge, microwave and coffee maker and free wi-fi. Larger units have a full kitchen and separate bedroom.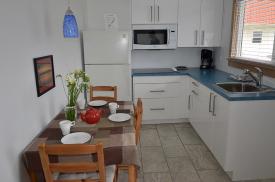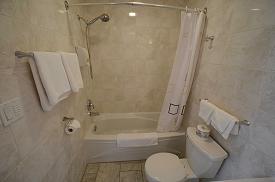 Leland Hotel
1-250-265-3314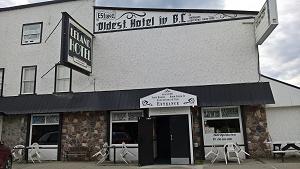 The Leland Hotel is the Oldest Hotel in BC, in operation since 1892. It also has the best location in town, overlooking the lake, and a good restaurant that takes full advantage of the views. All rooms have air-conditioning, wi-fi, fridge and microwave. Some rooms allow pets.
We haven't stayed here, but we have had reports that on weekends the rooms near the bar can be quite noisy, so be forewarned!
Bed and Breakfasts
The Nakusp Visitor Info Centre at 92 6th Ave. NW (just off the main street, Broadway) is super helpful and can assist with reservations for bed and breakfasts, of which Nakusp has many! Let them know you're here for the Horizons Unlimited event! Toll Free: 1-800-909-8819

Food
We recommend the Food - Deb Guest, the caterer is highly praised every year! These dinners are an excellent way to meet fellow participants and talk to presenters, and since you're eating right there on site, you won't miss any of the after-dinner slideshows.
Dinners - 2024 Menus
Thursday - Greek - Chicken Kebabs, Greek Salad, Spanakopita (spinach pies), rice pilaf, lemon creamsicle cake, coffee, tea or soft drink.
Friday - BBQ Ribs, baked potato, hot veggie, tossed salad, Strawberry Shortcake, coffee, tea or soft drink.

Saturday - Awesome Roast beef, yorkshire pudding, new potatoes, peas, carrots, Caesar Salad, Tiramisu Cake, coffee, tea or soft drink. Vegetarian: Chick pea cutlets with Miso gravy.
Please PRE-BOOK dinners with your registration. There will be limited amounts available for late-comers. You MIGHT be able to get it on the day, but it's first come first served!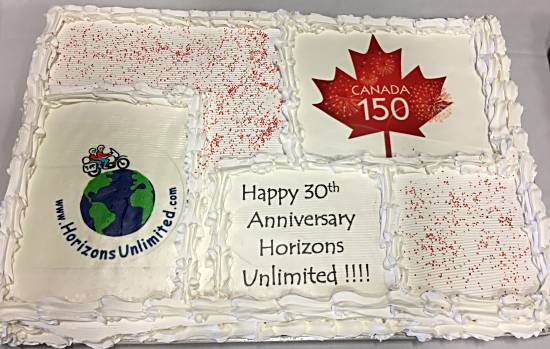 Breakfasts & Lunches
For 2024 you will have an option for convenient breakfast and lunch on site. You can, of course, cook for yourself, or go to cafes or restaurants in Nakusp.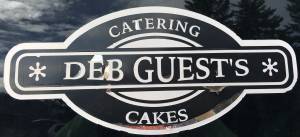 Breakfasts and Lunches
Deb Guest, our caterer, will offer pre-booked breakfasts on Friday and Saturday morning from 8-9AM and lunches from 12-1PM (see menu under Pricing).
Restaurants
Nakusp has heaps of restaurants to suit everyone's budget. We have eaten at many of them over the years, but not all of them! These are just a few of your dining options.
Caffe Lago, Leland Hotel is one of our favourite places to chill, big deck overlooks the lake.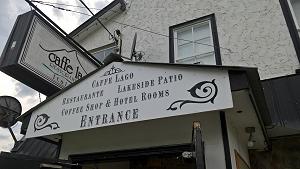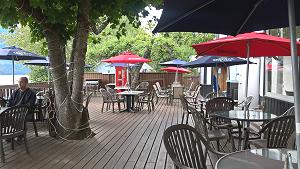 Chumley's Restaurant has a nice outdoor seating area. Arrow & Anchor Pizza does fantastic pizzas - try the S'Mores dessert pizza! Did we mention Nakusp is very motorcycle friendly!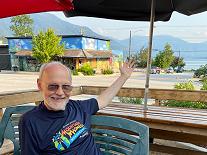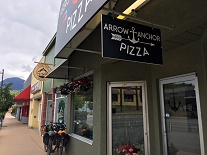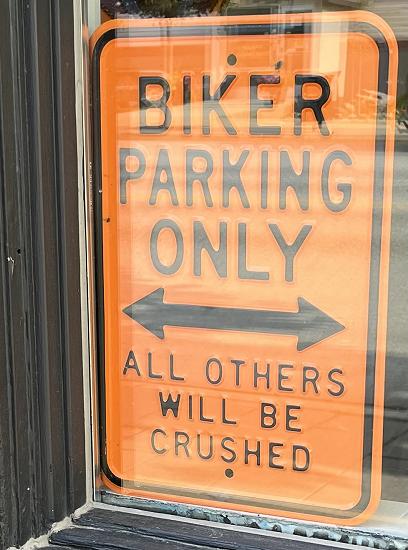 Hoss and Jill's does excellent breakfasts and lunches and is open at 7am. It was very popular with our crowd in 2023, as you can see!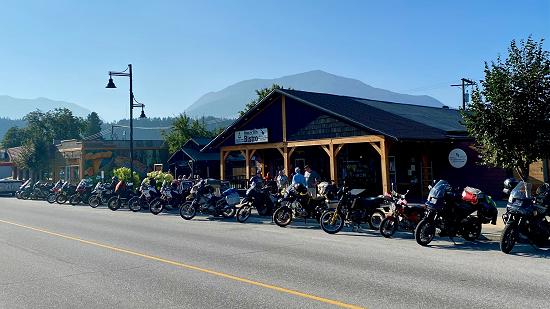 Shops
There are lots of shops in Nakusp! Just a few of the pics on Broadway Street, which is the main shopping street.
Grocery choices include Save-on-Foods, which is a good-sized supermarket. There is also an organic food store and a deli, which also serves meals.
CIBC Bank is the only major bank in town, but their ATMs accept other bank cards, with a service charge, of course! There is also a Kootenay Savings Credit Union.
Hopefully you won't need to visit it, but good to know that Arrow Lakes Hospital is located in Nakusp.
---