HU Travellers Meeting Canwest 2013
THE PREMIER OVERLAND ADVENTURE TRAVEL EVENT FOR MOTORCYCLISTS
Horizons Unlimited Travellers Meeting
Thursday August 22 - Sunday August 25, 2013 - Nakusp, BC

YOU MISSED IT! GO HERE FOR THE LATEST EVENT!
It's All About Overland Adventure
Whether you're a seasoned veteran with wisdom to share or a complete novice hungry for ideas and guidance, it doesn't matter if you ride a motorcycle, a bicycle, or drive an expedition vehicle...
Horizons Unlimited meetings are for everyone who dreams of adventure along the road less travelled.
Horizons Unlimited Canada West Event Schedule
The event is taking place from Thursday, Aug 22 to Sunday, Aug 25, 2013.
The Registration Tent will open for check-ins at 1 pm on Thursday, Aug 22, with the first presentations beginning at 6 pm. The event will draw to a close at Noon on Sunday, Aug 25.
Over the course of the event there'll be talks, demonstrations, workshops, Q&A's, challenges and competitions, with many presentations being repeated so you won't miss out.
As well as hearing inspiring stories of overlanding adventure from around the world, you'll get the low-down on preparing for your journey, navigation, first-aid, photography, filming and a host of other essential topics. Whatever your past experience or future plans may be, there's something for everyone.
Presenters at HU Canwest
2013

included...
Educational Sessions
Since HU meetings are about informing, not just inspiring, we've got a great lineup of interactive workshops for you!
Panel discussions at most HU events include...


Border crossings - How to get through borders with minimal stress and cost!
Packing light - Tips and techniques from experienced travellers to reduce weight and bulk.
Regional discussions - e.g. travelling in South America or Asia.
For Women Only - A must for the ladies, so be sure to plan on being there! A chance to talk to experienced travelling women without the men around!
Experienced Travellers Panel - ask the experts anything you want!
Walk arounds / Show and tell!
Stove Cook-off - Everyone bring your stove and let's see what works - and what doesn't! The Pros and Cons of stoves, fuels and pots, recipes, pans etc
Tents and Bedding discussion (in the camping area) - What works, cheap vs dear and which ones keep you dry, warm and comfy!
Bike mods - Show off your best bike mods - homemade saddle bags, toolbox mounts, GPS mounts, seats, side stands, tank panniers, cup holders, etc.
Facilities for a Fantastic Four Days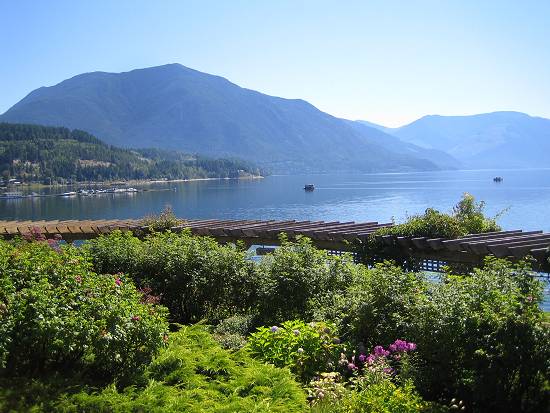 Camping
You will want to be at the official HU Campground so you don't have to go looking for people to talk to.Camping is NOT included in your registration fee! Camping is a very special price for us of $8 per tent per night, payable on check-in. (Regular price is $19-$27).
Note if you have a motorhome, car, need power etc, there may be a variable surcharge.
BE SURE to clarify with the campground attendant that you are with us.
We have reserved the ENTIRE campground for 2013, so you'll have loads of space and can pick your spot!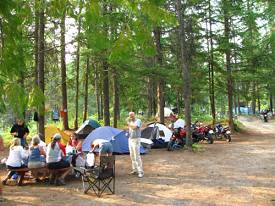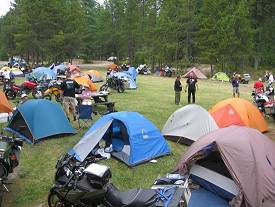 Food
We recommend the Food - Deb Guest, the caterer was highly praised in 2011 and 12!
Dinners: $16 each. 2013 Menus:
Thursday - Mexican - Ensalada, chicken enchiladas, black bean and corn salad, chili and Mexican rice, dessert, coffee and tea.
Friday - Greek (lamb skewers or roast lamb, greek salad, potatoes, etc.)
Saturday - Steak or chicken, potatoes, hot veggie, green salad, dessert, coffee and tea.
Please PRE-BOOK dinners with your registration. There will be limited amounts available for late-comers. You MIGHT be able to get it on the day, but it's first come first served (and $4 more each), and they won't have much extra!
You can, of course, cook for yourself, or go to restaurants in Nakusp.
BREAKFASTS

So you don't have to wander all over town looking for breakfast, we have organized to have breakfasts provided on Friday and Saturday morning by the Nakusp Rotary Club. Breakfast will consist of sausage or ham and scrambled eggs, pancakes, with coffee and juice for a total of $10. It is all done by volunteers and all the funds raised go towards local and world projects.
---
What happens at HU events?
HU South Africa
Comments about HU Events
"So many trips, tips, subjects, discussions, questions, answers, experiences, insights... I could go on and on. I will be back, and back, and back."
"It was like being with family... a friendly group with shared love of adventure."
"Everyone was humble, genuine, and encouraging, and I really needed that kind of 'we're all just people' kind of atmosphere."
"You'll see and hear the most useful ideas on so many subjects that it boggles the mind."
"Full of very inspiring people who got me fired up again and motivated for my next trip!"
"What a fantastic inspirational weekend...we will be back."
"I have picked up so much information... and met some new friends and wonderful people."
"...a new league of awesomeness."
"Great atmosphere and camaraderie, especially at dinner time, and interesting presentations."
"I have learned so much, made some great mates and met some of the best people. I was buzzing by the time I got home. I have a little trip planned and just can't wait to get out there."
Be a Presenter
We're inviting submissions for presentations, so whether you're attending the event or exploring a distant continent, if you've got a story to tell or expertise to share we'd like to hear from you.
We love to hear stories about your travel adventures, especially if you have great pics! Also, practical how-to sessions such as roadside cooking, navigation / GPS, trip prep and planning, adventure motorcycling medicine, packing light, setting your bike up, communications / blogging from the road, self-publishing your story, yoga for bikers, bodging / bike maintenance, self-defense, photography, videography, tire repair, safe riding techniques, how to pick up your bike, off-road riding, all are of interest.
There are 45 minute and 100 minute sessions available for talks, workshops, demos and live web chats.
Click here to submit your ideas
PLEASE NOTE:
Submitting a Presenter registration DOES NOT mean you will automatically be included in the schedule, as we can have more presenters than available presentation slots. We will confirm one way or the other as soon as we can (but not immediately!)
Departing or Returning?
If you're planning an expedition, why not make the Horizons Unlimited meeting your official start point? Or maybe you're nearing the completion of a journey and would like a very public welcome home? Of course you might just be passing through and fancy marking a key stage of your travels?
We'd love to make you a big part of the meeting, so feel free to get in touch and tell us your plans.
Book your Exhibitor Stand space
Over the course of four days, this Horizons Unlimited event offers a unique opportunity to build awareness of your brand and talk directly to potential customers.
The Adventure Travel Zone occupies a central position at the event site and is exclusive to trade stands representing the overland adventure travel market.
Choose between our Premium and Standard packages, both of which include on-site advertising and can include a presentation about your products and services. Be sure to let us know you want to do a presentation when you register.
Canada West Venue Location
Nakusp Arena and Campground
200 8 Ave NW, Nakusp, BC
50.241037, -117.810248

Venue is at Nakusp Arena, 200 8th Ave NW, Nakusp; and the municipal campground is around the corner at 4th Street at 10th Avenue, NW.
Nakusp is located 47 km. (29 miles) north of New Denver on Highway 6. Nakusp Airport is located 3km north of town.

Driving Distance / Time to Nakusp:
| From | Distance |
| --- | --- |
| Vancouver | 664 km |
| Seattle | 481 - 533 miles |
| Calgary | 511 km |
| Edmonton | 805 - 920 km |
| Missoula | 448 miles |
| Denver | 1341 miles |
| San Francisco | 1127 miles |
NOTE: If you're coming from the USA, some of the more remote, smaller border posts close at 5PM.
Where are we in Nakusp?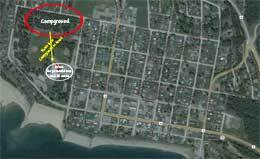 HU Events Refund Policy
Like adventures, life can throw surprises our way. Stuff happens. While we would love for you to join the fun and connect with everyone at our events, we understand that you (and the funds) may be needed elsewhere. We'll catch up later!
On our side, we know you appreciate that we have financial commitments to venues and caterers!
The best way to let us know that you're unable to attend an event is to reply to the Registration Confirmation Email you got from us when you first signed up.
Up to 30 days prior to event start, we will refund all fees in full less a $10 (or €9 or £8) handling fee and PayPal charges. At your request, we can apply your Event Registration and all fees to any subsequent HU event you wish in that year or following year.
Up to 15 days prior to event start, we will refund only the camping/accommodation and food packages in full less a $10 (or €9 or £8) handling fee and PayPal charges. At your request, we can apply your Event Registration fee (with no handling fee) to any subsequent HU Event you wish in that year or following year. If you purchased a t-shirt, we will ship it to the mailing address you provide.
Within 15 days of the event start, there will be no refunds. At your request, we can apply your registration fee (with no handling fee) to any subsequent HU event you wish in that year or following year. If you purchased a t-shirt, we will ship it to the mailing address you provide.
If WE cancel an event:
We are constantly evaluating the situation for every event, and very much err on the side of caution. We will endeavour to announce "Final" decision one month or more before the event, but the situation COULD change closer to time, and we could be required by law to cancel.
If we are forced to cancel for COVID or natural disaster, we will roll your registration over to next year automatically.
If you want to transfer your existing registration to any other HU event in the world, just let us know.
Need a full refund? PLEASE REPLY to your original Registration Confirmation email to make it easier for us to find. If you can't find it, please email a request to: events-c (AT) horizonsunlimited(-)com with the subject line: "Refund event-name event-year"
Next HU Events
HU Event and other updates on the HUBB Forum "Traveller's Advisories" thread.
ALL Dates subject to change.
2024:
Virginia: April 25-28
Germany Summer: May 9-12
Switzerland: August 15-18
Romania: August
Ecuador: August 23-25
France: September
Austria: September 12-15
Queensland is back! Oct 4-7
Germany Autumn: Oct 31-Nov.3
Add yourself to the Updates List for each event!
Questions about an event? Ask here