HU Travellers Meeting Canwest 2013
THE PREMIER OVERLAND ADVENTURE TRAVEL EVENT FOR MOTORCYCLISTS
Horizons Unlimited Travellers Meeting
Thursday August 22 - Sunday August 25, 2013 - Nakusp, BC
It's All About Overland Adventure
Whether you're a seasoned veteran with wisdom to share or a complete novice hungry for ideas and guidance, it doesn't matter if you ride a motorcycle, a bicycle, or drive an expedition vehicle...
Horizons Unlimited meetings are for everyone who dreams of adventure along the road less travelled.
Horizons Unlimited Canada West Event Schedule
The event is taking place from Thursday, Aug 22 to Sunday, Aug 25, 2013.
The Registration Tent will open for check-ins at 1 pm on Thursday, Aug 22, with the first presentations beginning at 6 pm. The event will draw to a close at Noon on Sunday, Aug 25.
Over the course of the event there'll be talks, demonstrations, workshops, Q&A's, challenges and competitions, with many presentations being repeated so you won't miss out.
As well as hearing inspiring stories of overlanding adventure from around the world, you'll get the low-down on preparing for your journey, navigation, first-aid, photography, filming and a host of other essential topics. Whatever your past experience or future plans may be, there's something for everyone.
Presenters at HU Canwest
2013

included...
Educational Sessions
Since HU meetings are about informing, not just inspiring, we've got a great lineup of interactive workshops for you!
Panel discussions at most HU events include...


Border crossings - How to get through borders with minimal stress and cost!
Packing light - Tips and techniques from experienced travellers to reduce weight and bulk.
Regional discussions - e.g. travelling in South America or Asia.
For Women Only - A must for the ladies, so be sure to plan on being there! A chance to talk to experienced travelling women without the men around!
Experienced Travellers Panel - ask the experts anything you want!
Walk arounds / Show and tell!
Stove Cook-off - Everyone bring your stove and let's see what works - and what doesn't! The Pros and Cons of stoves, fuels and pots, recipes, pans etc
Tents and Bedding discussion (in the camping area) - What works, cheap vs dear and which ones keep you dry, warm and comfy!
Bike mods - Show off your best bike mods - homemade saddle bags, toolbox mounts, GPS mounts, seats, side stands, tank panniers, cup holders, etc.
Facilities for a Fantastic Four Days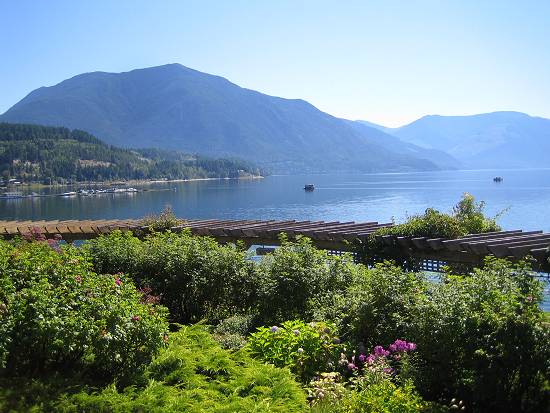 Camping
You will want to be at the official HU Campground so you don't have to go looking for people to talk to.Camping is NOT included in your registration fee! Camping is a very special price for us of $8 per tent per night, payable on check-in. (Regular price is $19-$27).
Note if you have a motorhome, car, need power etc, there may be a variable surcharge.
BE SURE to clarify with the campground attendant that you are with us.
We have reserved the ENTIRE campground for 2013, so you'll have loads of space and can pick your spot!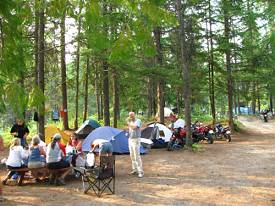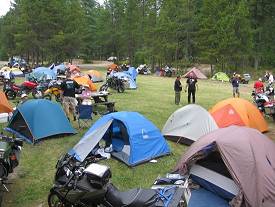 Food
We recommend the Food - Deb Guest, the caterer was highly praised in 2011 and 12!
Dinners: $16 each. 2013 Menus:
Thursday - Mexican - Ensalada, chicken enchiladas, black bean and corn salad, chili and Mexican rice, dessert, coffee and tea.
Friday - Greek (lamb skewers or roast lamb, greek salad, potatoes, etc.)
Saturday - Steak or chicken, potatoes, hot veggie, green salad, dessert, coffee and tea.
Please PRE-BOOK dinners with your registration. There will be limited amounts available for late-comers. You MIGHT be able to get it on the day, but it's first come first served (and $4 more each), and they won't have much extra!
You can, of course, cook for yourself, or go to restaurants in Nakusp.
BREAKFASTS

So you don't have to wander all over town looking for breakfast, we have organized to have breakfasts provided on Friday and Saturday morning by the Nakusp Rotary Club. Breakfast will consist of sausage or ham and scrambled eggs, pancakes, with coffee and juice for a total of $10. It is all done by volunteers and all the funds raised go towards local and world projects.