HU Travellers Meeting Canwest 2014
THE PREMIER OVERLAND ADVENTURE TRAVEL EVENT FOR MOTORCYCLISTS
Horizons Unlimited Travellers Meeting
Thursday August 21 - Sunday August 24, 2014 - Nakusp, BC
It's All About Overland Adventure
Whether you're a seasoned veteran with wisdom to share or a complete novice hungry for ideas and guidance, it doesn't matter if you ride a motorcycle, a bicycle, or drive an expedition vehicle...
Horizons Unlimited meetings are for everyone who dreams of adventure along the road less travelled.
Horizons Unlimited Canada West Event Schedule
The event is taking place from Thursday, Aug 21 to Sunday, Aug 24, 2014.
The Registration Tent will open for check-ins at 1 pm on Thursday, Aug 21, with the first presentations beginning at 6 pm. The event will draw to a close at Noon on Sunday, Aug 24.
Over the course of the event there'll be talks, demonstrations, workshops, Q&A's, challenges and competitions, with many presentations being repeated so you won't miss out.
As well as hearing inspiring stories of overlanding adventure from around the world, you'll get the low-down on preparing for your journey, navigation, first-aid, photography, filming and a host of other essential topics. Whatever your past experience or future plans may be, there's something for everyone.
Presenters at HU Canwest
2014

so far...
| | |
| --- | --- |
| | 110 days of off-road through the ex-USSR |
4 months off the road with Suzuki DRZ's to central Asia... A story full of adventures that will take you from Siberia and the Russian bikers over the vast plains of Mongolia with the horse races, to a wedding in the steppes of Kazakhstan to end high up into the Pamir mountains of Tajikistan without food or water... A true epic adventure full of interesting people, places and stories off the beaten track!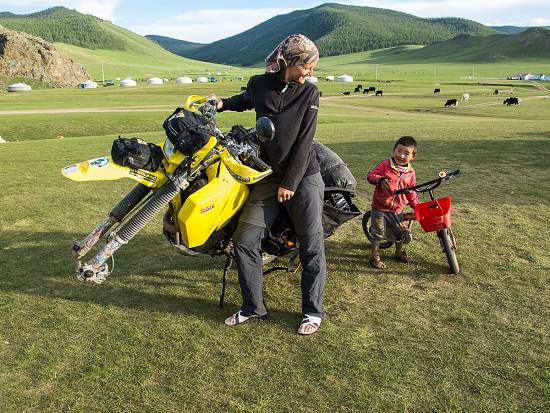 Seb and Kim are experienced overlanders that have done several multiple months trips in the past all around Europe and Asia with their motorcycles. They have been presenting at several HU meetings and now they are on a RTW journey with a 4x4.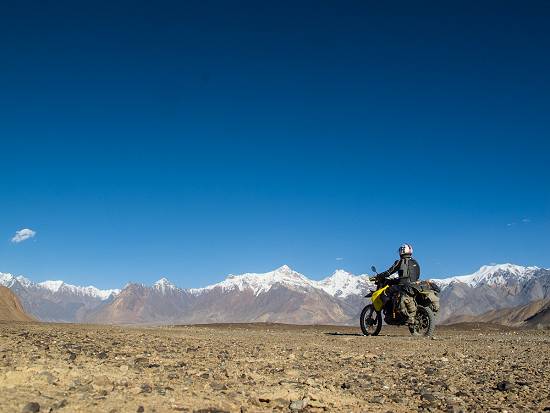 Emily Roberts,

Ontario to Alaska - my adventure across Canada and up to Alaska, and all the crazy people I've met along the way.
I've been riding motorcycle since I could balance on two wheels, I grew up with the passion on bikes in my blood. When I was 11 I started teaching dirt biking. I've always believed that trying something that scares you is essential in life to grow. I took three months to travel up to Alaska and back to Ontario when I was 18 and it's still been the best growing experience I've ever encountered.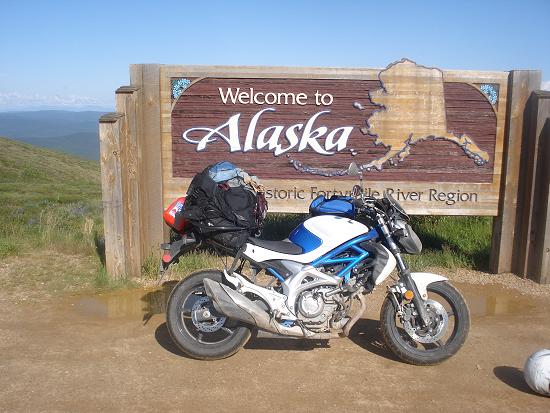 Along the way I hit a deer, went mushroom picking and some how ended up with a fermented toe in my shot of whisky.
| | |
| --- | --- |
| | Four Months in S.E. Asia |
In the summer of 2012 we set off from Germany to circumnavigate Asia. We rode our motorcycles north to Finland and then across Russia, Kazakhstan, Mongolia and China. We then shipped the bikes to Japan and after touring Japan we shipped them to Singapore. We then spent four months riding in Malaysia, Thailand, Laos, Vietnam and Cambodia.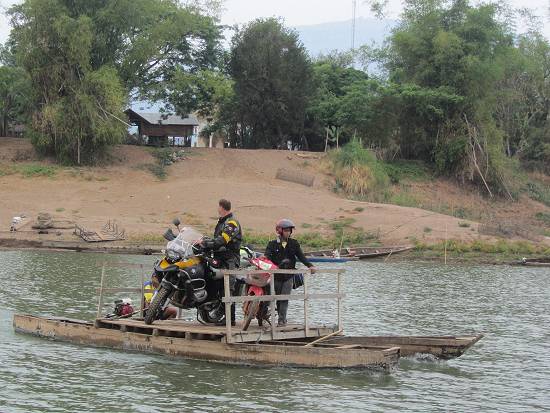 We rode north out of Singapore through Malaysia and on to Thailand in time for a Christmas holiday. Continuing north we met up with Dr. Gregory Frazier at the Horizons Unlimited meeting in Chang Mai. We were able to do a presentation on our Africa trip and also met a lot of other travellers, travellers whom we ran into again and again.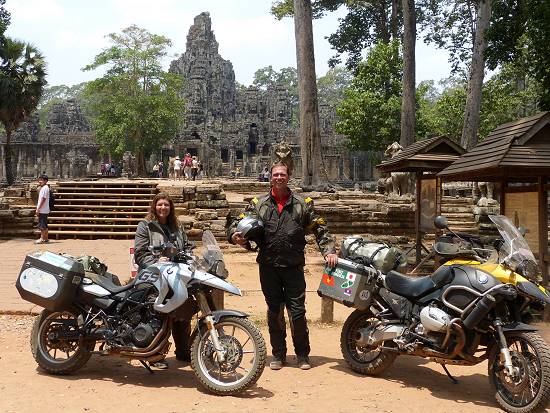 In Laos an incident occurred that changed our trip significantly, yet Laos was one of our favourite places to travel with its gentle people and laid back attitude. Vietnam was hectic and Cambodia amazed us with its extremes from the Killing Fields to Angkor Wat before we returned to Thailand in time to celebrate Songkran before flying out of Bangkok, ending a fantastic journey to a wonderful part of the world.
| | |
| --- | --- |
| | Around the World on a DR650. 36,000 kms |
London to Ukraine to Vladivostok and onward to Newfoundland! Preparation, paperwork and plenty of pictures.
The planning and execution of an albeit rapid RTW (wish I had more time). Border crossings, paperwork, corrupt police, motorcycle accidents and more are thrown into this mixed bag of goodies.
Detailing the visas/documentation needed to travel. Transnistria unraveled, good routes suggested and what to expect from corrupt police or getting "screeched in" in Nefoundland! 17 countries covered from England to Mongolia and onward through Siberia to Korea and ultimately Canada.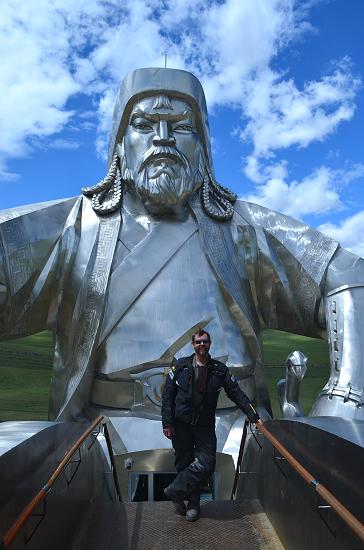 Nevil has lived and worked in the Cdn Rocky Mtns for 17 years and has extensive experience as a guide in the back country around the Canmore Banff area. He's been motorcycling for over 35 years and recently rode around the world in 2013.
| | |
| --- | --- |
| | The Alps beyond Alpine roads. There is more to the European Alps than the pass roads. |
If you only plan your trip to the Alps to ride the roads, you might miss the best part.
Every European summer, many thousands of riders converge on the Alps to ride some of the best motorcycle roads in the world. The roads do not disappoint.
There is, however, much more to the Alps that alpine roads. This part of Europe contains a unique mix of history, cultures and politics and any journey in the Alps can be made more interesting with a little understanding on the stories that lay along those alpine roads.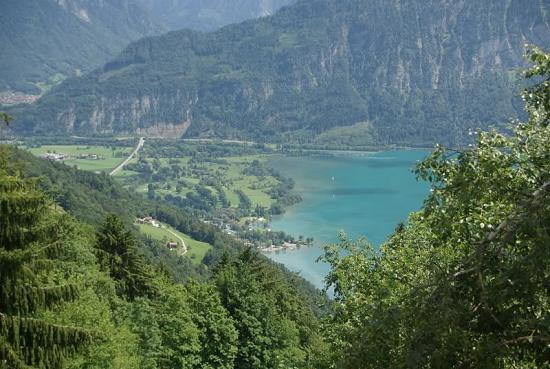 This presentation is a selection on short vignettes from areas along the length of the Alps that should capture the imagination of the most hard core mountain rider and provide incentive to explore and discover more Alpine stories of your own.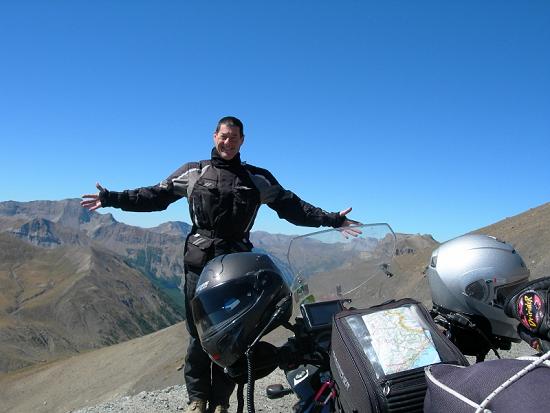 Mike and Jo Hannan went out for a short ride in late 2007 and stayed away for a year. Since then their lives have revolved around travel, travel writing and a widely dispersed family.
| | |
| --- | --- |
| | Through Dust and Darkness, Middle East |
A motorcycle journey from Europe, through the Middle East and North Africa.
Jeremy Kroeker is a Mennonite with a motorcycle. When his seemingly unflinching faith in a Christian worldview begins to shift, Kroeker hops on his bike to seek answers from another perspective. After shipping his ride to Europe, Kroeker discovers that the machine wobbles back and forth worse than his own opinions about spirituality. Still, he caries on, oscillating through Europe—Germany, Austria, Croatia, Albania—and into the Middle East - Turkey, Syria, Lebanon and, ultimately, Iran.
Jeremy Kroeker is the author of two books, "Motorcycle Therapy" and "Through Dust and Darkness." With his motorcycle, he has traveled to nearly 30 countries while managing to do at least one outrageously stupid thing in every one. He has evaded police in Egypt, tasted teargas in Israel, scrambled through minefields in Bosnia and Lebanon, and wrangled a venomous snake in Austria. One time he got a sliver in El Salvador.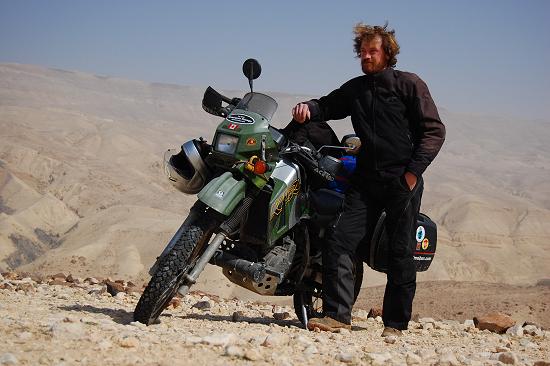 Mike Robertson, Canada

The World a couple of weeks at a time.
"I like to travel and in many ways I need to travel. Traveling allows me to maintain my understanding and empathy with mankind. It enriches my relationships with family, nature and humanity. What has changed over time is my approach to travel. In younger days the limiting factor was money, currently it is time, and in the future it will likely be health.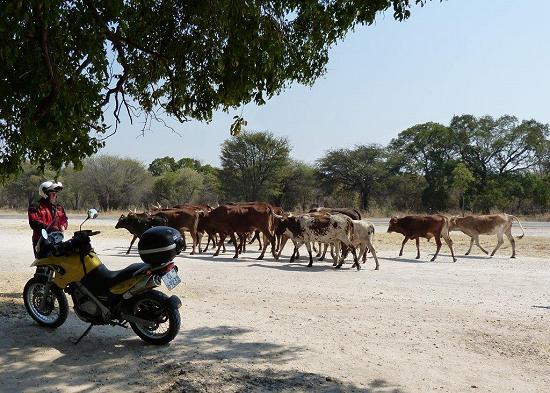 Each year a trip is on the agenda; I will share my experience from a couple of styles of travel I am familiar with.
On our own machines, loaded up with various amounts of planning
On rental machines, in an organized group tour with lots of back up
On rental machines, no planning, no organization, no equipment, no back up
I have found that each has merit; they all have challenges, rewards and disappointments, and that will be the focus of my presentation."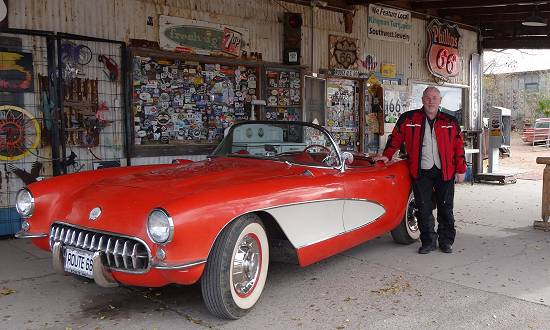 "I have traveled throughout my life in a variety of ways to a variety of places. Traveling can be done in a lot of different ways and a motorcycle is a favored mode of travel for some of adventures. I have been lucky to have found a partner, who shares my love of travel, and together we have seen a lot of the world - but there is always more to see and a lot of places to go back to."
| | |
| --- | --- |
| | How it all began. The story of Grant and Susan's 11-year trip around the world, without a plan or a clue! |
Way back in 1987, before the Internet, two young and naive Canadians set out from Vancouver to ride around the world on a motorcycle. The plan (and budget) was for 3 years, but it didn't quite work out that way!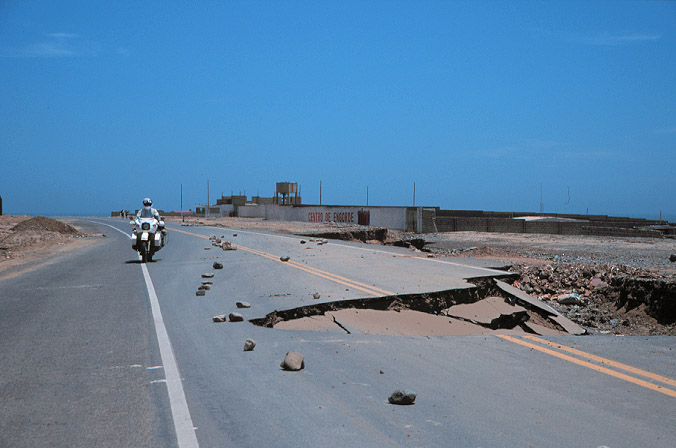 Educational Sessions
Since HU meetings are about informing, not just inspiring, we've got a great lineup of interactive workshops for you!
Zigy Kaluzny

Packing Lite for Long Distance Tours - How to select and pack minimum -- yet adequate -- clothing for long distance touring
If you're like most of the riders I see, I bet you constantly ask yourself "why did I bring all this stuff?" Many of you probably don't use half of the clothes you've stuffed in your panniers.
Twenty years of long-distance motorcycle touring across the American West, up to Alaska, months in NZ and in Europe have taught me just how little clothing I need to travel and still not look or smell like the Mongol hordes pouring out of Central Asia.
I'm going to show you how little you really need in the way of clothes to tour (almost) anywhere. The benefits: Less stuff to dig through, and a lighter bike. Less IS more.
You'll get recommendations for specific brands of readily available travel clothing, where to find it, what to pack it in, and a customizable list of the 20 years of constantly-updated personal gear I carry.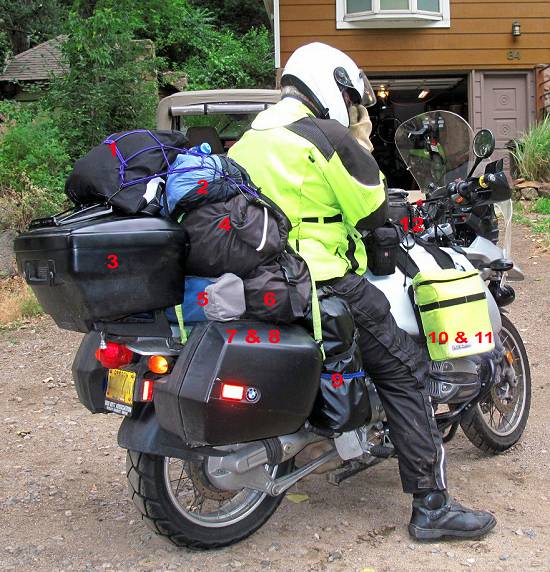 | | |
| --- | --- |
| | Making Interesting Travel Videos and Choosing the Right Trip! |
Making Interesting Travel Videos - Will you still be watching your travel videos in 20 years or will they have been packed away?
With over 100 travel videos on Youtube or Vimeo I will share some tips on how and what makes an interesting and watchable video. We will watch some videos some of the best and some of the worst and review why and what makes a travel video interesting and entertaining. Learn how to create memorable and meaningful videos for you. Most cannot go not go back and do a reshoot while on the road so one has to shoot it right, but most important you have to start shooting. After your travels your videos will be an important part of the memories.
Africa or America What's Your Choice - If you had to choose only one trip which would best suit your personality style of travel?
Several continents with different challenges, opportunities, risks, costs and thrills. If you had to make one choice which overland trip, which continent, would best suit your overland travel personality. Are you the risk taker, the adventurists, the beginner eager to get your bum in the seat or the cautious. Do you prefer to go it alone or in a group or as a couple. Would you love to travel across the Sahara or the Andes, Whats your interests, what's your passions.
Asking the right questions will help you know where you next need to go. We will help you find your travel style and personality and remember the world is waiting to be explored.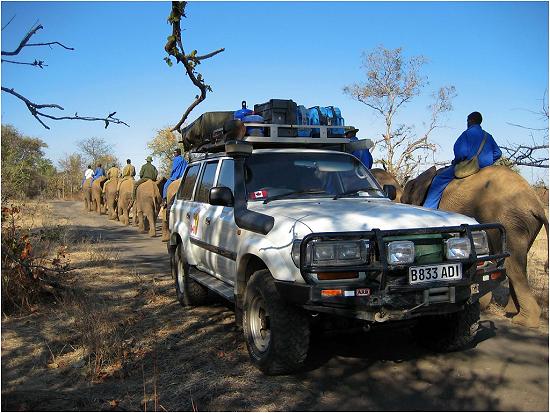 Janet Wilson and Tom Feuchtwanger have a deep love of travelling the world, exploring it's wilderness, wildlife and peoples. During the early 70's they spent many years living in the African bush where Tom worked as an exploration geologist. Their first overland adventure in 1974 was in a Renault in which they traveled around Europe.
They completed 3 overland trips circumnavigating 80,000km across Africa. In 2010 they drove from Alaska to Argentina completing a 65,000km overland journey in 18 months.
"Nothing is more addictive than traveling off the beaten track across the globe. 87 countries and still on the move."
| | |
| --- | --- |
| | Travel Writing for Non-Writers |
Even a simple blog or Facebook page can be improved with by following a few simple rules. Many of us keep a blog or an extensive face book page while travelling. While not everyone has the ambition to tell their stories in a book most riders want to be able to communicate the excitement they feel on the road to others in some format.
This presentation provides a check list to assist you to:
1. Write compelling prose that keeps your readers reading regardless of the format you chose.
2. Organise your blog or page so that it grabs the attention of newcomers and keeps your old fans waiting for the next instalment.
3. Organise, edit and self-publish your writing.
4. Understand what a commercial publisher wants and how you can give it to them.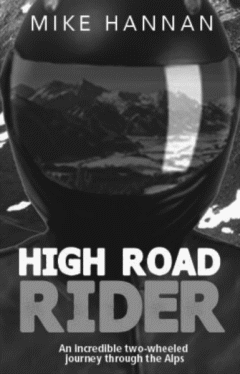 Mike has two travel books published: The Elephant's Tale (2009) and High Road Rider (2014) both published by New Holland Publishing.
Bike set-up - One team's solution
Every rider wants to improve their bike. This is what we did to ours and why we did it.
Over eight years and 150,000km, Mike and Jo Hannan have tried to keep their BMW GS (named Elephant) as standard as possible; except for all the bits they have changed. Like most teams, Team Elephant have tried lots of ideas to pack two lives into the limited space of a motorcycle. Some have worked, some haven't.
This presentation is a chance to look at one team's well sorted and cost effective solutions and, maybe, take away some ideas for your own travel set-up. At the least you may see some things that you should avoid at all costs!
| | |
| --- | --- |
| | Bears, Bodgers & Bushcraft |
Bushcraft and Motorcycling - Primitive crafts that can help you out in today's hi tech world
When all else fails, you have to rely on technology that has been around for centuries. How do you fashion a tire bead breaker from wood or build your own saw? I will teach you the basics on what to carry, why and how to apply it to your surroundings. The more you know, the less you carry!
Bears & Moto camping, the do's & dont's
A humorous insight into what to do and not do in bear country from an ex-mountain guide.
A simple slide show coupled with demonstrations and audience participation. Presented by Nevil Stow and quite possibly Trent Schumann. Lots of props and growling noises made here!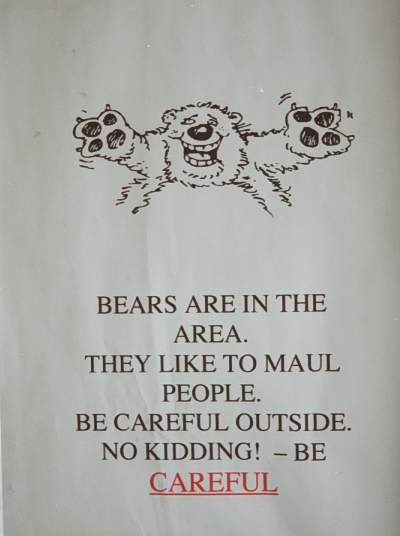 Best of Bodger Fixes
Can WD-40 fix everything? No, but you would be surprised what you can do with a bar of soap other than wash your hands!
Nevil is standing in for Kevan Ibbotson for this popular talk on "Bodging your bike repairs in order to get it home"... or at least to a mechanic. This is an interactive session where we will review some of the tools and repair material to carry... and how to use them to get yourself back on the road. The presentation is interspersed with photos and videos from HU members from the past few years to showcase some of their very imaginative "Get Home" ideas.
Zigy Kaluzny

Making - Not Taking - Photographs - How to make personal and memorable photos on the road
You come back from a great motorcycle trip and as gorgeous and interesting as the places were, your photos consist of "Here's my bike in front of some famous local monument... Here's my bike with some (not-as-beautiful-as-I-remembered-and-too-far-away-to really-appreciate) mountains... Those (ant-sized) people in the distance? They were really cool... "
Disappointed that your images aren't like the ones in National Geographic? Your photos from the road don't have to put everyone -- including you -- to sleep. I'm going to show you how to MAKE -- NOT TAKE -- photos on the road that can be intriguing, funny, and definitely memorable, no matter what camera you carry. Secret: you don't need a "pro" camera and six lenses that fill your top case and are a pain to get out.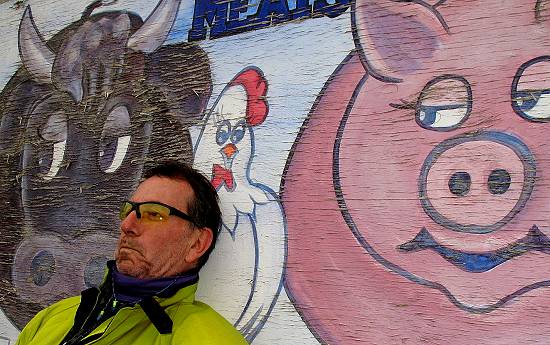 Zigy Kaluzny was a photojournalist for 20 years, completing assignments for publications including TIME, NEWSWEEK, THE NEW YORK TIMES, FORBES, PEOPLE, and European magazines like Germany's GEO and STERN. His work is currently represented by GettyImages, the world's largest stock photo agency.
| | |
| --- | --- |
| | Fix that flat! How to change a tire anytime, anywhere! |
Grant's tire changing seminars are always well attended and appreciated. This seminar covers: how to prevent flats in the first place, and fix them when you get one; the best tools and how to use them for tube and tubeless tires; hands-on practical for beginners to experts, optional tire changing contest.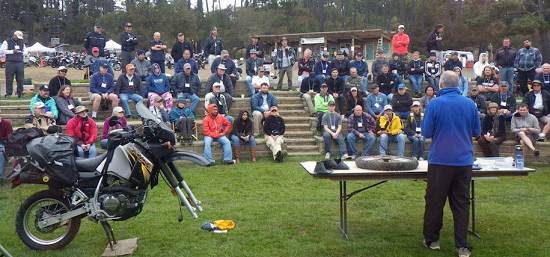 | | |
| --- | --- |
| | 4 Easy Steps to Overland Travel! You can do it - we can help! Finding your way around Horizons Unlimited, other resources. Lots of great pics and video clips. |
"Grant and Susan Johnson are icons in the round-the-world (RTW) motorcycling community. The Johnsons host - or more appropriately write, edit, produce, manage and coordinate Horizons Unlimited - a global network of motorcycle travelers... and a bona fide adventure motorcycling phenomenon." Dan Hilton, Rider Magazine
This seminar will be an overview of various 'How To' topics. Includes 'How to' content from the Achievable Dream series and great pics from HU Photo Contest winners!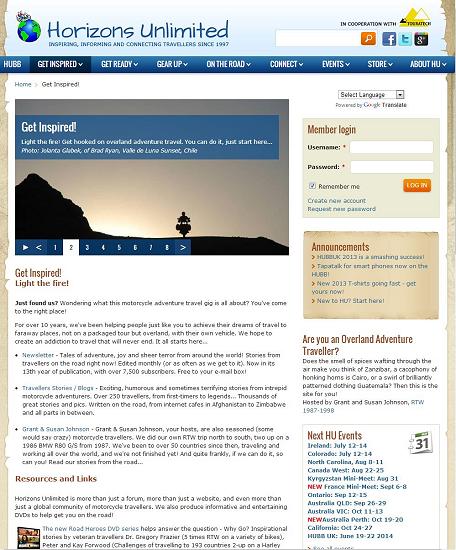 Henrik Morkner

Travel Electrics and Electronics
Today's maze of electronics can become disaster on the road. This talk goes through common needs with useful hints and strategies. Mobile electrics and electronics are different than the home or business. They must be light and independent (battery or generator) yet rugged and adaptable to multiple environments. When it works, it's invisible. When it fails, it's a disaster.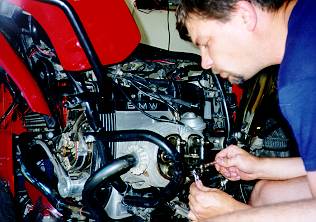 A small amount of knowledge can make a big difference. This talk is divided into motorcycle electrics and communication electronics. Slides and format will be kept basic with useful hints and strategies. The focus is to help the traveler can make good decisions and get on with their adventure.
Subjects covered include:
Basic motorcycle electrics. Volts, amps, Watts and how your bike works.
Lighting, splicing, and wiring tips for motorcycles
Basic electrical tool needs and how they work
Batteries and charging, pitfalls and recommendations.
Basics on travel cell phones and how 3G, 4G, and 5G networks work
Basics on WiFi and access to networks around the world
Basics on GPS and mapping software works and pitfalls
Ruggedness for the elements for your electronics, surviving water and vibration
Security, encryption, and tracking capabilities by "bad guys"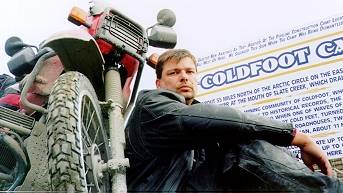 Henrik was born in Denmark, lives in California, and holds degrees in electrical engineering. He is dedicated to a practical approach to all things electrical and electronics and has spoken at conferences and with customers around the world on communication networks. Motorcycle travels on his trusty BMW R100GS are modest, from Prudhoe Bay to Mexico. Yet, he has traveled the world as an avid adventurer from Shaanxi, China to Cinque Terre, Italy to Manchu Picchu, Peru.
| | |
| --- | --- |
| | Bike mods and ergonomics! |
Grant will host a bike 'Show and Tell' - bring your bike and show us your favorite travel mods. Critique and discussion.
When you picked up your new bike, did they take the time to make it fit you? You'll learn the amazing difference a properly setup bike makes to your riding fun.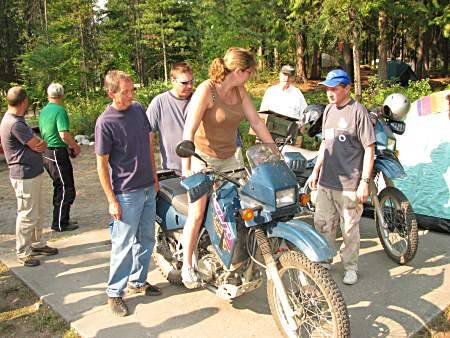 LOTS of presentations to come! As people register to present we'll list them here.
How about you? We're all here to learn, and there's LOTS to learn! We want to do more presentations and seminars - but we need volunteers to give them! Any topic you can contribute having to do with motorcycle travel, maintenance, planning etc, lasting 20 minutes or more, would be great. Please contact us here to volunteer.
Panel discussions at most HU events include...


Border crossings - How to get through borders with minimal stress and cost!
Packing light - Tips and techniques from experienced travellers to reduce weight and bulk.
Regional discussions - e.g. travelling in South America or Asia.
For Women Only - A must for the ladies, so be sure to plan on being there! A chance to talk to experienced travelling women without the men around!
Experienced Travellers Panel - ask the experts anything you want!
Walk arounds / Show and tell!
Tents and Bedding discussion (in the camping area) - What works, cheap vs dear and which ones keep you dry, warm and comfy!
Bike mods - Show off your best bike mods - homemade saddle bags, toolbox mounts, GPS mounts, seats, side stands, tank panniers, cup holders, etc.
Facilities for a Fantastic Four Days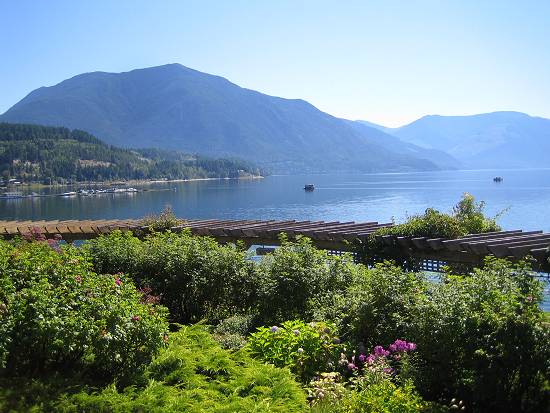 Camping
You will want to be at the official HU Campground so you don't have to go looking for people to talk to. Camping is NOT included in your registration fee! Camping is a very special price for us of $8 per tent per night, payable on check-in. (Regular price is $19-$27).
We have reserved the ENTIRE campground for 2014, so you'll have loads of space and can pick your spot!
Note if you have a motorhome, car, need power etc, there are only a few powered spaces available, so note in the comments when you register that you will require one. The powered spaces have 50 amp sockets for motorhomes, so you WILL NEED an adapter. You may be able to buy one in town, but they ran out in 2013, so bring your own! When you check in, BE SURE to clarify with the campground attendant that you are with us.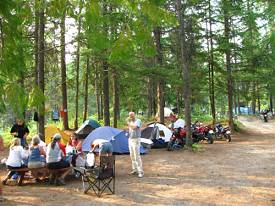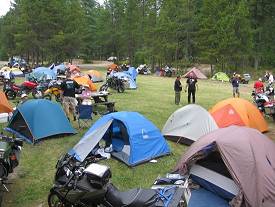 Food
We recommend the Food - Deb Guest, the caterer is highly praised every year!
Dinners - 2014 Menus:
Thursday ($15) - Chicken Parmigiana with noodles, veggie pasta, sauce, Caesar salad, bread and dessert, coffee, tea or soft drink.
Friday ($16) - Greek (lamb skewers or roast lamb, greek salad, potatoes, etc.), dessert, coffee, tea or soft drink.
Saturday ($17) - Roast beef, potatoes, hot veggie, green salad, dessert, coffee, tea or soft drink.
Please PRE-BOOK dinners with your registration. There will be limited amounts available for late-comers. You MIGHT be able to get it on the day, but it's first come first served (and $4 more each), and they won't have much extra!
You can, of course, cook for yourself, or go to restaurants in Nakusp.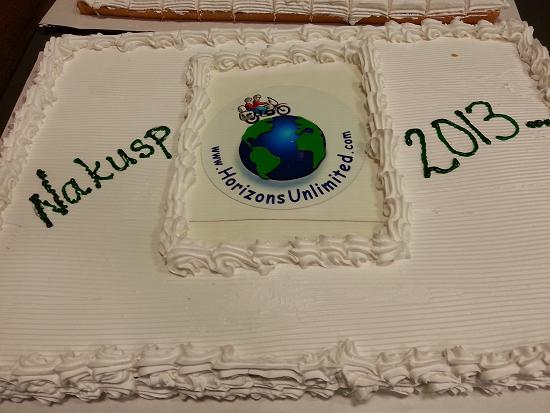 BREAKFASTS
So you don't have to wander all over town looking for breakfast, we have organized to have breakfasts provided on Friday and Saturday morning by the Nakusp Rotary Club. Breakfast will consist of sausage or ham and scrambled eggs, pancakes, with coffee and juice for a total of $10. It is all done by volunteers and all the funds raised go towards local and world projects.
LUNCHES

The Nakusp Rotary Club will provide a selection of hot foods and salads for lunch on Friday and Saturday at a good price. As with breakfasts, it is all done by volunteers and all the funds raised go towards local and world projects.
PRE-REGISTRATION PRICING FOR FULL PASSES

Includes admission to all slide shows Thursday, Friday and Saturday,
Tech Clinics and demonstrations. Meals and camping are priced separately below.

Pre-Register & Pay between:

Event Price

(all presentations and workshops)

September 1st & December 31, 2013

January 1st & March 31, 2014

April 1st & August 15, 2014

$40 (saves $25)

$45 (saves $20)

$55 (saves $10)

AT THE EVENT PRICING (APPLIES AFTER 15 AUGUST)

Pay Cash or PayPal on Arrival

Full Weekend Pass

Friday ONLY

Saturday ONLY

$65

$35

$35
MEALS

We recommend pre-booking meals. There MAY be individual meals available at a higher price at the event. There will be vegetarian alternatives, so let us know your preferences when you register.

Thursday Dinner - Chicken parmigiana
Friday Breakfast
Friday Dinner - Greek
Saturday Breakfast
Saturday Dinner - Roast Beef


$15
$10
$16
$10
$17
ACCOMMODATION
Camping is not included in your registration. There is lots of room for camping! For 2014, we have reserved the ENTIRE campground for Thursday through Saturday night, so you can pitch up wherever you like!
Camping is $8 PER TENT PER NIGHT, if paid in advance. At check-in it's $10.
(Regular price is $19-27 per night).
SELECT YOUR PRE-REGISTRATION OPTION
---