Paperwork
Vehicle Registration
Don't leave the country without it, you must have an official looking document to show at borders.
Tip - If you are travelling for more than a year, you may find it expires, and it proved impossible to renew ours from outside Canada. So, we forged one in Gibraltar (thanks to some friends with a Macintosh and colour printer), and it served nicely for all of Africa and South America. Remember, they can't check its validity - it just has to look good, and the information has to match your Carnet de Passage.
Tip: - In a very few countries - the UK is one - you do not need to carry your vehicle registration papers or proof of insurance with you. However, in most countries you do. We recently had a traveller from the UK come to visit us on her way south. I noted she had no mirror on the bike, which here in Canada is illegal, and advised her to get one quickly to avoid getting stopped by the police and ticketed. An hour later I received a rather plaintive phone call; "My bikes just been impounded by the police!"
Turns out she didn't have any insurance either, which is why it was being impounded! Also - of course - she wasn't carrying her registration documents - another ticketable offence. Sadly, she may have escaped scrutiny if she'd had the mirror.
Lesson: Despite what your home countries regulations are, be aware that most countries require you to carry all paperwork with you at all times. Be sure the bike at least LOOKS legal even if it won't pass a detailed technical scrutiny at home by the authorities. Most, if not all, "western" countries such as Canada, USA, all of Europe, Australia, and New Zealand REQUIRE insurance. Most of the rest do not - but don't get confused as to where you are. :)
What is an International Driving Permit (IDP)?
From the Canadian Automobile Association: (same for everywhere)
"The International Driving Permit is a special licence for tourists, authorized by a UN treaty among nations of the world, for the purpose of allowing motorists to drive vehicles in international traffic without further tests or applications. It is proof that the holder possesses a valid driver's licence issued by a competent authority in their country of residence.
It provides the holder with an extra photo ID. Provides translation of your valid Canadian Drivers licence since the IDP is printed in 10 languages (English, French, Spanish, Russian, Chinese, German, Arabic, Italian, Scandinavian and Portuguese.) Most Car Rental agencies will request an IDP even though one is not required to drive in their country."
International drivers permits are usually available from your local automobile association, (in Canada, it costs C$13.00) and only valid for one year. "An IDP cannot be post dated, extended or renewed. Each time a new IDP is required, the applicant must complete a new application form, produce a valid Canadian driver licence, provide 2 new photographs and the fee."
Drivers License
You must also have your valid national driver's license, and this is the one that is usually requested by police and border officials.
Tip - Be sure your license will not expire while you're overseas. It will be a major hassle to have it renewed, and the new details may not match your other documents, such as the Carnet, which will cause additional hassles.
Tip - If you're worried about handing your valuable licence over to possibly corrupt officials on the road, make several colour photocopies of your licence and laminate it nicely, that will work fine - and if they want to hold it until you pay a fine, no worries!
What is a Carnet de Passages en Douane?
"It offers a guarantee to a foreign government that the vehicle identified in the Carnet, if granted temporary importation status, will be removed from the country within the time limit imposed by the respective jurisdiction. In the event that the vehicle is not removed within the imposed timeframe, the country may claim from CAA all duties and taxes that would be required to permanently import the vehicle to that country. Using the Carnet is an alternative to leaving a cash security deposit with a foreign government. It allows free movement and unencumbered access between foreign countries. Most countries, but not all, allow this option. A Carnet is valid for one year from the date of issue..." Canadian Automobile Association
From Court Fisher, on the BMWMOA site: "Most national auto clubs arrange an internationally-recognized 'Carnet de Passages en Douane' for home-country registered vehicles taken outside North America and Europe for personal tourist use. The personal tourist vehicle Carnet system is administered by the Swiss-headquartered Alliance Internationale de Tourisme (AIT). A Carnet document shows Customs officials that the vehicle owner has already posted a bond at least equal to the vehicle import duty of that country, and assures that the vehicle will be re-exported to its country of origin.

Note that the Carnet system does not apply if you intend to permanently import and re-register a vehicle originally manufactured for sale in a different country. Under those circumstances, most countries impose much stricter and more costly procedures.

Actual size is A4 - 11 ¾ " x 8 ¼"
The carnet is also known as a tryptych, or sometimes triptiq.
Where do I need it?
You do NOT need it in the Americas; North, South or Central, at all.
You WILL need it in parts of Africa, and parts of the Middle East, Australia and Asia.
Detailed, up-to-date listing of where you REALLY need a carnet here!

Getting a carnet for ALL North Americans
Other countries are SIMILAR but there can be significant differences, for instance in the UK you can ALSO get a carnet using an "insurance" type scheme, so you do NOT have to have the guarantee, BUT of course you're paying insurance so it's a much higher total outlay of cash. (See below for update on this for USA and Canada)
In North America specifically, the only organization authorized to issue personal tourist vehicle Carnets for Canadian and US-registered bikes, is the Canadian Automobile Association (CAA).
The basics:
Once you have the carnet paperwork sorted, you need to pay for the Indemnity Policy, OR a Cash Guarantee, or Irrevocable Letter of Credit. The guarantee is refunded when the Carnet document is returned to CAA, 'discharged' by Customs to show that the bike has been returned home. You get the bond money back, but without interest. There is also a lengthy application procedure and document.
The details, from the CAA website, Canadian specific version: (for US residents substitute USA for Canada below and you've got the differences at last check)
"Submit the completed application form, along with the following attachments:
two photographs of the vehicle
two signed photographs of the applicant
a copy of both sides of the vehicle registration document
a copy of your passport
the Carnet fee and cash deposit
As of 2013 fees are:
Fee for CAA or AAA members $750.00 plus taxes
Fee for non members $950.00 plus taxes
Deposit: $300.00+ (to be used for such expenses as couriers. The unused balance is returned once the discharged Carnet is returned to the CAA.)
A cancellation fee of $75.00 or more will be charged if the Applicant begins but does not complete the Carnet de Passage application process.
Visa and MasterCard accepted.
CAA calculates the amount of the financial guarantee using the value of the vehicle and the maximum amount of duties and taxes that could be claimed by the countries to be visited. Permanent importation duty and tax rates may vary from 0% to over 300%, depending on the country visited, the vehicle, and its equipment.
Return to home and discharge of carnet
When you have returned home from your trip you must courier (to ensure prompt delivery) the Carnet back to CAA National Office in order to properly discharge the Carnet. It will have an entry and exit stamp for every foreign country visited on the stub of each page used. The Certificate of Location on the last page inside the Carnet must be endorsed by Canada customs (or U.S. customs in the case of a vehicle returned to the U.S.) confirming the final destination of the vehicle. It is proof to CAA that the vehicle is back in Canada or U.S. (which ever is applicable). When the Carnet is properly discharged by CAA:
50% of your indemnity insurance premium (plus 8% of taxes less a 7.5% CAA administration fee) will be returned to you or
The financial guarantee or letter of credit will be returned to you by CAA
If you have any questions, please call International Documentation Services at CAA National office (613) 247-0117, ext. 2025 or e-mail sda...@national.caa.ca
Once your application has been reviewed,
you will also need to supply a Financial Guarantee. This guarantee can be funded using one of these options:
Indemnity Policy
Effective September 1, 2008, CAA offers indemnity coverage as an alternative to providing a cash guarantee or a bank letter of credit. This eliminates the need to tie up significant assets until the Carnet is discharged following your return. The indemnity cost depends upon where you are travelling and the value of your vehicle. Using the insurers indemnity table take the highest percentage for the countries you plan to visit. Multiply 10% of the current market value of your vehicle by this percentage and add 8% tax as indicated on the table, and you will have an idea of the cost of the indemnity coverage. Please note that upon the discharge of your Carnet following your return, 50% of your premium (plus 8% of taxes less a 7.5% CAA administration fee) will be refunded. Please note that the duration of the policy is for one year coinciding with the one year validity of your Carnet. Therefore, if your travels extend beyond that one year period, an additional policy must be purchased.
Cash Guarantee or Irrevocable Letter of Credit
For the alternative to the indemnity option CAA requires a financial guarantee, sufficient for CAA to meet any claims from a foreign government for customs duties and taxes. These duties and taxes can be levied against a vehicle when it is temporarily imported into a country under cover of a Carnet de Passages, but is not removed or exported. This financial protection is provided to CAA by the holder of the Carnet in the form of an irrevocable letter of credit, a certified cheque or a money order. This financial guarantee is held by CAA in a non-interest bearing account until such time as the used Carnet is returned to CAA and is properly discharged.
CAA calculates the amount of the financial guarantee using the value of the vehicle and the maximum amount of duties and taxes (and when required, the cost of insurance and shipping) that could be claimed by the countries to be visited. To help you determine which guarantee option is best, use our Online Calculator.
A frequent travel dream is to buy a Royal Enfield Bullet in India and ride it overland to Europe.
We received this in April 2003 from Paul Gowen, Senior Travel Research Advisor, RAC (Royal Automobile Club), UK, with updated Information on Carnet de Passages:
Paul wrote:
India:

"... RAC also received a number of enquiries regarding purchase of Enfield bikes in India by visitors & returning overland to GB. However, in June 2002 we were advised by the AIT in Geneva who administer the carnet scheme worldwide, that according to Indian legislation, only those persons resident in India with proof of residence are eligible to purchase & register vehicles in their name.

Individuals who have purchased/registered motorcycles in the past have done so illegally & may be held liable under Indian law. Issuing clubs were advised that under no circumstances can a carnet be issued outside India for a vehicle purchased in India bearing Indian registration plates."

Counterfeit carnets:

Paul also wrote: "I followed the thread about counterfeit carnets with obvious interest & availability from 'Mr Carnet' in London. No new messages & queries appear to be posted so I hope that all travellers will only obtain carnets from official sources.

Carnets are distributed by the AIT, Geneva & a database is maintained of all serial numbers used. A list is circulated so all clubs can identify where carnets are allocated worldwide. AIT are also aware of the trade in counterfeit documents which was first noted with the availability of illegal International Driving Permits promoted on a number of websites.

Hope this is of help. Regards, Paul Gowen"
Thanks Paul! Note that Paul and other Carnet issuers do read the paperwork forum on the HUBB.
Regarding Enfields and riding one home (wherever that may be) from India - just go to Nepal, it is perfectly legal to buy a bike and get a carnet for a Nepalese Enfield. They are somewhat more expensive in Nepal, but at least it's legally possible.
Country specific details
Australia
Canada
Central and South America
Europe
France
Mexico
New Zealand
USA

Central and South America
The carnet is NOT required anywhere in North, Central and South America including in Ecuador. Ecuador used to require it, and you may still be asked. If you have any problems, quote Articles 82/83, Decree 158/2082 in their law books - which they should have - and inform them the new law came into place September 21, 2004. Details here.
Notes on South America:
If you fly into Quito Ecuador, you may find there are delays and hassles. Until 2005 a carnet was required to bring a vehicle into Ecuador, the only country in the Americas to do so. In 2004 there was a protest led by Ricardo, and supported by many local people in Ecuador and a petition here on HU, which was finally successful in changing the law. They are still getting sorted as of this writing, (early 2005) so there may be some hassles. If so, contact Ricardo Rocco, (contact him in advance via the Quito Community) and he'll help sort it out. Basically it takes patience, smiles, and sometimes a little extra in the way of fees, although that too is improving - slowly.
More on
sea freight into Ecuador
.
If you have a carnet you can use it at most borders, and it is probably cheaper and quicker if you do, but definitely not worth getting one just for North OR Central and South America.
Notes on Central America
Usually the bike's details are stamped into your passport - you cannot leave the country without the bike. Be VERY careful - the permit for the bike CAN BE shorter than your own visa. Travellers have overstayed the bikes permit and paid up to US$3500 in fines to get the bike released. Always ask for the maximum allowed, no matter how quickly you plan on staying, things can go wrong - or right, and you want to stay longer!
USA, Canada, Mexico, Europe
USA, Canada, Mexico and European countries do not require duty, Customs bond or Carnet to temporarily import personally-owned 'tourist' vehicles as long as they are re-exported within liberal timeframes, usually 6-12 months. Most other countries still require a Carnet, or an alternative on-site border crossing or port-of-entry duty/tax payment, even for short stay or transit imports. Although a Carnet eases Customs clearance in countries that require or recognize it, the Carnet system itself is not without costs.
When bringing a bike in to any of these countries - and for that matter ANY country - it is important to be clear from the start that "I'm just travelling through to X, and looking forward to seeing your country" with a big smile. Period. NO questions about for instance;
"What if I want to sell my bike here, what would be the procedure?"

Or

"I want to park my bike here for a year while I go home and work for a while, then come back, what do I need to do?"

Fatal - keep your mouth shut! Ask questions like that later, once you're in, or preferably beforehand, here on HU or ask one of the local Communities.
For more details on Canada and USA Carnet see above
CAA Carnet to New Zealand
For bikes taken specifically only to New Zealand, 'tourist' vehicle entry procedures are relatively straightforward and not time consuming; it is usually easier and less costly to apply directly for New Zealand Customs clearance, and pay their vehicle import and sales taxes (OZ = 26.4%; NZ = 12.5%, refundable when the bike is re-exported/shipped home), rather than apply for a Carnet from the CAA.
Australia "Temporary Import" Rules as of December 2008
From Tristan Rizzo, Department of Infrastructure, Transport, Regional Develoment and Local Government:
"If you want to import a vehicle into Australia temporarily, you must bring it in on a valid Carnet. There is no other option. If you can not get a carnet, then temporary import approval will not be possible. Here is a link to our website which contains all our information on importing vehicles into Australia."
Australia has been tightening their vehicle import procedures for some time. Basically, you MUST have a carnet de passage. If you show up without a carnet, the vehicle will be denied entry and you may be subject to fines.
"If you are visiting Australia on a vacation, you may temporarily import your vehicle to Australia by presenting a valid Carnet de Passage en Duane to the Australian Customs Service at the port where the vehicle arrives in Australia.

A carnet is similar to a personal passport and contains all the relevant information about the vehicle - make, model, colour, engine capacity, seating capacity, registration number, owner and value. Carnets can be obtained for motor vehicles, motorcycles, campervans, four wheel drive vehicles, caravans and trailers.

Your Vehicles' Carnet must be obtained from the motoring organisation in your country of residence before you leave home...

Conditions of Use

*A carnet is valid for 12 months from the date of issue.
Vehicles imported under a carnet may not be lent, sold, mortgaged, hired, exchanged, given away or otherwise disposed of while in Australia;
The vehicle must be exported from Australia prior to or on the expiry date of the carnet; and
The vehicle that is covered by a carnet must not remain in Australia when the owner is not in Australia.

Vehicles imported without a Carnet will not be permitted to clear customs until an import approval is issued. Import approvals can only be issued in accordance with the circumstances set out in the Regulations as documented in this bulletin.

If you do not meet any of the circumstances, an import approval will not be issued and you will be required to have your vehicle exported or destroyed at your own expense.

Note: this Office does not issue Carnets and is unable to assist with any questions on Carnets, please contact your motoring organisation in your country for the issuing of a Carnet and information on a Carnet."

NOTE: After significant reading I have come to the conclusion that any thought of travellers getting in on some "circumstances" (emphasis mine) to avoid the need for a carnet are hopeless. Migrants, residents etc are the circumstances.

Travellers MUST HAVE A CARNET for Australia.
For further details, see:
The Australia Customs Services site.

Details on obtaining 'Vehicle Import Approval' from Department of Transport and Regional Services, Vehicle Safety Standards, GPO Box 594, CANBERRA ACT 2601, tel +61/2 6274 7444, fax +61/2 6274 6013, email: Vimp...@dotars.gov.au. Information and application forms are available on their Website.
New Zealand Temporary Import
Details on importing your bike temporarily into New Zealand are available from the NZ Automobile Assoc, International Motoring Services, 419 Great South Rd, Auckland NZ, +64/9 579 6886, fax +64/9 579 7473, nzaa.akl@xtra.co.nz; from the NZ Customs Service, feed...@customs.govt.nz, Website. You will be required to register the bike in NZ and, while not required to obtain insurance, it's VERY recommended, and a safety inspection will be required.
Nigel Marx, NZ Community, says: "Many travelers have not even been required to register, some have to buy a partial registration with Accident Compensation Corporation levy (saving NZ$160) and some full registration, but that seems to vary with the person you are dealing with. Also sometimes a WOF (Warrant Of Fitness safety inspection) is required, and sometimes not."
Further details on temporary registration can be obtained from the NZ Land Transport Safety Authority, i...@ltsa.govt.nz, or on the Website.
France
From Jenny Kelso & Peter Hendricks:
"Arya Panya (ph. 0140554300) is the man who looks after carnets in Paris. He seems much more knowledgeable than our local office here in Nice.
Cost: €114 for club membership, €150 for carnet + deposit of 150% of Argus (semi-official valuation) per vehicle.
To get back the deposit you must supply the customs import certificate from France or another country. It is not enough to only send back the carnet."
Links to more information:
Carnet Providers Visa Providers Motorcycle Insurance Providers
---
Member login
Are you an Overland Adventure Traveller?
Does the smell of spices wafting through the air make you think of Zanzibar, a cacophony of honking horns is Cairo, or a swirl of brilliantly patterned clothing Guatemala? Then this is the site for you!
Hosted by Grant and Susan Johnson, RTW 1987-1998
NEW! HU 2015 Motorcycle Adventure Travel Calendar is now available! Get your copy now for some terrific travel inspiration!
HUGE, 11.5 x 16.5 inches, beautifully printed in Germany on top quality stock! Photos are the winning images from over 600 entries in the 9th Annual HU Photo Contest!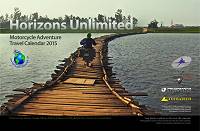 "The calendar is magnificent!"
"I just wanted to say how much I'm loving the new, larger calendar!"
We share the profit with the winning photographers. YOU could be in the HU Calendar too - enter here!
Next HU Events
Germany: May 14-17
Canada Ontario: Jun 18-21
Ireland: June 26-28
Colorado: July 17-19 TBC
Canada West: Aug 20-23
USA California: Sep 24-27
Aus Queensland: Sep 24-27
USA North Carolina: Oct 8-11
Aus Perth: Oct 9-11
Germany: Oct 22-25

10th Annual HU Travellers Photo Contest is on now! This is an opportunity for YOU to show us your best photos and win prizes!
Books

All the best travel books and videos listed and often reviewed on HU's famous Books page. Check it out and get great travel books from all over the world.