Achievable Dream: Part 3 - On the Road!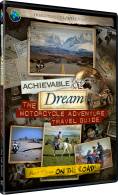 What is it like to spend weeks, months or years on the road?
In this 2-DVD set, our veteran travellers share their tips (and great stories) for staying healthy, happy and secure on your motorcycle adventure.
You'll get the advice you need to help you cross borders, break down language barriers, overcome culture shock, ship the bike across oceans or war zones, and deal with the 'stuff' that happens such as breakdowns and emergencies. It also covers how to get the bike across oceans or war zones - shipping and the alternatives - air, sea, rent, swap, buy, organised tours.
This 2-DVD set (324 minutes of content) contains the following chapters:
Riding the World
Day to Day
Where to Sleep
Language & Culture
Borders & Officials
Shipping the Bike
Building a Crate (Demo)
Dealing with Breakdowns
Safety and Security
Emergencies
First Aid for Bikers (Demo )
Meeting Travellers
Coming Home
We've got a fantastic and entertaining bunch of contributors with many amazing stories to tell and hard-earned wisdom to impart, enhanced with demos, video clips and heaps of great photos. We think it strikes the right balance between information and entertainment!
Member login
Am I NTSC or PAL?
When buying a DVD please ensure you get the correct format for your region. We use both formats to be sure you get the highest quality possible.
NTSC Format - North and much of South America, Japan, South Korea, Taiwan
PAL Format - Europe, Asia, most of the rest of the world
If in doubt about which format for your country, see listing here.
Note: NTSC format will play in a PAL TV, but PAL format will NOT play in an NTSC TV. Either will play on your computer.
Store categories