Achievable Dream: Part 5 - Tire Changing!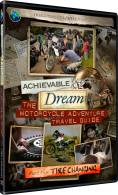 On a long-distance motorcycle trip, you WILL find THAT nail, usually in the most inconvenient time and place.
When you're venturing off the beaten path, you can't just call your friendly automobile association! Fear no more - Grant will demystify the black art of Tire Changing and Repair in this DVD full of expert tips and information to help you STAY on the road!
Grant's tire-changing demonstrations are always well-attended and much appreciated by motorcycle travellers at HU Meetings worldwide. This DVD was filmed at a demonstration to an HU Meeting in Spain, and on the road in a remote mountain pass in Switzerland.
This 1.5 hour DVD answers all your questions, for both tube and tubeless tires:
Getting Started
Getting it Off
Pulling the wheel off
Breaking the bead
Removing the tire
What's in the valley
Plugs and Patches - which types and how to use
Getting it On
Mounting the tire
Seating the bead
Finishing Touches
Tire pressure
Tightening the front axle
Balancing the tire
Member login
Am I NTSC or PAL?
When buying a DVD please ensure you get the correct format for your region. We use both formats to be sure you get the highest quality possible.
NTSC Format - North and much of South America, Japan, South Korea, Taiwan
PAL Format - Europe, Asia, most of the rest of the world
If in doubt about which format for your country, see listing here.
Note: NTSC format will play in a PAL TV, but PAL format will NOT play in an NTSC TV. Either will play on your computer.
Store categories
Next HU Travellers Meetings
Perth WA: Oct 19-20
Are you a Motorcycle Traveller?
Does the smell of spices wafting through the air make you think of Zanzibar, a c