Equipment - Packing Lists
Introduction
Everyone will have a different idea about what to take, but here are enough lists to get you going, whether it's a 4 month jaunt through South America or 7 years around the world!
A word of advice about clothing. Throw away jeans and cotton clothing, in favor of lightweight, quick-drying synthetic shirts and pants which can be washed in a sink and will dry overnight. Instead of cotton or wool sweaters, take fleece and an electric vest. The reduction in weight and bulk is substantial. The fact that you can easily wash them yourselves in a cheap hotel room and have them wearable in the morning is the bonus.
Not counting our riding leathers, during 2 years non-stop travel through four continents, we each had 3 shirts (long sleeve only, with ability to roll up and button sleeves), 2 pairs of (non-riding) pants with zip-off legs (so no shorts needed), a light fleece sweater, bathing suit, socks and underwear. Nothing wore out on the way. All shirts and pants and fleece are still in service, 6 years later.
Assume no laundromats in most of the world, and plan accordingly. On our first trip, we started with cotton shirts, which disintegrated within about 6 months from the washing treatment. Modern synthetics are very durable, any good camping store will have a huge selection. Some now have UV protection built into the fabric.
Last comment is about cookwear and stoves. If you decide not to cook, you will spend more on food, but you can find food virtually everywhere you can go two-up. We seldom used our cooking gear, and eventually pared it down to a very small and lightweight set, kept mostly for emergencies, but I don't think we used it at all in South America.
On This Site
Grant and Susan Johnson's 1996-98 Round the World packing list

Peter and Kay Forwood - Round The World 1996-2003 Travel Inventory

HUBB Thread on this topic plus advice on clothing

"Preparing to Leave" Checklist, by Cynthia Milton

Detailed "Preparing to Leave" Checklist (Download the Word document)

Andy Miller's Packing and Purchase List (Download the Word document)

An Africa spreadsheet - everything from Ken Keller's Africa trip: "Myself and my friend (Dominator and NTV650 respectively) travelled from Lagos, Nigeria to Dublin, Ireland in 2000, without any major problems. We travelled through Benin, Togo, Ghana, Cote d'Ivoire, Mali, Senegal, Mauritania, Western Sahara, Morocco, Spain and France.

The spreadsheet (has) all the information regarding route, equipment, costs, etc. It won't 'fit' everyone's trip, but it might give people an idea of how to go about storing all their information in one place."

Download it in Zip format - 100kb. Unzips to an xls.
Other Lists
Motorcycle oriented
Erin and Chris Ratay - RTW 1999 - 2003 - Packing List plus costs and shipping info

Dag Jenssen and Bente Brathen (Rocinantes Travels) packing list

Patrick Lueth and Lorenz Kerer (Transasia 2001) packing list

Easy Reader Tourguide - Motorcycle Camping - The List

Anna Motodiva, (Anna Girardin, France/USA) Alaska to Ushuaia, packing list

Paul and Zoe's packing lists - the first trip - and the second trip
Backpacker oriented
Mats Henricson's The Universal Packing List Version 9.5.0
Bicycle oriented
Round the World by Bike (bicycle) - Al Humphreys List
---
Member login
Are you an Overland Adventure Traveller?
Does the smell of spices wafting through the air make you think of Zanzibar, a cacophony of honking horns is Cairo, or a swirl of brilliantly patterned clothing Guatemala? Then this is the site for you!
Hosted by Grant and Susan Johnson, RTW 1987-1998
Next HU Events
HU Event and other updates on the HUBB Forum "Traveller's Advisories" thread.
ALL Dates subject to change.
2023:
2024:
California: April 18-21
Virginia: April 25-28
Germany Summer: May
Switzerland: August
Romania: August
Ecuador: September
France: September
Austria: September 12-15
South Africa
Queensland: Oct 4-7
Germany Autumn: Nov.
Add yourself to the Updates List for each event!
Questions about an event? Ask here
ALL 15 chapters of the HU Achievable Dream Guide are available to download on Vimeo!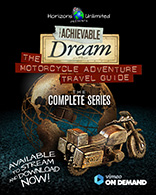 Binge watch over 18 hours of inspiring, informative and entertaining stories and tips from 150 travellers!
"a cross between entertaining stories, tech tips, and reference guide"
"A timeless introduction to Motorcycle Adventure Travel!"
Originally launched as a 7 DVD set, The Achievable Dream series can now be downloaded anywhere. OVER 18 hours of solid info take up zero space in your panniers. How convenient!
Books

All the best travel books and videos listed and often reviewed on HU's famous Books page. Check it out and get great travel books from all over the world.
NOTE: As an Amazon Affiliate we earn from qualifying purchases - thanks for your help supporting HU when you start from an HU Amazon link!