Mexico 2004: Second Annual HU Travellers Meeting
Creel, Copper Canyon, Mexico, Oct 14-17, 2004
As Gerry Elam, USA, said of the Mexico 2003 meeting:
"Thank you Grant and Susan... it was a BLAST! Looking forward to next year already!"
And from Glen Davis,
"Thanks to all involved for a meeting that exceeded all expectations. Well done!"
Comments after the 2004 meeting:
From Mike Torst:
"Grant, I want to thank you, once again, for a great meet! I was in the hands of the pros, and I am still in awe. I remain humbled---thanks again! Oh, and I will CU next year!"
From Jim Donaldson, NC, USA,
"Grant,What can I say. Creel is the perfect place for a HU meet. As my friend Chris Walstow says it's easily accessible from anywhere in North America. It's warm and cool at the same time. The people are friendly and the riding is superb. I look for the meet to grow beyond all expectations as the word spreads. Thanks, Jim D My pictures and log here."
See you all there in 2005!
In case you're wondering why you should go, this is only a small part of the road to Batopilas, photographed from a helicopter.
Photo courtesy The 3 Amigos Canyon Expeditions in Creel, Mexico. Check them out for excellent maps and Copper Canyon information, 4wd rentals etc.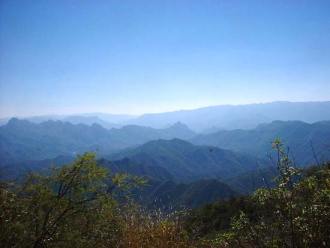 In mensas barrancas - photo by the Ibarra brothers
2004 speakers were:
Al Jesse - of Jesse Saddlebags fame - has ridden 42 countries - in Europe and Africa, and New Zealand and Australia. "How to fix your bike in the middle of nowhere."
Chris Ratay, USA, 4 years around the world, and a Guinness record.
Deborah and Dave Welton, USA, Northern Thailand on rental bikes.
Grant Johnson - 3 hour presentation/discussion on "How YOU can do it" Saturday afternoon.
Andy Tiegs, USA, on Central America trip after last years CC Meeting.
Juan Carlos Ibarra, Mexico, Motoquimera "From Neurosis, to Ushuaia"
Jim Hyde, Rawhyde Adventure Camp, off-road riding tips
"Overland Mexico" GPS presentation by Luis "Mac" Mercado, Mexico (30 min)
There were slide shows Friday and Saturday night , as well as videos on Thursday night!
50-50 Draw for charity
Saturday night we had a 50/50 draw, which went to a local mission providing support and care for the Tarahumara. The winner was Arturo Macias, who made US$114, plus 205 pesos - and most importantly, the mission got the same amount! Thanks to all those who bought tickets - let's try to make it more next year!

Photos from the Meeting
From Bruce Crawford, a long story and great photos on his ride down to CC and home, here.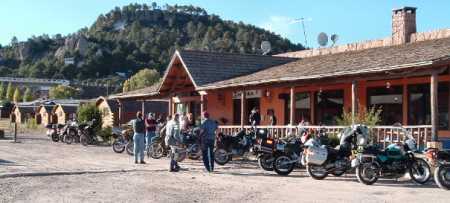 The main lodge and some of the cabins on the left can be seen with some early arrivals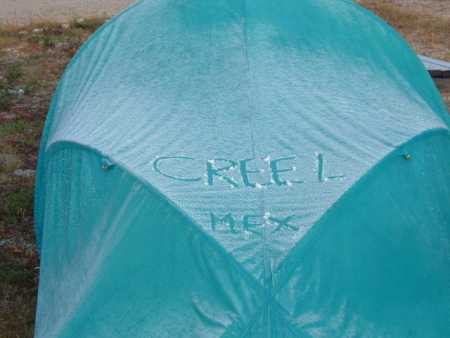 yep, it was brisk at night - bring two sleeping bags, or a really warm one and an extra ensolite pad for beneath you.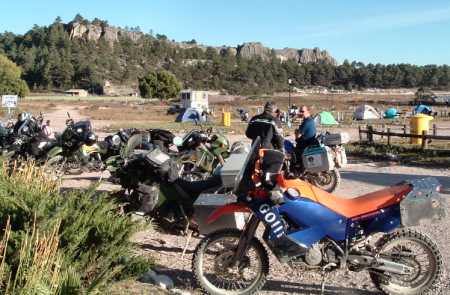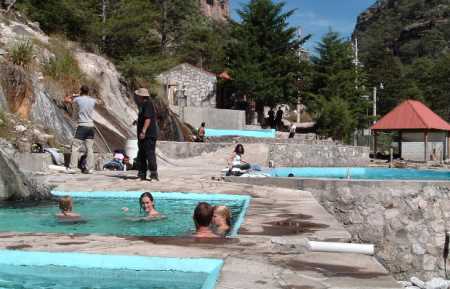 The hot springs were popular
Basaseachi Falls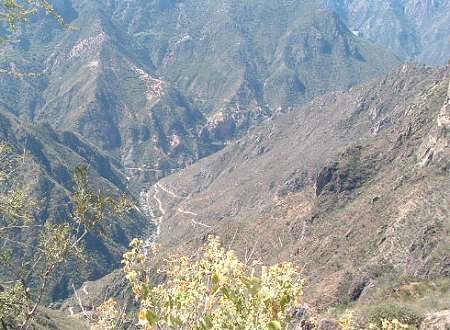 The road to Batopilas; yes, that's it way down there on the side of the mountain - that's where you're going...
The road to Batopilas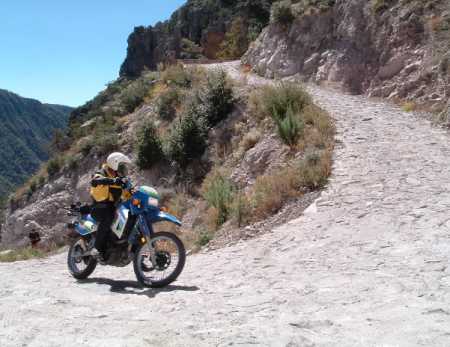 Federico Ruiz de Esparza Casas, Mexico, on the track� down to Rekawata Hot Springs just outside of Creel
Mission near Batopilas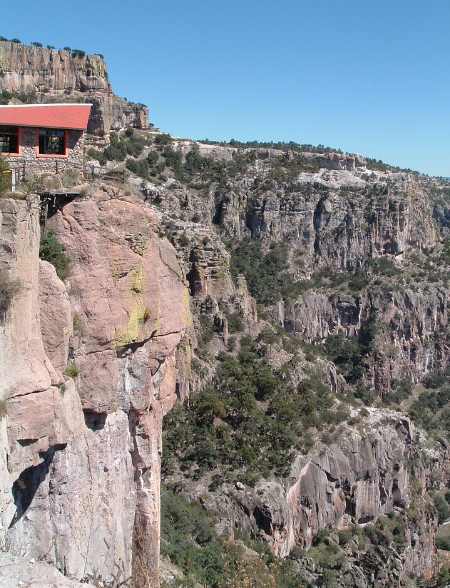 Divisadero viewpoint

Photos from the Meeting
by Mike Torst, USA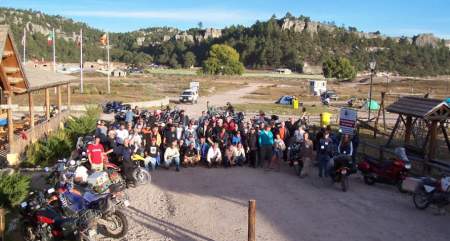 The semi-official - well as official as we ever get - group photo - note there anly about 60 people in this shot, and we had 94 attendees at final count. It's like herding cats getting these VERY independent travellers to do anything...
Click the pic for a larger version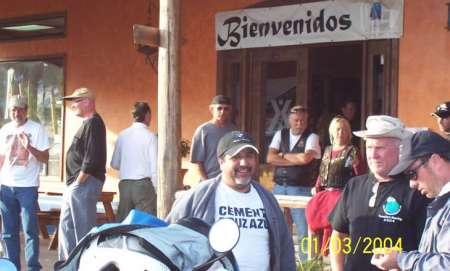 A few people having a good time Saturday afternoon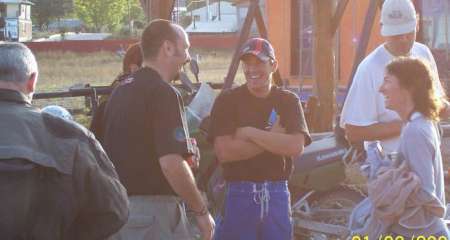 A few people having an even better time Saturday afternoon!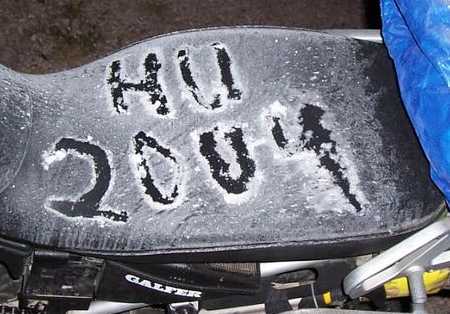 'nuff said...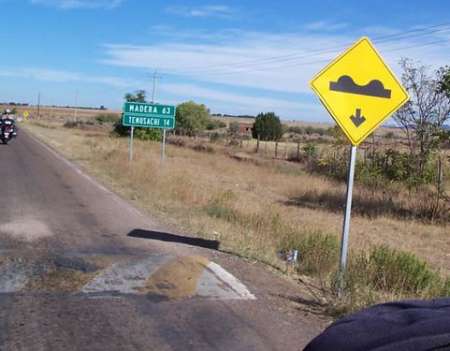 DO watch for the topes! They bite!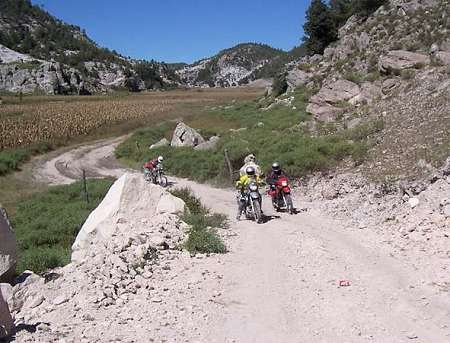 Sample off-pavement riding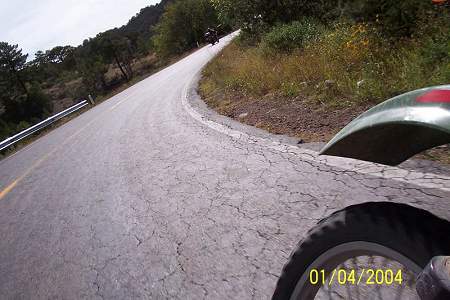 Great road riding as well as off-pavement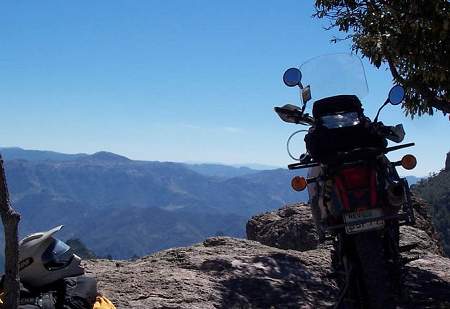 Canyon views at the end of a great ride

Photos from the Meeting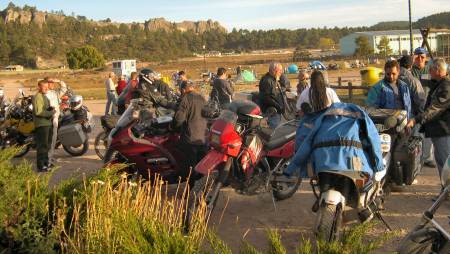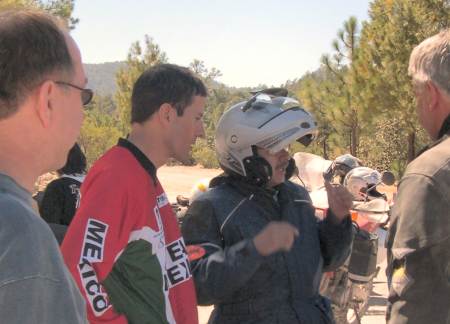 something important... Gerardo Ibarra in red and Arturo in the helmet, local organiser and ride leaders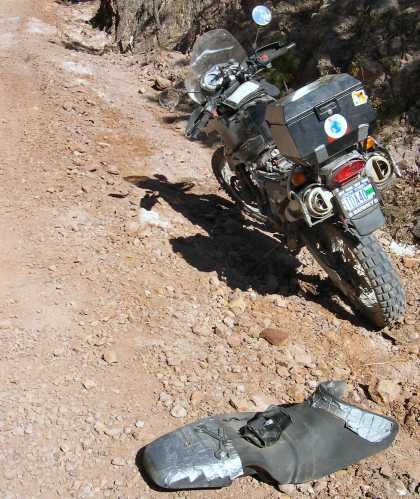 Jacob Sherman, along with many others, crashed on the road down to Batopilas. His Jesse saddlebag mount was bent, so he kicked it straight and bungied the bag back on, and back in Creel had the bracket straightened and welded up to strengthen it, see below. Like all problems on the road - just deal with it, no biggie. :) Nice job Jacob!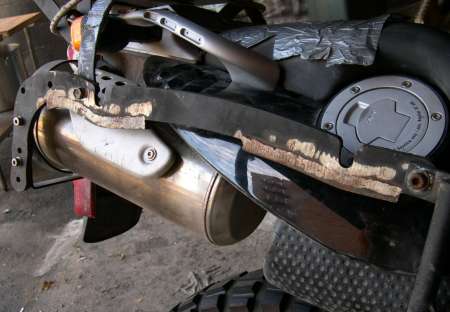 Photos from the Meeting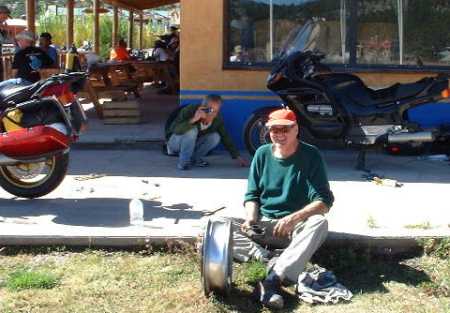 Tire repair - Steve's "working vacation"
Photos from the Meeting
more to come...
Photos from the ride home from the Meeting
See I told you it was just as dangerous, if not more so, riding at home!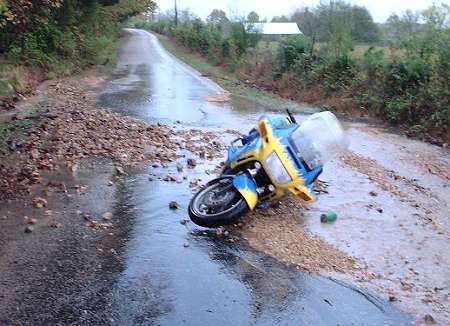 Photo by Doug Kalmer
"I'm back - alive and well, from Mexico. Didn`t even get sick once. I had a great time in Creel, I met folks from all over the world who love to travel by motorcycle... I had no problems negotiating the huge Mexican speedbumps, the tight twisty mountain roads, the cows, donkeys and horses in the road, but I did have a little problem in the last two miles from home.
It seems that the day I was trying to return home from a 3,700 mile, nine day trip, it rained about 9" in six hours, causing flash flooding which washed lots of rocks and gravel onto the road. I tried to cross where there were smaller sized rocks, and when I went to put my left foot down, it just sunk into the gravel. I just stepped off when the point of no return was reached, so I never even went down with it. The tip over wing slowed it's fall, and my highway pegs stopped it from going any further than you see. I had a large river bag on the back and couldn`t lift the ST with it on, I had to unpack it and then it was all I could do, as the running water and deep gravel made good boot purchase difficult.
I arrived home to find the road to town washed out, phone service took a week to restore, and the TV and DVD got zapped by lightening. Doug Kalmer"
Note he took the picture before picking up the bike - Good one Doug!
The Meeting Location for 2004
Creel, Copper Canyon, Mexico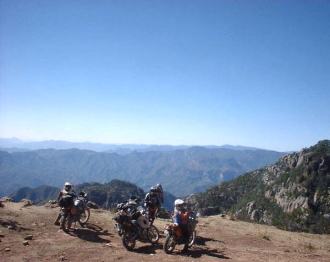 La sierra, Copper Canyon, photo by the Ibarra brothers
Getting There, Crossing the border, Information about the area etc:

Thanks to our Local Hosts
Juan Carlos Ibarra and Gerardo Ibarra and others! Thanks guys!
If you have any questions about the location, they can be contacted here:
Short History:
More details on HU Traveller's meetings history here on the meetings home page.
---
Member login
Are you an Overland Adventure Traveller?
Does the smell of spices wafting through the air make you think of Zanzibar, a cacophony of honking horns is Cairo, or a swirl of brilliantly patterned clothing Guatemala? Then this is the site for you!
Hosted by Grant and Susan Johnson, RTW 1987-1998
Next HU Events
HU Event and other updates on the HUBB Forum "Traveller's Advisories" thread.
ALL Dates subject to change.
2023:
2024:
California: April 18-21
Virginia: April 25-28
Germany Summer: May
Switzerland: August
Romania: August
Ecuador: September
France: September
Austria: September 12-15
South Africa
Queensland: Oct 4-7
Germany Autumn: Nov.
Add yourself to the Updates List for each event!
Questions about an event? Ask here
ALL 15 chapters of the HU Achievable Dream Guide are available to download on Vimeo!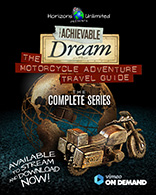 Binge watch over 18 hours of inspiring, informative and entertaining stories and tips from 150 travellers!
"a cross between entertaining stories, tech tips, and reference guide"
"A timeless introduction to Motorcycle Adventure Travel!"
Originally launched as a 7 DVD set, The Achievable Dream series can now be downloaded anywhere. OVER 18 hours of solid info take up zero space in your panniers. How convenient!
Books

All the best travel books and videos listed and often reviewed on HU's famous Books page. Check it out and get great travel books from all over the world.
NOTE: As an Amazon Affiliate we earn from qualifying purchases - thanks for your help supporting HU when you start from an HU Amazon link!