How To Travel Abroad Safely During The Pandemic: Important Tips
Even during a pandemic, travel is sometimes unavoidable. Getting a respiratory infection is primarily by inhalation, especially on an airplane, in a train, or any other type of public transportation. It is better to be prepared for traveling now more than ever before; hence we must take more drastic and serious steps if we want to travel. Here are some useful tips to help you secure your family, yourself, but also anyone around you.
Check Before You Go
Some state, local, and territorial governments have policies forcing individuals to wear masks or be tested, as well as mandating those who have recently traveled to stay at home quarantine for up to 14 days. Keep in mind that, depending on local conditions, limitations might change quickly. It's also crucial to remember that the COVID-19 situation differs per country, the most important factor being the level of virus spread. So always check back for updates before your trip. Also, if you can do it, change your destination if you see that the place where you want to go has a high rate of virus spread.
Coming Back To UK
Consider these tips once you decide to come back to the UK after your trip.
Wales
To go to Wales, you must have confirmation of a negative coronavirus (COVID-19) test. The test is not required for children under the age of 11. If you need it, you can check how to take a lateral flow test if you have tested positive for COVID-19 during the last 90 days. The requirements for isolation and the length of time you must isolate depend on where you came from and where you went in the 10 days leading up to your arrival in Wales or the United Kingdom.
England
If you are not vaccinated, you must do a pre-departure test before traveling to England. A COVID-19 test must be taken three days before your trip. Complete your passenger locator form – any time in the 48 hours leading up to your arrival in England. After arriving, you must quarantine for ten days at home or where you are staying, and take a COVID-19 test on or before day two and on or after day eight. You will only be permitted to enter the UK if you are a British or Irish national or if you have UK residency rights if you have visited a destination on the red list in the past 10 days.
If you are fully vaccinated, you won't have to take a pre-departure test, a day 8 COVID-19 test, or quarantine at home or where you're staying for 10 days after you arrive in England under the new guidelines.
Northern Island
The regulations for international travel to Northern Ireland will shift from the red, amber, green traffic light system to a "red list of nations" and simpler travel procedures for arrivals from the rest of the world, referred to as "non-red-list countries," starting at 4 a.m. on Monday, October 4th. Your vaccination status will determine the regulations for traveling to Northern Ireland from countries and territories not included on the red list.
Scotland
If you are traveling from a green list country or territory, a passenger locator form, COVID PCR test before coming, and two days after coming are obligatory. Also, you don't need to self-isolate if you are fully vaccinated, meaning that it is at least 14 days since you have got your second dose of vaccine.
Social Distance
As much as possible, keep a social distance of 6 feet (2 meters) between you and others. Avoid coming into contact with someone who is ill.
Wash Your Hands
Hand-wash for at least 20 seconds with soap and water regularly and use a hand sanitizer with at least 60% alcohol, especially if you must touch handrails, elevator buttons, or doors.
Wear A Mask
Use a face mask when there is a high risk of COVID-19 transmissions indoors or outdoors, such as at a crowded event. You will need to follow different mask instructions depending on the country's law. These face coverings reduce the volume and travel distance of droplets that can infect others. This way, you keep yourself, but also other people safe from getting infected. Also, avoid touching your face, especially your eyes and nose, since this is the fastest way to allow the virus to enter your body and cause damage.
Car Vs. Plane
Social distancing can be hard to maintain on crowded planes. Airports are places where a huge number of people circulate every day. So if you can, it is better to travel by car or motorcycle, because you can have more control and protect yourself better. Plan to stop as little as possible to avoid any unnecessary contact, but if you get exhausted and sleepy, pull over and take a rest. Keep face masks, hand sanitizer, and disinfection wipes in a handy area so you can use them whenever you need them.
Keep It Clean
Disinfect high-touch items including door knobs, light switches, counters, tables, desks, phones, remote controls, and faucets when you arrive at your hotel or rental. Travelling for many of us has always been an important aspect of our lives. In these difficult times, it may be a bit harder and more complicated, but by listening to advice and useful tips, we can make our travelling as valuable and fun as it has always been.
---
Member login
Are you an Overland Adventure Traveller?
Does the smell of spices wafting through the air make you think of Zanzibar, a cacophony of honking horns is Cairo, or a swirl of brilliantly patterned clothing Guatemala? Then this is the site for you!
Hosted by Grant and Susan Johnson, RTW 1987-1998
Next HU Events
HU Event and other updates on the HUBB Forum "Traveller's Advisories" thread.
ALL Dates subject to change.
2023:
2024:
California: April 18-21
Virginia: April 25-28
Germany Summer: May
Switzerland: August
Romania: August
Ecuador: September
France: September
Austria: September 12-15
South Africa
Queensland: Oct 4-7
Germany Autumn: Nov.
Add yourself to the Updates List for each event!
Questions about an event? Ask here
ALL 15 chapters of the HU Achievable Dream Guide are available to download on Vimeo!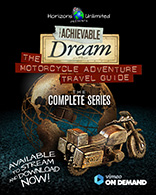 Binge watch over 18 hours of inspiring, informative and entertaining stories and tips from 150 travellers!
"a cross between entertaining stories, tech tips, and reference guide"
"A timeless introduction to Motorcycle Adventure Travel!"
Originally launched as a 7 DVD set, The Achievable Dream series can now be downloaded anywhere. OVER 18 hours of solid info take up zero space in your panniers. How convenient!
Books

All the best travel books and videos listed and often reviewed on HU's famous Books page. Check it out and get great travel books from all over the world.
NOTE: As an Amazon Affiliate we earn from qualifying purchases - thanks for your help supporting HU when you start from an HU Amazon link!